In less than a week, Bills Hall of Fame running back Thurman Thomas is set to have his jersey No. 34 retired during Buffalo's Monday Night Football game. In celebration of the accomplishment, buffalobills.com caught up with Thomas to find out more about the Bills Legend.
1. If they were making a movie about your life, who would you want to play you?
Considering I'm a funny type of guy, I'd probably go with Kevin Hart.
2. What is your favorite vacation spot?
3. What is your favorite childhood memory?
My favorite childhood memory would be probably when I signed my scholarship to go to Oklahoma State.
4. If you could go back in time, where would you go and what would you do?
If I could go back in time, I would probably want to sit down and have lunch with Martin Luther King Jr.
5. What is your favorite hobby?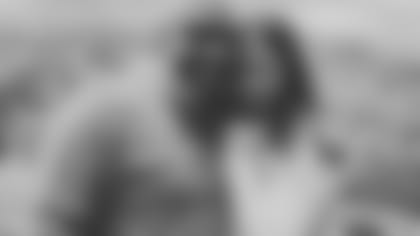 6. Who is your favorite account to follow on social media?
My wife [Patti] because she's very funny.
7. If you could trade lives with one person for the day, who would it be and why?
I would want it to be LeBron James and not only because is he a great basketball player, but what he's doing in Ohio with his school is something that I really wish I could do.
8. Do you have a favorite movie?
My favorite movie is "Remember the Titans."
9. Do you have a favorite musical artist or band?
10. What is your favorite thing to spend money on?
My favorite thing to spend money on would be my kids.
11. Are you a glass half full or glass half empty kind of guy?
12. What's your ideal "cheat meal" if calories didn't count?
[If calories don't count] I am eating fried catfish.
13. What's the best compliment that you've ever received?
"Your parents raised you very well."
14. How would you describe yourself in a couple of words?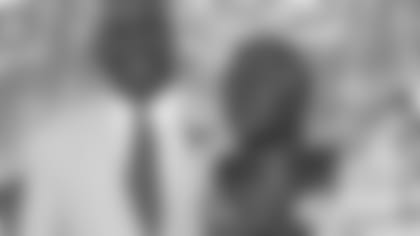 15. What is your most prized possession?
16. Which character on a TV show would you like to play?
I would love to be Homer Simpson.
17. What's one thing in your closet that you can't get rid of because you think it's going to come back in style?
…I don't know if it's out of style or not, [but] she [Patti] hates them. I have a pair of jeans that I will not get rid of that has the holes in them. Acid washed ripped jeans.
18. If you could invite anyone to a dream dinner party who would it be?
Former President Barack Obama.
19. What does it mean to you to have your jersey retired on primetime TV here at New Era Field?
It means a lot knowing that I'm going up there and having my jersey retired with two of my best friends – Jim Kelly and Bruce Smith. And to have it retired in a city that I still live in, a city that I still love, is very special.
20. What was your most memorable moment as a Buffalo Bill?
My most memorable moment as a Bill would probably be Monday Night when I have my jersey retired.
21. Do you have any advice for current or aspiring athletes?
The one thing that I always tell athletes is make sure you get your education. Get as far as you possibly can with your education and always have a fallback plan.