Bills fans became familiar with a local couple named Kevin and Meghan Quinn in 2016 after the dynamic duo raised their Bills flag proud all the way from Rio de Janeiro, Brazil, at the summer Olympics.
They burst into the limelight again during this year's "Super Bowl Ticket Fan Face-Off," an "Amazing Race" style competition. The victors of the event, the Quinns received highly sought-after tickets to the biggest game of the year – Super Bowl LIII.
With the Quinns on the scene, it was only fitting that their Bills flag went along for the ride. Find out how they repped their favorite team in Atlanta and checked off a few items on their bucket lists in the process: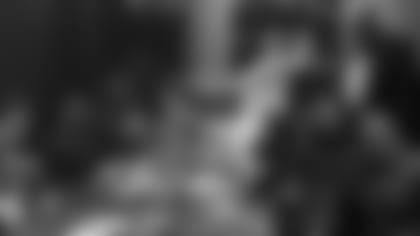 1. Dinner with a view, a flag and…a WNY connection.
Armed with four tickets, the Quinns chose to bring along a pair of family members – Shannon and Ray Krug. Bills fans of course, the couple were a perfect addition to the vacation. Kicking things off right, the group headed out for a dinner with a view on Thursday when they arrived.
"…We got there on Thursday night and we met our cousins…for dinner," said Meghan. "So, that was at the 49th floor of one of the tallest buildings in Atlanta – right in the heart of the city. So, we were able to get a bird's eye view of the stadium, where they set up the Super Bowl Live – the city was all lit up. The Ferris wheel was all lit up, so it was kind of nice to get a bird's eye view and then of course to see familiar faces. And when we were there, we took a picture with the Bills flag...and when we pulled it out the waitress was getting ready to take our picture and she said, 'Is that a Bills flag?'"
Turns out, the woman was from nearby Rochester and was pumped to see the red, white and blue colors of her hometown team.
2. Celebrity sightings on the regular
On Friday, the Quinns took their talents, and their symbol of fandom, to a few memorable locations. After gaining access to a premier party, the Bills superfans found themselves surrounded by not one but TWO Manning brothers, along with a few other NFL notables.
"They had NFL players coming through every hour, doing short interviews and then walking around taking pictures with people," said Meghan. "We met Cameron Jordan from the Saints, Malcolm Jenkins from the Eagles, Eric Ebron from the Colts, and they did a panel where they had Peyton and Eli Manning up there just talking about what it's like [with] Peyton being out of football and still watching his brother. That was really cool. Peyton was talking about how he does fantasy football now because his kids want to do it. That was really neat. We went there a couple times."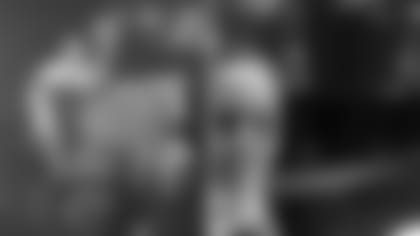 3. Baker Mayfield versus…Barry Sanders?
The epic Friday festivities continued with more people watching at Super Bowl Live – a free fan village complete with food, fun and concerts produced by Jermaine Dupri.
"Another highlight would be the concerts and the people watching," said Meghan. "At the Super Bowl Live, which was a free event… we watched [as] Baker Mayfield and Barry Sanders both made nachos, and then somebody judged who made the better nachos."
What better way to cap an evening than by attending an exclusive Imagine Dragons concert?
"That one was awesome," she said. "There was probably, I don't know, 500 people in there. It was a real small venue and they were really good."
In typical Quinn family fashion, Kevin and Meghan found a way to do what they do best, capture the nation's attention. Appearing in the background of a SportsCenter broadcast, they were quick to throw up the flag.
"They had ESPN and NFL Network [that] were set up in that free Super Bowl Live area," Meghan explained. "We had walked by a couple different broadcasts…we didn't know what they were taping…So, when we saw all the people behind ESPN, I'm like, 'Kevin throw me on your shoulders and let's just see.' So, it was…kind of a coincidence but kind of on purpose. It was kind of nice that people saw us…"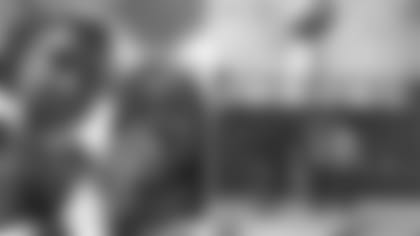 After an incredible two days, it was hard for the Quinns to fathom that there was still a game to be played.  
"The stadium was gorgeous," said Meghan. "People are complaining that it was a low scoring game, but you're on the edge of your seat the entire time. One play can change the score. It wasn't a blowout…we were very invested in it. So, when the Rams were on offense, we were super excited, [and] when they were on defense, we were super excited trying to watch them stop Brady and just the energy in the building [was unreal]. 
 "We had just the best time ever. Between the four of us, we have six kids. They're all young – we're driving to hockey, we're driving to basketball, gymnastics, dance. You name it, we're always on the go. It was nice to get away for a weekend and check something off of the bucket list. It was a lot of fun. But the real heroes here are the grandparents who babysat all the kids while we were gone."
When it was all said and done, one thing that stuck out the most to the Quinns was how excited they were to represent the Bills throughout the weekend.
"We carried the flag around and we had the shirts on, and people were noticing us and of course, people would come up to us [and say], 'I've got this Buffalo connection and that Buffalo connection,'" said Meghan. "There were a ton of people that came up and were like, '…My friend is a die-hard Bills fan, I've got to send him a picture…' It was great. Walking around, we just kept saying to each other, '...Imagine if the Bills were here.' It would be so electric. I feel like people would be walking through the city, cheering and chanting and high-fiving and you didn't really see that with the Patriots fans…It's not like Buffalo where everyone knows everyone somehow. There's always like that six degrees of separation. We definitely were well-recognized."