It's Super Bowl LIII week and for several Bills fans, the big game will take on extra meaning this year. With help from current players and Legends, the Bills made dreams come true when they presented superfan Jack Frost, Lucy Candelario, Executive Director of The Belle Center, longtime Season Ticket Member Brian Schaefer and Kevin and Meghan Quinn – the couple who made headlines by bringing their Bills flag to the Rio Olympics – with tickets to see the contest live.
1.  Jack Frost does the Super Bowl happy dance
It's not often, even in a city full of diehard fans, that you will find a more passionate Bills enthusiast than 13-year-old Buffalo local, Jack Frost. For years, the lively youngster, who has a rare blood disease, has wowed those around him with his impressive ability to name each player on the Bills roster, along with their stats and other anecdotes. His love for the team, fun-loving spirit and resiliency has not gone unnoticed by the organization or its players. Frost has made quite a few friends at One Bills Drive – most recently quarterback Josh Allen and tackle Dion Dawkins.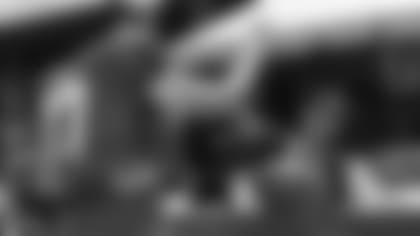 After receiving an invitation to help Dawkins decorate his cleats for the NFL's 'My Cause My Cleats' initiative, Frost gladly accepted. While he and the "Shnowman" were putting their creativity to the test, Dawkins and Allen had something bigger up their sleeve – two tickets to the Super Bowl. Presented with the ultimate gift, Frost couldn't resist breaking out his happy dance – something that according to his mother Sue, he's been doing ever since.
"He is so excited…," said Sue. "He cannot wait and now he has time because he won't have any school this week because they're closing the schools, so he has time to rest up for it.
"Really just to be there [is what he's most excited for]. He had his Make-A-Wish years ago and he always said, 'I should've waited and asked for a trip to the Super Bowl,' so this is like a second Make-A-Wish for him."
Frost, who is bringing his dad along for the adventure, will be sure to represent his favorite team this weekend.
"Yes, he is [wearing his Bills gear]," said Sue. "He's already packed his Josh Allen jersey, his Shady McCoy jersey. He is bringing his Bills clothing."
2.  Zo's show of gratitude
While it's no secret that linebacker Lorenzo Alexander, the team's 2018 Walter Payton Man of the Year nominee, is committed to the community, the Bills veteran paid it forward in a big way at the end of the season. On-site at The Belle Center, a Buffalo non-profit organization dedicated to helping area youth and families, Alexander honored Executive Director Lucy Candelario with her own pair of Super Bowl tickets.
Over a month has passed since Alexander's big surprise but Candelario is still overwhelmed by the gesture.
"It's very exciting [my trip to the Super Bowl], it's finally really hitting me," she said. "It's just something that I still am in awe about. It's wonderful."
What makes the trip even more special for Candelario, is that she gets to spend it with her 28-year-old son, Daniel.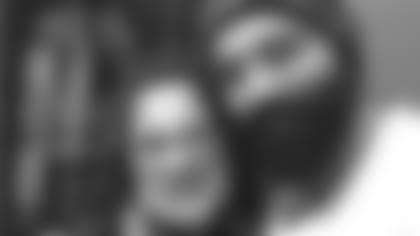 "It is exciting because when I was informed by Lorenzo that he was doing this for me, I immediately called my son and told him that I needed to talk to him but personally, face-to-face," she explained. He got nervous… He said, 'What's going on?' and I said, 'Dan, we're going to the Super Bowl!'…I explained that Lorenzo was extremely generous tonight and he offered to have me go to the Super Bowl with someone that I wanted to go with, and I pick you!"
While in Atlanta, Lucy and Daniel plan to take part in every moment of the once-in-a-lifetime experience and are beyond thankful for the chance to do so.
"I really do wish he wins [the Walter Payton Man of the Year award]," said Candelario. "He is very deserving of this award and I don't say that because he's been so generous to The Belle Center. I say that because he is really a genuine guy. He has sort of like adopted us as his family…and he's so willing to help us with everything. What I particularly like about Lorenzo, is he's a doer. He's a worker bee…He's hands on and that means a lot to us that he takes the time out of his day to come down here and talk to the kids and mentor them and give them words of encouragement and advice."
3. Thurman Thomas' legendary gift
On an epic night for Bills Legend Thurman Thomas, the Hall of Famer decided to share the experience with one lucky, unsuspecting Season Ticket Member. When Brian Schaefer came to watch his Bills take on the Patriots on Monday Night Football, he never thought he'd be leaving New Era Field with a trip to the NFL season finale. A loyal Bills Season Ticket Member since 1981, Schaefer was selected by the Bills to take part in the 2019 Super Bowl Season Ticket Member Experience and Thomas was the one who delivered the big news. Awestricken, Schaefer, who is still on cloud nine, is eagerly anticipating the special weekend.
"Well it absolutely [was exciting]," he said. "The whole night was over the top and I took neighbors to the game…and even they were overwhelmed. When they told me that we were going to stop and get our picture taken with Thurman, I thought even that was incredible on his big night to take five minutes or 10 minutes to visit with us, that would have been more than enough. Then he gave me the tickets…I literally backed into the wall. I knew the wall was there, but I needed it for that moment of support. I really was overwhelmed and so was my wife.
"They're picking us up real early on Friday," he said. "I probably won't sleep much on Thursday, I'll be like a kid on Christmas Eve…"
The Super Bowl Season Ticket Member Experience, an exclusive opportunity for season ticket members from around the league, will give selectees behind-the-scenes access to events such as the NFL Honors award ceremony and other events.
"One of things I'm most excited about is the Honors awards that is taping on Saturday afternoon," said Schaefer. "I'm looking forward to that – Steve Harvey is the host. They do the Walter Payton Man of the Year [too]…"
Fans can look for Schaefer who will be showing off his Bills pride in a custom Bills jersey.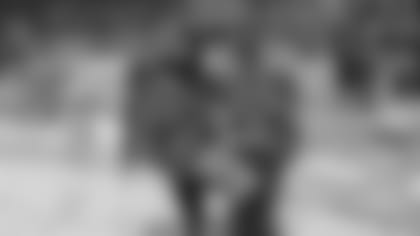 4. The Bills flag takes Atlanta
Bills fans everywhere became familiar with Kevin and Meghan Quinn back in 2016 when they were spotted proudly waving their Bills flag from the Olympics in Rio de Janeiro, Brazil. The couple doesn't hide their love for the Bills and recently put their fandom to the test when they participated in the "Super Bowl Ticket Fan Face-Off." The "Amazing Race" style competition featured four groups of Bills fans, each vying for tickets to the Super Bowl.
Giving it their all, the Quinns finished in first place and are headed to Georgia this Thursday for an unforgettable trip.
"I haven't [ever been to the Super Bowl] but my husband went to the Super Bowl when the Bills were in it in Minnesota…," said Meghan. "His aunt, she lived in Minnesota…she got [Super Bowl] tickets because the Bills were in it. So, my husband, his sister and their parents, drove out to Minnesota and went to the Super Bowl. He would've been like eight.
"We're so excited. It's going to be a lot of fun."
To follow along with the Quinns and to see where the Bills flag ends up next, check back on buffalobills.com during Super Bowl week.