Training camp is coming to an end at St. John Fisher University, so that means it's time to hand out some camp awards. There are a lot of winners in our book, but here's our take on some of the biggest standouts of camp so far.
Offensive MVP: Josh Allen
Did you think this could go to anyone else but QB1? No way. With new weapons to throw to and some new wrinkles within the offense, Allen has looked like he's taken another step in his game. His connection with returning players like Stefon Diggs, Gabe Davis, Dawson Knox and James Cook looks better than ever. Training camp is a time to fine tune things and test things out, and from the looks of it the offense is in a great place. Allen has also had his fair share of jaw-dropping throws where his fires a bullet to a teammate or fits a ball in a tight window for a touchdown. Allen and second-year offensive coordinator Ken Dorsey also believe their communication has only gotten better, which we will see on display come Week 1.
Defensive MVP: Jordan Poyer
We're all glad the veteran safety is back for two more years. Poyer has proven again just how valuable he is to the defense during training camp by picking up a couple interceptions and several pass breakups. He and Micah Hyde in a lot of ways are the anchors on defense. As Sean McDermott picks up play-calling duties this season, McDermott will have consistency with those two ballhawks in the secondary. While Poyer was banged up for much of last season, he came to training camp healthy and ready to make an impact right away. It's because of players like him that allow the defense to play at such a high level. It's also not easy going up against an offense with Josh Allen + several elite weapons every day, but Poyer invites the challenge and shines when facing the best of the best.
Rookie MVP: Dalton Kincaid
Several players and coaches have said that Dalton Kincaid doesn't act like a rookie. It's been easy to see that with how he carries himself on and off the field. Josh Allen told reporters Kincaid is fun to throw to because of his elite hands and Dawson Knox shared just how excited he is to line up with him on offense. There have been a lot of positives said about the rookie, and it's all checked out. When balls are thrown Kincaid's way, the rookie makes plays. He has had several catches throughout camp that have shown just how elite his hands are. The coaching staff doesn't want to put any crazy expectations on him in his first season or rush his development, but it's clear he will have a role within this offense.
Best connection: Josh Allen + Stefon Diggs
These two look as if they haven't taken a day off. Seriously. From the start of training camp till the end, they have been in-sync on everything. That's what you want out of two of your best players. Allen and Diggs have linked up for several incredible plays from catches in the end zone to catches near the sideline. They do it with so much finesse that it looks easy. It's hard to believe they can take another step together after Diggs has had three-straight seasons of over 1,200 receiving yards with the Bills, but this year the chemistry looks like it's at an all-time high.
Most consistent: Gabe Davis
Injury-free Gabe Davis has been fun to watch this training camp. The WR shared that he felt like he lost a step last season due to his ankle injury. Davis still reeled in 48 catches for 836 receiving yards and seven touchdowns but felt like he could have done more if he was healthy. Well, Davis is healthy now and has been catching just about every ball that has been thrown his way during practices. Just like Diggs, Allen and Davis have linked up for some highlight-reel worthy plays. The WR looks like he will be more consistent and more reliable in year four with Buffalo.
Most exciting newcomer on offense: Trent Sherfield
Josh Allen is a better quarterback with a solid option in the slot. Trent Sherfield can definitely be one of those options this season. Sherfield is entering his sixth NFL season. Even though this offense is new for him, Sherfield has made his presence known in more ways than one. From watching practices at St. John Fisher, it looks as if he will be a reliable weapon for the Bills. Sherfield has had a considerable number of nice catches against some of the best players on Buffalo's defense throughout training camp.
Most exciting newcomer on defense: Poona Ford
We gotta give some love to the defensive line here. The defensive line has been getting after it all training camp by pressuring the quarterbacks in multiple practices. They will be a fun group to watch this season. While it's hard to evaluate the line play due to not much live action, Poona Ford has shown he will be a solid rotational piece to the defensive tackle unit. At 310 pounds, Ford has done a great job of clogging up holes and helping his teammates get after the QB.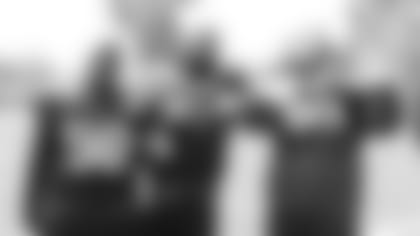 Most improved: Quintin Morris
The tight ends will play a fun role within the offense this year thanks to Dawson Knox and Dalton Kincaid, but those two aren't the only tight ends who have had great camps. Second-year player Quintin Morris has had a really consistent training camp. He has made catch after catch during practices and has shown his versatility in the passing game, blocking game and on special teams. He played in 14 games last year for the Bills and has the ability to do even more with the consistency he's shown so far.
Best comeback: Damar Hamlin
From his first day in full pads to his first practice back at Highmark Stadium, Damar Hamlin's comeback continues to be awe-inspiring. While Hamlin told media he wished he could do all his recovery under a rock and come out when he was 100% back, it's been amazing to watch his comeback throughout training camp. Every single day, Hamlin has been out there with his teammates doing everything they are doing. The safety even had an interception during one of the practices at St. John Fisher. Hamlin, the training staff and coaching staff are taking everything one day at a time as the safety is in the seventh month of his recovery. The best part of it all has been seeing that infectious smile and hip dance moves every day on the practice field -- 3 is back out there doing what he loves.