Even without their recently signed free agents, the Buffalo Bills have no shortage of talent on the defensive side of the ball.
Safeties Micah Hyde and Jordan Poyer are healthy and ready for their seventh year as teammates. Tre'Davious White will be an anchor for the defense at cornerback after a full offseason following his 2021 ACL tear. Greg Rousseau and Ed Oliver will return to the defensive line ready to take the next step in their careers.
But the Bills made it a priority this offseason to continue to invest resources in their defense. The additions of DT Poona Ford, LB Leonard Floyd and S Taylor Rapp have the Bills defense poised to be one of NFL's best units again in 2023.
Adding edge rusher Floyd and defensive tackle Ford to the line brings a level of versatility that could be unmatched across the league, especially once three-time All-Pro edge rusher Von Miller is healthy.
Floyd, who won a Super Bowl with the Los Angeles Rams, has 9 or more sacks in each of his last three seasons. His experience will contribute to the growth of not only younger players like Rousseau and Oliver, but even stars such as three-time All-Pro edge rusher Von Miller, who was instrumental in the Bills' signing of Floyd.
"For me, what stands out is just his extra effort after the play. These are things that I want to put in my game," Miller said of Floyd in the early days of training camp.
Floyd's decision to come to Buffalo was not as influenced by financials as it was by a desire to win another Super Bowl.
"Oh, it was simple," Floyd said on his choice to sign with the Bills. "I want to win the Super Bowl. And I'm examining teams and looking at the rosters, and the Bills is the best ... I just felt like if I come here, I can help the team get there and win again."
Rousseau, who is primed for a breakout season following an eight-sack 2022 campaign, said that his relationship with Floyd has become very collaborative. The two are of a similar body type, with Rousseau listed at 6-foot-6, 267 pounds and Floyd at 6-foot-6, 240 pounds.
"Just watching the way he rushes, I feel like we rush kind of similar," Rousseau said. "We definitely talk a lot and kind of bounce ideas off each other and just see what we did well, see what we did wrong and see how both of us can get better."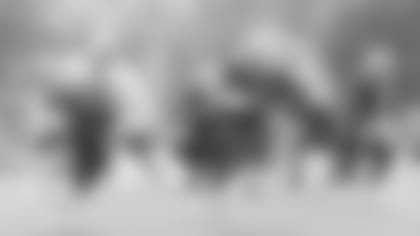 "He's done a really good job. He doesn't say much, he's a pretty quiet young man, but I respect that and when people just let their actions speak," said head coach Sean McDermott. "He's learned the defense in the short amount of time being with us … so I have a lot of respect for him and his game."
Rousseau also commented on the speed of Ford's transition and what he brings to the line.
"He's one of those guys, he came in day one, he really just like integrated really well into our group and is obviously showing out there on the field. … He's just a smart, instinctual player," Rousseau said on One Bills Live.
Defensive tackle Jordan Phillips, who made his training camp debut Sunday after recovering from shoulder surgery, was more blunt about Ford's presence on the field.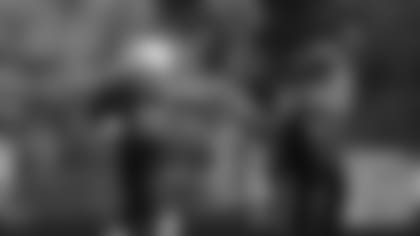 "Poona surprised me," Phillips said. "You see his film, but when you see it live, you're like, 'Oh. Wow.'"
The sheer number of talented athletes the Bills have at their disposal could be a problem for opposing quarterbacks. Buffalo ranked 25th in team sacks in 2022, and with their offseason moves, they look to put pressure on offenses at a much higher rate.
"I feel like that's going really help us out, we're going to have a lot of moving parts," Rousseau said. "It's going to be cool to see everybody get different looks and kind of slip in at different places, and whether the play is third down or first down, I feel like we have a lot of packages and just have a lot of flexibility on who we want to get on the field."
Floyd said that he trusts his teammates on the defensive line because of their experience.
"This is the best group I've been around as far as, I can trust the guys when they're in the game, they know football," Floyd said. "I've been on teams where you couldn't really trust the guy behind me and I had to play the whole game. … Being around these guys, I know with the rotation, everybody can eat."
Moving to the secondary, one of Buffalo's most intriguing signings was that of safety Taylor Rapp, who also won a Super Bowl with the Rams. Last season, Rapp had a combined 92 tackles, adding two interceptions and a fumble recovery. Rapp reads quarterbacks quickly, and Allen said that he has to be careful when throwing Rapp's direction during practice.
"He's kind of playing that rover-type position where he's kind of got free range to move around back there and he's a smart ballplayer," Allen said. "We're just happy that he's on our team. He flies around, he's instinctive, he sees things coming around."
Hyde and Poyer are as good as guaranteed to be the starting safeties considering their experience in the Bills' secondary, and nickel corner Taron Jackson was in for a hefty majority of snaps last season. Defensive backs coach John Butler is glad to have a Swiss Army knife in Rapp.
"I think the word versatile comes to mind. The word experience comes to mind," Butler said. "We value secondary players that can do multiple things, and then also play multiple positions which … we're using him in a couple different ways which we're comfortable with and we're excited about."
Rapp had his eyes set on Buffalo in free agency because of the scheme McDermott and his defense run, as well as for the opportunity to learn behind two of the league's best safeties.
"I saw myself being a versatile piece in this defense, coming in learning from obviously Jordan, Micah, those two guys … I'm trying to soak up as much information from those two guys who have been playing in the league for 10+ years, playing at a very high level."
The 2023 Bills defense will be a force to be reckoned with, due much in part to the learning environment the veterans, returning and incoming, have created.