Terry Pegula offered a message to Buffalo Bills fans following Governor Andrew Cuomo's announcement that a limited number of fans will be allowed into Bills Stadium for Wild Card weekend.
"Remember, our objective here is to support our team in as many ways as we can," the Bills owner said. "And I ask them to be safe, be smart, and most importantly be loud."
New York State announced Wednesday that 6,772 fans will be permitted into the stadium for the Bills' first home playoff game since 1995, which will be played on either Jan. 9 or 10. Of that capacity, 6,200 tickets will be available for purchase to Bill Season Ticket Members who opted in earlier this season. (The remaining 572 entries will go toward NFL commitments.)
Season Ticket Members will be notified via email based on seniority with set times to purchase tickets. Club Season Ticket Members will receive their email on Thursday, Dec. 31; Non-Club Season Ticket Members will receive theirs Friday, Jan. 1.
During the press conference hosted by Governor Cuomo, Terry and fellow Bills owner Kim Pegula emphasized the importance of fans being in the building to support the players while also abiding by safety precautions to ensure that New York State will once again grant permission for fans at a potential divisional round game at Bills Stadium.
Precautions taken to ensure the safety of the community include mandatory testing for all who enter the building within 72 hours of the game (which will be conducted by BioReference Laboratories at Bills Stadium), staggered entry times, cashless transactions, mandatory mask wearing, and no tailgating.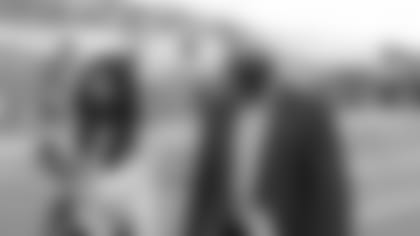 "We know that the fans have been waiting 25 years to be able to attend a playoff game and we are so excited to be able to allow the limited amount of fans that we can," Kim Pegula said. "I want to just say that we are so hopeful that there will be many more games that all fans can attend. For us to do that … we all need to be safe starting today even beyond the game.
"… We want to just encourage everyone out there, all our fans that we just need to do our part. Wear your mask, being compliant to CDC guidelines, social distancing. We all know what needs to be done, we just we all need to do our part to get it done so that we can have everyone back in our stadium soon."
Bills safety Jordan Poyer spoke earlier in the day about what it would mean to have fans in the building for the first time this season.
"I can't even imagine what that would feel like, what that would be like, and what that would look like," he said. "I know it'd be a surreal sight though."
The goal now is to have a crowd for as many games as possible.
"I would encourage our fans that will be attending the game to help us out," Andy Major, vice president of operations and guest experience, said. "We're going to really need them to follow the procedures, to be safe, to show the rest of the country that we are the best fans in the league and, by the way, we can also be safe."