They may be tough on the field, but when it comes to making a difference for others, especially those who support them week in and week out, Bills players are not afraid to showcase their big hearts.
One of the many ways that several veterans, rookies and coaches have given back to the fans in the Western New York area this year is through the Bills Player and Coach Community Season Ticket Donation Program. The initiative gives participants a chance to donate tickets to local non-profit groups to attend Bills games at New Era Field.  This season, over 14 Bills including, Lorenzo Alexander, Josh Allen, Cole Beasley, Dion Dawkins, Reid Ferguson, Robert Foster, Leslie Frazier, Jerry Hughes, Star Lotulelei, Sean McDermott and Kelly Skipper have opted into the program, and in doing so have donated over 1,500 game tickets.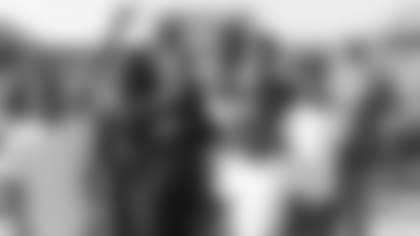 While they each have their reasons for wanting to take part, the group has one common goal in mind – providing an unforgettable experience. For Bills long snapper Reid Ferguson, the program also allows him to support the causes that he is passionate about, such as military appreciation and juvenile diabetes research.
"This is my first-year partaking in the season ticket program," he explained. "…I donated two [tickets] to military members [Veterans One-stop Center of Western New York] because that's something that's near and dear to my heart. I have a lot of family members that have been in the service over the years. So, it's something I wanted to give back to. It just feels important. If you're able to give back to charities that you care about, especially tickets to home games, [that] means a lot to people. So, it's a good chance to interact with the players – especially after the games sometimes – and to see some of the people you cheer for on Sundays. It's a good thing [and I'm glad I'm able to be a part of it].
For defensive end Trent Murphy, the program has also provided him with another outlet to positively impact others. Two areas of focus for Murphy are military personnel and single parent families.
"I think it's important because I know the struggle for a lot of single-family homes, just from friends and extended family," said Murphy. "It's kind of how my dad grew up, and so I know the stress it puts on the household. So, just kind of any positivity and help they can…enjoy and share as a family I think is special. And then military is always a special place for me too – just everything they do and sacrifice for the country. Just giving them something, and I know how much they kind of rally around the NFL when they're abroad and overseas and going through stuff, and how much of a morale booster it is for them. So anytime I can do anything for the military, I'm happy to."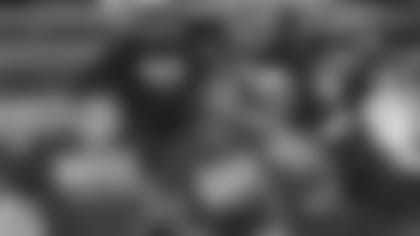 Sharing similar sentiments as his teammates, Bills linebacker Lorenzo Alexander utilizes the program to continue to strengthen the relationships he's made in the region over his four-year stint with Buffalo.
"The last three years, I've taken advantage of it [the program] and mainly because I've gotten to know the community," he explained. "That first year, I really didn't know – I was just kind of here, figuring things out. After making some partnerships, and obviously living here, having kids here, playing different sports, I thought it was just a great idea to take advantage of.
"Obviously, I've done it through my ACES Foundation, but I really give the tickets to people I see doing great work in the community. So, whether it's my son's youth football coach and the coaches, bringing their kids…Then there are other organizations, like the Belle Center, Erie County…there are various relationships that I've made, and I just try and honor those people, as well as give an experience…That's what I've used them for, and it's been a great experience so far."
Alexander, like his fellow Bills, views the Bills Player and Coach Season Ticket Donation program as a meaningful way to provide an NFL game day experience unlike any other, to a community that is second to none.
"I was fortunate enough to go to a game when I was in high school, but it was more because one of my best friend's dad knew somebody with the team," he said. "If I didn't have that, I would've never gone to a game until I was playing in one. I know I had a ton of friends when I was growing up that never experienced a professional game until they were able to afford it themselves once they went to school. So, it's cool to give that experience to people because the Bills organization is so ingrained into the community that you want as many people to experience it as possible…"