This isn't the first time the Bills have been the NFL club that was taking a progressive step in diversifying their hiring practices on the football side of the house. The addition of Callie Brownson to their coaching staff as a full-time coaching intern this past week marks the third time in the last four years that a female is part of Buffalo's coaching staff.
Brownson, a graduate of George Mason University, never had the opportunity to play football beyond the youth level, but played eight seasons as a safety, running back and slot receiver for the D.C. Divas of the Women's Football Alliance. A five-time team captain, Brownson was a four-time All-American.
After coaching high school football in Northern Virginia for three years, Brownson attended the Manning Passing Academy where she served as one of 16 female coaches for the first women's clinic. It was there she met Dartmouth head coach Buddy Teevens, who was impressed with her expansive knowledge base.
He offered her a two-week internship that turned into a full-time position as an offensive quality control coach, becoming the first full-time female football coach in Division I.
Coincidentally, after getting a similar two-week training camp internship with the Buffalo Bills this summer, her performance was such that again she was offered a full-year position on Sean McDermott's staff.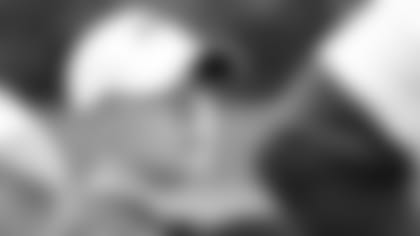 "I first met Callie at the NFL Women's Careers in Football Forum in Indianapolis through Buddy Teevens, the head coach at Dartmouth," McDermott said. "She came highly recommended by him. I was immediately impressed by her enthusiasm for the game of football and her career aspirations. During training camp, she showed a tremendous work ethic and earned this opportunity. She is very driven, professional, smart, and eager to learn."
There was always a passion for football within Callie Brownson. From watching games as a kid with her dad, to playing youth football and even women's professional football. But coaching football beyond the high school level wasn't given a second thought, until she witnessed the changes in diversity hiring in the NFL.
Mount Vernon high school, Brownson's alma mater, was where she thought her coaching career would begin and end, under famed coach Barry Wells, who recruited her to coach on his staff.
"He was the one who bridged the gap," said Brownson. "But even at that point I had coached with him for three years and I thought that was the pinnacle. I was going to work a nine to five job and then coach high school football and that was as good as it was going to get."
That was until she saw the work that Sam Rapoport, the NFL Director of Football Development, and former pro football player herself, was doing to expand the avenue for women to land NFL coaching positions.
"They made this big push for diversity including women more in their fan base and on the football side, Jen Welter gets hired. I had played on Team USA with her, so I knew her pretty well. So the wheels started to turn. Then you see the work that Sam Rapoport started doing from the NFL league office as it pertains to diversity and at least getting women in front of people or in the door, so I immediately jumped on that train."
Brownson attended the NFL's first 'Women's careers in Football Forum' and even met Bills owner Kim Pegula.
"I remember she met about 200 people and I was toward the back of the pack and she still had that Kim personality," Brownson said. "All these people meeting her and probably hitting her up for a job. So someone in her position would probably be exhausted. She was just Kim. She was super happy and reaches out and grabs your hand, asks her what you want to do. She left an impression on me because there were other people there who maybe weren't as enthused."
Networking and making connections at the forum ultimately led to her landing a personnel and scouting internship with the New York Jets.
Now with the Bills, Brownson is grateful that there were two females hired prior to her current tenure in Buffalo. Kathryn Smith was the first full-time female coaching hire of the Bills in 2016 when she was promoted to Special Teams quality control coach. Last season Buffalo hired Phoebe Schecter as a full-time coaching intern.
"It means a lot more and comes with a heavier punch to me to continue that," said Brownson. "It means a lot to me for the two who came before me. Kathryn Smith and Phoebe Schecter both did an amazing job so that this could continue, so I could have this opportunity to be here. If they hadn't done a good job it may have gone another way. What they've done and how hard they worked and the impression they left on people in this organization is the reason why I'm even here and have this opportunity to continue that."
And Buffalo carried their female hiring over to their personnel department even before they added Brownson, hiring Andrea Gosper as a year-long paid intern in their scouting department this past April.
She was hired not long after meeting Bills GM Brandon Beane and Assistant GM Joe Schoen at the Women's career in Football Forum in Indianapolis this past winter. It was there that Brownson first met Gosper, and now the two are working for the same NFL organization.
"Coach Teevens and I from Dartmouth actually spoke for the coaching breakout session. Andrea was in it and was a coaching intern at the University of New England," Brownson said. "I met her there and she was somebody who came up to us and talked to us a little bit. I met her there and then I found out she got hired here. She's incredible."
As much as Brownson values her opportunity with the Bills, she just wants to get to work knowing the regular season is fast approaching. She knows that performing at her best every day will only help create more opportunities in the league for women going forward.
"I hope to continue it for someone else and leave a ripple effect among other teams as well," said Brownson. "Here's the third woman hired on our football staff and we're going to keep doing this, and it has been successful for us, so you should do it too."