1. Women making an impact in sports on and off the field
It was a particularly special moment when NFL Senior Director of Football Development Sam Rapoport made an appearance at the first day of Bills Training Camp, presented by Connors and Ferris. Rapoport, who has held her position with the NFL for the past two years, commends the Bills for their efforts in promoting diversity and women in the sports industry.
Rapoport's role with the NFL includes encouraging women to apply for positions that were historically held by men. As she watched practice from the sidelines, it was clear that the work she has done with the NFL has made an impact around the league and at the Bills organization. She has seen the industry broaden its horizons since her days as a quarterback for the Montreal Blitz and believes this speaks to the willingness of clubs to recognize the talent and skill women can bring to football.
"We've worked with the Bills now since we started these efforts two years ago and the Bills have been such a big supporter, not just for women in football, but diversity in football…The Bills walk the walk…It's been incredible to see the evolution," Rapoport explained. "Last year at the Pro Bowl we had eight women from our program in NFL training camps and this year we have 15. So, we've almost doubled our efforts."
While on-site, Rapoport had the chance to speak with Bills Owner and President Kim Pegula and coaching intern Phoebe Schecter and even posed for a photo.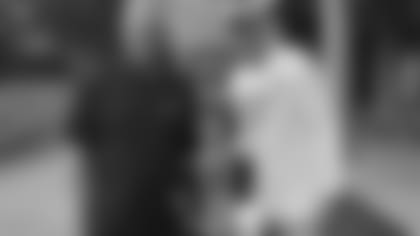 2. McDermott inspires young fan
For the NFL's "My Cause, My Cleats" initiative last season, Bills Head Coach Sean McDermott sought to raise awareness for food allergies - a cause that hits home for him and his family. To show his support, McDermott customized his own pair of sneakers, hoping to make a difference by advancing the conversation. While he may not have known it at the time, McDermott achieved that and much more.
For eight-year-old Jared Saiontz, who has severe food allergies and is an advocate in his community for the cause, McDermott's message was well-received. Able to relate, Saiontz expressed his joy to his mother, Stacey. Beaming with excitement, Saiontz carefully crafted a letter to McDermott, explaining his story and expressing his thanks.
"He was so excited," said Stacey about her son's reaction. "He said, 'I want to write to him and thank him for talking about food allergy awareness' and he was so excited. He worked a long time on his letter. It was so amazing that he [McDermott] wrote back to him. He was so excited that he brought it into his fourth grade class…"
"I was taken back honestly," said McDermott in reference to receiving Saiontz's letter. "For a young man of Jared's age to take a stand and write a letter… and good for him to stand up for a cause that's been so close to him and that he's been affected by – what a mature young man."
To Saiontz's surprise, he not only received a letter back from coach, but also got an invite to the opening practice at Bills Training Camp, presented by Connors and Ferris. Saiontz grew up as a Bills fan and has been attending camp for years, so it was an entirely different experience this time around. The youngster had one more surprise in store when he was escorted near the locker room after practice ended to meet McDermott and a few other special guests, including Bills Owner Terry Pegula, General Manager Brandon Beane and several players.
Both McDermott and the Saiontzs were equally thankful to have met and look forward to continuing to shed light on food allergies.
"It hits close to home because our children have food allergies and it wasn't something that I knew a lot about until our children were born, so it's something that is near and dear to my heart and a great cause," said McDermott. I'm just happy to meet Jared. He's a strong young man and I think together, if we continue to fight to beat this, we will at some point and that's the whole key."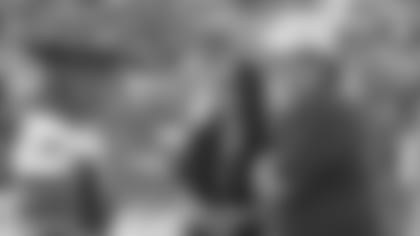 3. Bills fan "Pancho Billa" enjoys ultimate camp experience
Ezra Castro, more popularly known as "Pancho Billa" has been a recognizable face in Buffalo's stands for years and today he took to the camp sidelines to watch his favorite team prepare for the upcoming season. As Castro entered camp, he was greeted by a warm welcome of fans wanting autographs and photos. Once Castro finally made it to the stands to watch practice, he did not stay there long, as he was escorted onto the field for the experience of a lifetime.Castro, who is currently battling cancer, felt like a true celebrity as players, coaches, and even Bills Owners Terry and Kim Pegula and General Manager Brandon Beane greeted him.
4. Bills welcome hometown heroes to camp
It was a busy day for the Bills as they welcomed local first responders to their Community Relations tent for the opening night of camp. Some of the guests included members of Nick Clark's unit, a New York State Trooper, and former Bills tryout player, who recently lost his life while in the line of duty.
Everyone in attendance enjoyed complimentary food and drink, as well as special on-field access to watch practice and get some autographs. One local paramedic, Marc Affronti, from the Rochester area, who usually works at camp, was honored to attend this year as a guest and felt thankful for the invite.