Defensive end Chris Kelsay has said for years that he wanted to spend his entire playing career with the Buffalo Bills. On Wednesday he made sure that would be the case. After 10 years with the club Kelsay announced his retirement Wednesday.
"Chris has been the consummate professional throughout his career and we will miss him," said general manager Buddy Nix. "He always gave 100 percent, regardless of the situation and regardless of the score. He did everything with class and was an excellent team leader. Everyone in our organization from the players to the coaches to the front office personnel have the utmost respect for Chris. I know he will be successful in whatever he chooses to do next and I speak for everyone at One Bills Drive when I say that we wish him and his family nothing but the best."
"I want to thank Mr. Wilson for the opportunity he gave me 10 years ago to be a Buffalo Bill," said Kelsay. "One of my goals was to finish my career with the team that drafted me and that came to fruition. I feel very blessed to say that.
"The Buffalo Bills' fans are the best in the NFL. Having played in every NFL stadium over my 10 years, there are no other fans like the ones we play in front of at the Ralph. It's inspiring, it's emotional and it's exciting every moment you step on the field," Kelsay continued.
"Your teammates are a big reason why you do this. Being around long enough you establish a lot of lifelong relationships, not just in the locker room but around the building. That's something I'll carry with me and cherish for the rest of my life."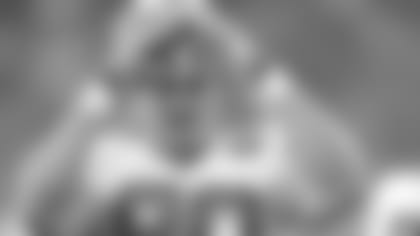 ](http://www.buffalobills.com/media-center/photo-gallery/Bills-Veteran-Chris-Kelsay-Retires/c050c359-2ee2-42b1-948a-e1032cdd7e4f)
Kelsay appeared in 147 games for the Bills since the time the club made him a second-round draft choice in 2003. That ranks 16th most in team history. The defensive end stands ninth on the team's all-time sack list with 32.5 in his career. Kelsay also ranks eighth in team history in forced fumbles with eight and is tied for first in team annals in career safeties with two along with Ron McDole.
The Nebraska product was a locker room leader for the defense and remarkably durable throughout his career. After missing just three games in his first eight seasons, Kelsay missed 11 total in 2011 and 2012. After sustaining a torn ligament in his neck in the middle of last season he was eventually placed on injured reserve for the last four weeks of the year.
One of the more notable highlights of Kelsay's career came in the home Monday night game against Dallas in 2007 when Kelsay tipped a Tony Romo pass in the air to himself for an interception return for a touchdown.
In retirement the 32-year old will return to his native Nebraska with his wife Natalie and three children.