---
---
It was an investment that Terry and Kim Pegula committed to personally. In the wake of renovations and improvements to New Era Field, a redesign of the team's locker room, training room and grass practice field expansion over the last few years, the most recent project by the owners of the Bills may prove to be the crown jewel of the enhancements at One Bills Drive.
Last Friday was the ribbon cutting ceremony for the Bills brand-new 41,000 square foot Sports Performance Center, which Bills players will be making use of today as the team's offseason conditioning program commences.
"In the end we realize all these players are people," said Kim Pegula. "They have a life off the field. They have a life outside of this facility and outside of Buffalo. They're real people. They're human. The health and safety of all the players is paramount, and not just on game day.
"The health and wellness we can now provide here will not only help them through their career, but their whole life. Hopefully this facility shows them the care and well-being that we want for every player whether we have them for a week, a month, a year or their whole career."
Players saw artist renderings when the plans were first announced last year, but seeing it with their own eyes left them awestruck.
"The pictures don't do it justice," said Josh Allen. "Being in there and seeing how big it is and how nice it is and everything that went into it … they thought of everything. Mr. and Mrs. Pegula have blown me away. It's pretty awesome. It's definitely going to help us out and I'm super excited to get in there and start working."
"It's ridiculous. I really love it," said Lorenzo Alexander. "Sometimes you see some things on paper and artists can be really creative and you want to wait to see what it really looks like. I think this has actually outdone the renderings. This is the best facility I've ever been around organizationally. I would say it's probably top-two in the league just hearing and talking to other guys in the league about what their facilities look like."
"This is the best facility I've ever been around organizationally. I would say it's probably top-two in the league." Linebacker Lorenzo Alexander
The project is the culmination of seamlessly linking the club's athletic training, strength and conditioning and sports science departments together into one free flowing operation for their players.
"This whole facility was really designed for the players to help keep them on the field," said head of strength and conditioning Eric Ciano. "Some of the areas we were trying to improve was in communication. There's now one smooth flow to this facility so there's communication between the weight room, training room, sports science, nutrition to weight room, to flexibility, all those areas. They've covered it all to help players stay on the field. That was the number one goal of this whole project."
Among the enhancements are a 26,000-square foot expansion of their weight room facility, which is now three times the size of its predecessor. It includes over 100 pieces of new equipment including 16 complete Sorinex weight racks. There is also a turf field area for warm up, post-workout and flexibility work.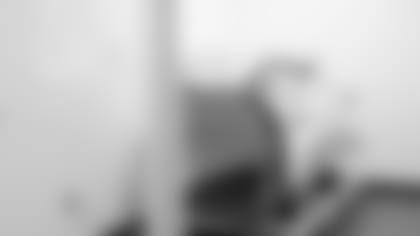 ---
---
The new structure includes 7,500 square feet of glass to promote the transmission of natural light throughout the space.
The weight room sound system can get up to 130 decibels which is equivalent to a military jet aircraft take-off and has 50 percent more power than an IMAX theater speaker system.
The team's training room was also expanded and now contains a Cryotherapy unit to aid players in muscle recovery and can reach temperatures of -197.5 degrees Fahrenheit.
The team's sauna room has been expanded. A steam room has been added as well as a hydrotherapy pool that contains an underwater treadmill for rehabbing players.
There is an oxygen-rich hyperbaric therapy room, a float therapy room, a light therapy room, massage and sleep therapy rooms as well as acupuncture and chiropractic treatment rooms available to players as well.
A new 1,600-square foot Player Recovery space also includes a 700-square foot Recovery Lounge.
This expanded sports science space allows the staff to more effectively customize programs for each individual player through extensive case-by-case testing.
"Anything we might come across with a player we can address with the facilities we have," said Ciano. "The screening process allows us to individualize programs for our players and not necessarily have one program for the entire team. Catering to the individual player based on height and weight or position will help reduce injury as well."
"The sports science is a relatively newer area in sports," said Pegula. "To add in this layer of sports science and the rehab and recovery brings a whole extra layer of expertise that we've just begun to utilize in the last few years. We've seen the results of that because our injury rates have gone down considerably the last few years. So when we pair up this facility with the science it's going to give us a great advantage."
---
---
The Pegulas made sure to seek the input of their training, sports science and strength and conditioning staffs as well as suggestions from the players. Many of those recommendations were incorporated into the project.
"They talked to a lot of us about what was going to go into this," said Allen. "They're owners who care about their players and their input and really appreciate their players. It's the type of relationship where we care about them and what they are about and you see it in this facility. Guys are going to love it."
Most encouraging for the players is no longer will they need to go offsite for massage therapy or other services like hot yoga for flexibility training. There's now a hot yoga studio right at One Bills Drive.
All of these amenities will allow the players to get all of their necessary training, nutrition and recovery accomplished in one place has clearly sent a message.
"It says in the end they're going to provide us with all the resources we need to win," Alexander said. "Whether it's therapists to equipment to different resources in different rooms, there's really no reason why you can't come to work and get everything that you need.
"A lot of places you go to the weight room and lift and then drive 10 or 15 minutes to see a massage therapist or acupuncturist. They've brought that all in house."
"We want guys here because they can trust us," said Ciano. "They know we have their best interests at heart. We want to take care of them. That's the number one thing. The Pegulas have gone above and beyond to make sure that those players know they have the best facilities you can have and that they care about player health."
Even before the project was finished, it already proved to be a helpful recruiting tool for luring free agents in March. Cornerback Kevin Johnson is a player looking to put his injury history behind him. He saw Buffalo's new facility as an asset in keeping him on the field.
"With the Sports Performance facility they were putting together for the player development here when I visited and coach McDermott explaining to me how things are run here it was something I want to be a part of," Johnson said.
"We want them to leave here better than when they came here with a general wellness inside and out," said Pegula. "I think the players who come in here whether they're visiting or they're on the team, they feel that and that's going to go a long way for us."
Now it's up to the players to take full advantage of all the Bills now have to offer to maximize their performance on the field.
"Just the thought that went into designing this space for us is amazing," said Allen. "It's out of the park."