This weekend was one to remember for Bills Head Coach Sean McDermott, quarterback Matt Barkley, Legend Steve Tasker and the 750 guests who attended former longtime Bills player Frank Reich's 18th annual Call to Courage Awards Breakfast. Held in downtown Buffalo, the event offered those in attendance a unique opportunity to hear from McDermott and the Bills crew who participated in a roundtable discussion on the "State of the NFL," which was moderated by Co-host of "One Bills Live" and Radio Voice of the Bills, John Murphy.
During the event, Reich also paid special tribute to an individual who has become quite popular in the Western New York region – Cincinnati Bengals quarterback Andy Dalton. Presented with the prestigious Call to Courage Award, Dalton was recognized for his exemplary character, commitment and leadership both on and off the field.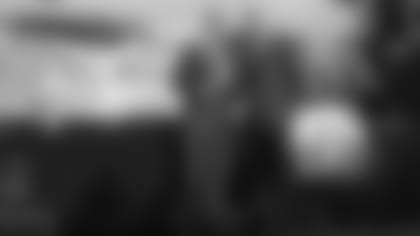 With receiving the honor, Dalton joined good company. The list of former winners includes several of the NFL's great players such as Kyle Williams, Lorenzo Alexander, London Fletcher, Kurt Warner, Chad Pennington, Curtis Martin, Don Davis, Bob Christian, Trent Dilfer, John Kasay, Jon Kitna, Heath Evans, Benjamin Watson, Thomas Davis, Jeff Saturday, Scott Chandler and Demario Davis.
Reich, the current head coach of the Indianapolis Colts, was overjoyed to celebrate Dalton and to return to Buffalo – a place that will always feel like home to him and his family.
"We're honored to host our Call to Courage Breakfast in Buffalo every spring," said Reich. "Now in our 18th year, the roots of the event remain firmly established here. It's a pleasure to continue to highlight these men of conviction and share their stories with a community that is so welcoming. The Bills organization and this city will always hold a special place in my heart. I cherish the relationships I've built here, and I'm blessed to be able to give back to a community that has always supported my family and I."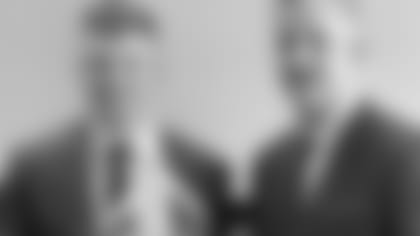 For McDermott, a first-time attendee, the message behind the breakfast is one that resonates closely with him.
"It is special either way and to have Andy be there… [is great]," he said. "…In the NFL we're all one big team and the call that we have to get out in our community is true of every team in the NFL."
"Character is big and a lot of people rise and fall based on character – [and] in particular in leadership positions. And so, we're trying to develop young men both on and off the field and character is a big piece of it."