For fans that made the trip to New Era Field last Sunday to see the Bills take on the Lions, it was a special day for many reasons. Not only did Josh Allen show off his arm strength when he connected with Robert Foster on a 42-yard touchdown strike to set up the team's come-from-behind win, fans watched as several of the area's most promising high school football coaches and athletes were recognized. In a pregame ceremony that included Bills Hall of Fame quarterback Jim Kelly, the Bills and ADPRO Sports were proud to celebrate the winners from the High School Coach of the Week Program, as well as the two Coach of the Year recipients.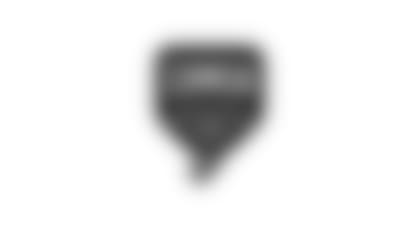 This year, Ty Harper, head coach of the Clymer Central/Sherman/Panama Wolfpack, and Derek Annechino, head coach of the Aquinas Institute of Rochester Li'l Irish, were selected. With Harper and Annechino at the helm, both teams won the New York State Football Championship in their respective divisions.
In addition to receiving pregame recognition, both Harper and Annechino shared a moment with Jim Kelly when the Bills great presented them with a ceremonial game ball. The coaches, as well as the athletes from both teams, were also invited to the field during the first quarter break to highlight their accomplishments this season.
The Clymer Central/Sherman/Panama Football program's first head coach since the school districts merged in 2015, Harper has found success both on and off the field over the last four seasons. After defeating Moriah in the New York State Class D Championship game, Harper's team finished with a perfect 13-0 record this year.
"This is an extremely humbling honor for me and it's an incredible feeling knowing that there's so many good football coaches in Western New York, so many coaches that have been doing this for such a long time and have won so many games," he explained. "To be selected as the Coach of the Year is really an honor for me. For our program, the generosity of the Bills being willing to donate what they are to us, I can't thank them enough and it's going to go a long way in helping us continue to make steps in the right direction."
A mentor and friend to each of his athletes, Harper has taken pride in watching the lessons his group has learned on the field transfer into other important areas of their lives.
"I think sports in general do a really good job of preparing kids…for real life situations and I think the sport of football [does so] probably more than any other, "Harper said. "[It] prepares kids for any adversity that they're going to see in their lives and I think it pays dividends down the road for them."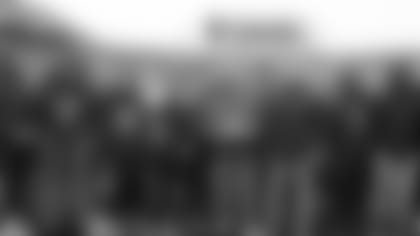 Rochester region Coach of the Year Derek Annechino, who has been a member of Aquinas' staff for 21 years, is also grateful for the award and for what it means for the Li'l Irish. This season, Annechino's squad won the New York State Class AA Championship 21-14 over New Rochelle. The victory marked Aquinas' first state title since 2015 and the school's sixth since 2007.
"It was great. It was an outstanding way to cap the year," he said. "Getting to be down on the field with a lot of great coaches and getting to know those guys before the ceremony was really good. It was just a good feeling to know that the hard work is recognized…It's great for the kids themselves, as well. They get to do something that they otherwise might not be able to do, so it was really a cool experience.
Like Harper, Annechino has developed a bond with his players that extends far beyond their time on the team.
"You see it all the time," he said. "I hear from kids that we coached in the early 2000s, just checking in and seeing how they're doing. They follow the program and they like to see us be successful. They take a sense of pride in it and…the fact that they're successful adults and contributing to society and taking care of their families and doing all the right things in life, definitely gives you satisfaction that as a coach you're doing something right."
Congratulations to Harper and Annechino on their standout seasons and each of the Bills & ADPRO Sports High School Coach of the Week winners!
Throughout the 2018 football season, 11 coaches from both the Buffalo and Rochester regions were honored through the program. The initiative, which also names a Coach of the Year from both regions, provides the winners with a $1,000 grant for their team and a signed certificate.