Bills veteran linebacker Lorenzo Alexander has been selected by the Buffalo Bills as the team's 2018 Walter Payton Man of the Year nominee. As explained by his family, teammates and members of the community, here are seven reasons why Lorenzo Alexander was chosen for the prestigious honor for the second consecutive year.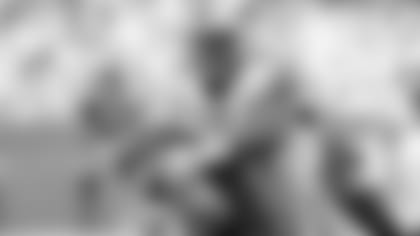 1. It's not about the destination, it's about the journey
In many ways, Lorenzo Alexander has defied the odds. Since entering the NFL as an undrafted rookie free agent in 2006, Alexander has exceeded expectations and gone above and beyond to help his team. Starting his career as a defensive lineman, Alexander, who spent time with the Ravens, Redskins, Cardinals and Raiders before finding a home with the Bills in 2016, has evolved into a one-man wrecking ball. Although his path has been far from conventional, his effort has never wavered. In his short time in Buffalo, Alexander has made himself a household name. In his first year with the club, he posted a career-high 12.5 sacks, earned his second Pro Bowl nomination and was even named the Pro Bowl MVP. Solidifying his role on Buffalo's defense, Alexander continues to be a difference maker and is currently leading the team in sacks with 6.5 so far this season.
"Lorenzo is a class act," said Bills head coach Sean McDermott. "He has an interesting story because he's been at a few different teams and he's experienced a lot of different things over the course of his career, so he's built up a lot of wisdom and perspective which I think has helped make him as a man who he is."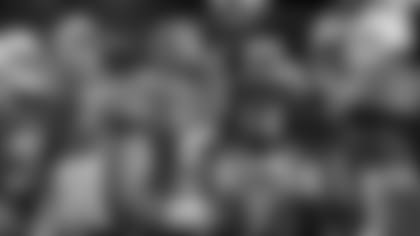 2. A respected voice, leader in the locker room
Walking the walk as much as he talks the talk, Alexander has taken the lessons he's learned in his 12 years in the NFL and used them to motivate others in the locker room. Well-respected for his leadership ability, humble demeanor and genuine interest in the wellbeing and development of his teammates, Alexander was selected as a team captain in both 2017 and 2018. Not only has Alexander impressed his teammates with his dedication to his work and his words of wisdom, he's garnered attention from Buffalo's coaching staff.
"The player-driven leadership [is huge]," explained McDermott. "I can stand up and bang the podium every day and every week but at the end of the day, the thing that's important is the player-driven leadership and Lorenzo is a big part of that."
"He is a tremendous leader and a guy that we count on a great deal to make a difference for our football team, both on and off the field," said Bills defensive coordinator Leslie Frazier. "A guy that everyone looks to for leadership and he comes through for us with his playmaking ability and then what he does in the community as well."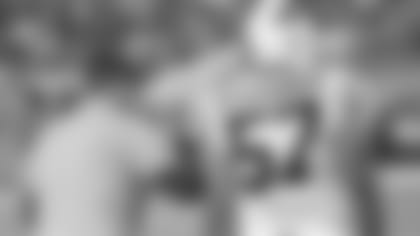 3. A mentor in the meeting room...
Given how much he cares about his teammates, it comes as no surprise that Lorenzo's leadership extends to his position meetings as well.
"You know, we have a young room aside from Lorenzo, so his leadership has been outstanding," said Bills linebackers coach Bob Babich. "The unit's doing a good job and a big part of it is because of the way he leads, and I believe that he's a great role model, first of all, he's a family man, he's a great father, but professionally he's a true pro. He studies, he takes care of his body, he does the right things and I think that that has really helped us as a unit.
"I think Tremaine Edmunds and Matt Milano both have benefited from his leadership. I think he does a good job making sure that he talks to these guys and explains to them what the NFL is all about. Matt's in his second year, Tremaine's in his first year, so I think that it's been a big, big plus for the way that they've played this year."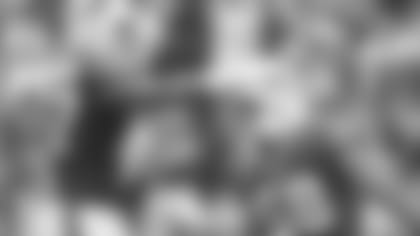 Standouts on defense, both Milano and Edmunds credit Alexander for not only being a friend, but a resource for them to utilize in the early stages of their careers.
"When I first got here, he was one of the main guys that really stood out from the rest as far as helping me out personally…Yeah, I mean definitely [my play on the field has benefited from watching him]," said Milano. "He's just been around it and seen so much stuff. He's been here longer [and] he knows more than I do. He just gives me little tips and tricks – whether it's who I'm reading or if I'm in pass coverage, little stuff like that, which has helped my game tremendously."
"Yeah, definitely [I've learned a lot from Lorenzo]," said Edmunds. "There's all kinds of stuff – outside of football, dealing with football, just learning how to be a true pro. Since day one he's been somebody positive that I can look to for any type of advice. He's always telling me, 'Let me know if you need anything' or something like that. He's a great person to learn from and I'm glad he's here."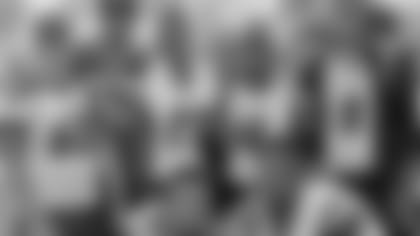 4. ...And in the classroom
One thing that makes Alexander so special, is that throughout his entire career his effort on the field has been matched by his desire to make a difference off it. One major way that Alexander has made an impact in Western New York is through his work with student athletes at South Park High School.
"Lorenzo came on as the team mentor in the summer of 2017," explained South Park High School football coach Tim Delaney. "He's been nothing short of amazing. By far and away he's exceeded any expectation I could ever have of dealing with a professional athlete. Obviously, the financial stuff is great but for him to come around and do as much as he's done, it's really just above and beyond anything I've ever heard of.
"A lot of our kids are coming from a tougher background, a tougher situation, and with Lorenzo coming from a similar spot, I think he just connects with these boys a little bit better. So many people respond to him because he's down to earth and the kids are able to see that not only did he make it out and played high-level college football and then had a big NFL career, I think more importantly the kids get to see that he is turning around and giving back…I think that whether or not they know that right there on the surface today, I think that's something that will manifest throughout their lives."
Not only has Alexander paid regular visits to the school to share his story and provide guidance on sports, finances and other important life skills, he's also provided the young men with unique opportunities. Recently, Alexander and his wife Manjanique treated the boys to a night at the theater to see "Hamilton" in order to broaden their horizons by introducing them to the arts.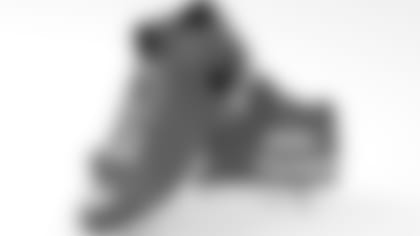 5. Serving others is "in his DNA"
If he's not working on mastering his craft, there's a good chance you'll find Alexander in the community. Through his ACES Foundation, an organization that he started in Oakland, California, in 2008, to support youth, Alexander has made an impact across the country. In his time in Western New York, he's hosted several events through his foundation such as, a bowling event, backpack giveaway, STEM Lab at the local Belle Center and has even purchased gifts during the holidays for families in need.
"I think that that's just in his DNA," said Babich. "I think that he's a giver. I think that he cares about people. I think that it's important to him to do the right thing and I think that he feels that he's in a position to help young people better their lives. I think he takes it seriously, so it's just part of his DNA."
"He contacted me and asked to adopt some families and help them with their various wish-lists," said Lucy Candelario, Executive Director of The Belle Center. "He went to the center, not only bought the gifts, but he brought them to the center and gave them out. During the time he was giving them out, he asked me to say a few words to the families and I really just broke down because it was such a generous, generous gift that he gave to them. I don't think there was one thing on their wish-lists that they didn't receive."
6. Inspiring a change in those around him
In addition to the work that Alexander does with his foundation, he's a regular participant at Bills community outreach events. Involved with a variety of programs such as the Bills Player and Community Season Ticket Donation Program, the Play 60 program, the annual Thanksgiving Blitz and the team's Social Justice initiative, Alexander has led by example and inspired his teammates to give back as well.
"He's got a big heart," said McDermott. "Just knowing his family as well, they're able to see the big picture and know that to those that much has been given, much is required. He really embraces that. To your point with the team supporting Lorenzo, he's an easy guy to like and whatever he invests in, it's usually a worthy cause."
"He's definitely involved in the community a whole lot," said Edmunds. "As I continue to grow here, I would like to expand my involvement with the community… I think that's something a lot of young guys should look at outside of football just getting involved with the community…He does a lot of positive things."
His passion for helping others has also extended to his family members, who often attend community events with him.
"It's inspiring to me and makes me want to do better with my circle of influence as well," said his wife, Manjanique. "He doesn't do it for show, it's just truly part of who he is, and it's always been really important to him to serve others. That's truly his life's passion and football has been a platform to do that."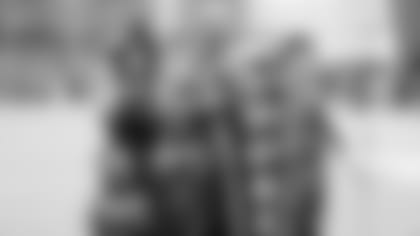 7. A loving husband and devoted father
There's no better example of Alexander's loving and nurturing nature than how he treats his wife and children. A father of two daughters, Vanessa and Zoie, and two sons, Mason and Myles, and husband to Manjanique, Alexander's love and support is second to none.
"Lorenzo is really a sweet and gentle person, which I think it's hard from the outside to see that," said Manjanique. "He may come off as aggressive and loud but at home he's really tender and sweet with me and the kids and helpful…He's just a really helpful husband for as much as he does with work, with ACES and the community, he's just as dedicated at home."
Alexander's superhero-like ability to excel as a father has not gone unnoticed around the office.
"Just observing him when he comes to training camp, with his wife and kids and just seeing how he interacts and knowing the importance of the relationship that he has with his sons, with his daughters as well [is amazing]," said Frazier. "The leadership that he provides at home far exceeds what he does with us as a football team and he's a great example for our young players who have young kids, as well as a guy who has committed in his relationship and does a tremendous job of making sure family is first."
This year, Alexander and each of the NFL's team winners will be highlighted as finalists and recognized for their important work during the weekend leading up to Super Bowl LIII. The 2018 Walter Payton NFL Man of the Year will be announced during NFL Honors on Feb. 2 on CBS.