Like many Americans around the world today, the Buffalo Bills paid special tribute to those who made the ultimate sacrifice to ensure our freedom 17 years ago and to those who continue to do so daily. In commemoration of September 11, a day that changed our nation's history forever, Bills players made a trip to a local firehouse to spend time with a group of Western New York's heroes.
Bills veteran linebacker Jerry Hughes, tight end Jason Croom, running back Taiwan Jones, punter Corey Bojorquez and guard Vlad Ducasse, joined more than 20 firefighters at Buffalo Fire Department Engine 31 for an evening of remembrance and celebration.
To show their gratitude, the Bills served the firefighters dinner, took the time to get to know them and listened to their stories.
"We came out here wanting to just serve food to the guys to show our appreciation for all the hard work that they do – not only for the community but on 9/11, sacrificing themselves," explained Hughes. "[It was] an incident that happened in a completely different city, but it shows you what Americans are all about…Everyone bonds together, so we just wanted to come out here and show our appreciation to them. You really don't know how many hats a fireman wears…It was great to come out here and talk to some of these guys and some of [them] even served for our country in Afghanistan [and] Iraq. I think it's great for us to come here, hang out, serve them, break bread with them and just talk – fellowship."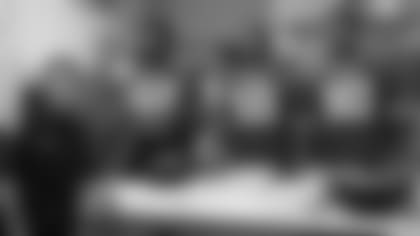 "The idea behind this was to serve you guys, while you serve us," said Rodney Wilkinson, Planning Officer for the Buffalo Fire Department. "It was pleasure to meet the guys and it was nice for them to come down and stand behind our counter and serve us…. It's great that they can take the time out and spend a little time with us knowing that they are busy."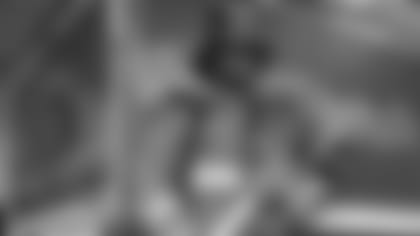 For the firefighters, as well as the Bills, the heartfelt gesture went a long way and showcased the importance of rallying together in times of trial and triumph.
"We're really appreciative of the Buffalo Bills organization, it's a unique part of the community and we have a special bond with them," explained Buffalo Fire Commissioner William Renaldo. "I just told several of the guys [Bills players], that the best place to watch a game is in the firehouse. It's great to have them here. But, on a more serious note, we appreciate you guys coming in, commemorating 9/11. We had 343 New York City firefighters parish on that day, so we appreciate you guys coming here and commemorating our fallen comrades."