1. Hyde helps kick the school year off right with backpack giveaway
Thanks to Bills safety Micah Hyde, there were no back-to-school blues for children at the Boys & Girls Club center at Buffalo United Charter School.
Hyde and his IMagINe for Youth Foundation hosted a backpack giveaway at the local school on Tuesday, Aug. 28. The backpacks, which were filled with items donated by Eaton Office Supply, were given to 150 kids so that they had the tools they needed to start the school year off right.
"I think providing these backpacks not only helps these kids get the tools they need for the school year, but also helps take some stress of the parents' shoulders," explained Hyde. "We're going to be in Buffalo for a while and will continue to keep giving back to our community."
Ecstatic, the youngsters were in for another round of surprises that day when they were greeted by several of Hyde's teammates. Bills players such as linebacker Lorenzo Alexander, safety Jordan Poyer, safety Siran Neal, linebacker Matt Milano and wide receiver Brandon Reilly, came out to show their support.
2. Bills Women's Association huddles for a worthy cause
This week, as the team prepared for their final preseason game, the Bills Women's Association was also hard at work. Coming together for a worthy cause, members of the Bills Women's Association such as Jill Williams, Lindsey Hauschka, Jamie McDermott, Morgan Peterman and some of their children, went to the Food Bank of WNY to help tackle a big project. 
Packing 480 backpacks with food, the women ensured that kids in the area would receive nutritious meals on the weekend when they're not at school. The women, along with their little helpers, also worked to cut and tie nearly 50 bags that will assist the Mobile Food Pantry distribution sites.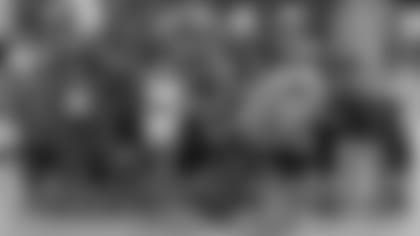 3. Alexander spends afternoon at South Park High School
Like Hyde, Bills veteran linebacker Lorenzo Alexander had something fun up his sleeve to help kids in the community get in the school spirit. On Friday, Aug. 31, Alexander paid a visit to a familiar place - South Park High School.
Since coming to Buffalo as a free agent in 2016, Alexander has generously given his time to make an impact in Western New York, and one of the major ways he's done so is through his work with South Park High School. A mentor and role model to the aspiring athletes on the football team, Alexander, the Bills 2017 Walter Payton Man of the Year, takes advantage of every opportunity he has to make a lasting impression. 
While on campus, Alexander watched the team's football practice, provided lunch and offered each athlete a chance to pick out a pair of new shoes.
"We had a chance to come over here to South Park High School [because] I partner with Tim Delaney [head coach of the South Park football team], really helping mentor and support his young men," said Alexander. "Today I had the opportunity to get kids either cleats for the season or some back-to-school type shoes...It's cool to be able to partner with somebody [who is] doing such great things in the community and [I] just want to continue to be able to build that [through] the platform I have with the Bills."