Recognizing the opportunity they've been given to inspire positive change, Bills players and coaches are once again stepping up to the plate to make a difference in the lives of those in Western New York and beyond through the Bills Player and Coach Community Season Ticket Donation Program. This season, 14 Bills including Jerry Hughes, Charles Clay, Lorenzo Alexander, Dion Dawkins, Jordan Mills, Kelvin Benjamin, Star Lotulelei, Jordan Poyer, Josh Allen, Pat DiMarco, Eddie Yarbough, Zay Jones, head coach Sean McDermott and defensive coordinator Leslie Frazier, have come together to donate over 1600 tickets to local community groups to enjoy Bills games at New Era Field. 
While they each come from diverse backgrounds, the Bills often share similar motivations for wanting to give back to the city that has embraced them. Drawing parallels from their own life experiences, players such as Hughes, Alexander, Dawkins and Clay, explained that they can relate to the groups that they're helping.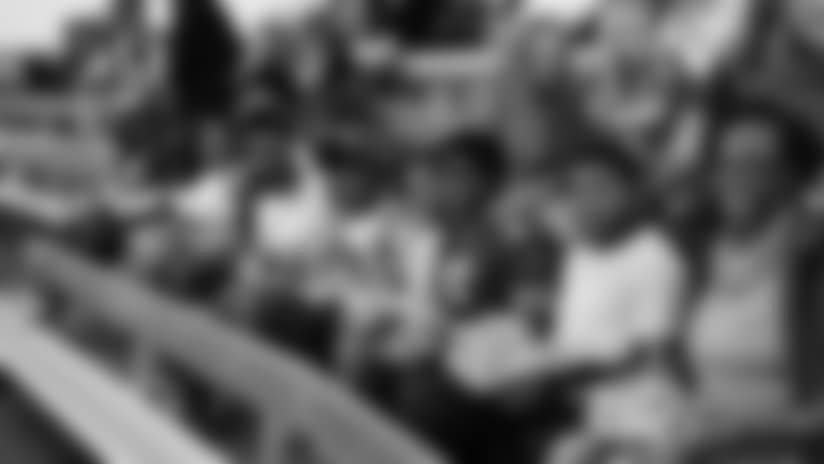 "Just having that opportunity to come to the game on Sundays is something that as a child, I didn't really do," explained Hughes. "I didn't attend any sporting events or anything like that, so just giving them that venue to come out, watch us play [and] showing them that the Buffalo Bills care about them [is important].
Hughes, who has been participating in the program for the duration of his time in Buffalo, elects to give back to the Boys & Girls Club because his father frequented a center when he was growing up.
"My dad grew up in the Boys & Girls Club," said Hughes. "He used to always say that it was a great center for him to go to after school, play Ping-Pong and pool [and] relax with the guys. At the same time, it just kept him off the streets. Any little bit that I can do to help out with that center to make it easier on them, to allow kids to come in more, so that way we can keep them off the streets [and] keep them safe [I'll do] … You really want to have your head on your shoulders and just focus on going to school, making good grades [and] getting to college – that's a great goal to have."
Veteran linebacker Lorenzo Alexander and his ACES Foundation host a different community group each Bills game such as kids from South Park High School, The Belle Center, fire fighters and police officers. Alexander has also found that the program is a great way to keep in touch with groups he's worked with in different cities throughout his NFL career.
"This week, we have a group coming up from D.C. that I've worked with in the past," said Alexander. "They're called Powerful Beyond Measure – the lady [who I work with] is Tracy Press. She will probably bring up 15 to 16 kids – a lot of them are from the inner-city of D.C. She provides a great network and support group for them and exposes them to a lot of different things. So, just getting them outside of their day-to-day and opening their minds to what the world really has to offer… It's really been cool to work with them too as a mentor."
Charles Clay has also been participating in the program over the past few years and has given tickets to Big Brothers Big Sisters chapters.
"… In college we used to do something similar [to the Big Brothers Big Sisters program], so I know the impact that you can have on little kids' lives," said Clay. "To sometimes be able to get those kids to come to games and just have fun and enjoy themselves is a great thing. Growing up, I never got to go to a game, so I know how exciting it can be."
For Bills second-year offensive tackle Dion Dawkins, this season marks his first participating in the program.
"This was my first year and I felt like our Buffalo fans are extremely loyal and for us to give back in any way, why not have them come to a game for free? [I chose Boys and Girls Club] because I feel impacting children changes the world and for a kid to come and see players play, that have come from the same backgrounds as them, it's kind of a motivational platform that they can use," said Dawkins. "They can see us play and hopefully it'll open up their eyes and change someone's life."
Dawkins was fortunate to attend a few NFL games when he was younger because of his relationship with former NFL player Antonio Garay and knows firsthand what type of impact that can have on a child.
"Yes [it meant a lot to me as a kid]," he said. "That's one of the reasons I chose to push so hard for the NFL, because someone from my same town did it, so [I thought], hey let's shoot for the stars."