1. How 16 Bills players spent their day off
This week, following the team's big win in Minnesota, a group of Bills players used their day off to give back to local youth. Joining 600 kids in the ADPRO Sports Training Center, the Bills, in partnership with the Independent Health Foundation and the Buffalo Niagara American Heart Association, helped kick off this year's Play 60 Challenge and Fitness for Kids Challenge for students in kindergarten through fifth grade.
In celebration of the programs, which will launch in 50 schools throughout the area on Oct. 1, Bills players including Jordan Poyer, Taiwan Jones, Tre'Davious White, Patrick DiMarco, Deon Lacey, Julian Stanford, Nate Orchard, Eddie Yarbrough, Lorenzo Alexander, Conor McDermott, Reid Ferguson, Dion Dawkins, John Miller, Jordan Mills, Jason Croom and Khari Lee spent time with the children as they participated in a fun fitness class hosted by the YMCA, heard a performance from local artist Kevin McCarthy and participated in a health-themed quiz show with the Quizmaster Dennis George.
For Bills veteran linebacker Lorenzo Alexander, who is an advocate in the community and a devoted family man, the event was another way for him to positively influence the younger generation.
"I came last year, and sometimes we actually go out to the schools too," he explained. "It's always fun…We had about 16 guys come out and being able to dance and hang out with the kids and teach them about health and playing 60 minutes a day, is really cool. Most of us are dads and it's another way to impact the next generation."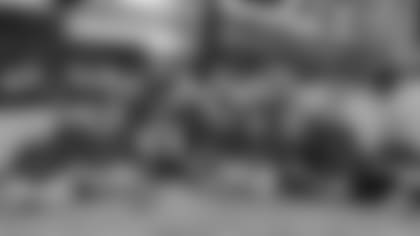 2. Rochester students enjoy Hall of Fame-caliber breakfast
For the students at Lincoln Park School No. 44 in Rochester, Wednesday, Sept. 26, proved a day to remember. In honor of World Milk Day, Hall of Fame running back Thurman Thomas, teamed up with the American Dairy Association North East to help educate the kids on the importance of healthy eating habits – especially at breakfast time. Thomas, who received a warm welcome, passed out breakfast and spent time with the youngsters. The morning also served as an introduction to the Rochester City School District's new breakfast program called "First Class Breakfast," which gives students a healthy breakfast daily.
3. Bills ladies pay visit to Oishei Children's Hospital
As the Bills were busy prepping for their upcoming trip to Green Bay, their better halves were also hard at work for a worthy cause. On Thursday, the women, including Jaime McDermott, wife of Head Coach Sean McDermott, Hayley Beane, wife of General Manager Brandon Beane and many more, paid a visit to Oishei Children's Hospital. While on-site, the group assembled care bags for patients and their families. They also took the time to get to know some of the patients and spread good cheer.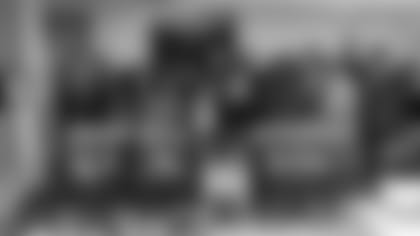 4. The Bills 'Can't Get Enough' J. Cole
Dion Dawkins and Tre'Davious White's off-day extravaganza continued with a trip to the KeyBank Center for the J. Cole concert on Tuesday. As the popular artist took the stage to showcase his new KOD album, and sing a few old favorites, Dawkins and White gave fans a behind-the-scenes look on their Instagram stories. The Bills players were among good company as thousands of Western New Yorkers turned up for event. A rapper, singer and songwriter, J. Cole wowed the crowd with his powerful sound and showed a lot of love for the City of Good Neighbors.