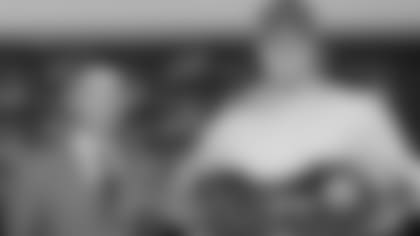 ](http://www.buffalobills.com/photos/photo-gallery/Eric-Wood-Career-in-Photos/cfb8a9f7-e7a6-4fe1-a1b9-2a0a832886a3)It was a move that the Bills were interested in making for some time. Just over a week before the season opener Buffalo locked up their starting center long term signing Eric Wood to a multi-year contract extension.
"What the signing reflects is what we're really trying to accomplish here," said Bills President and CEO Russ Brandon. "What Eric embodies is what we're looking to build. He's a tough, competitive, smart football player. He's very passionate about being here in Buffalo and continuing to build on what we're trying to do."
Wood, 27, who wanted to stay in Buffalo, signed his contract Friday.
"It feels great," Wood told Buffalobills.com. "I'm excited to be a part of this organization moving forward. I couldn't be happier to be here and get it done now. Now the focus is New England."
Securing Wood long term prevents what could have been a free agency departure as he was set to enter the final year of his rookie contract this season.
"They wanted to do a deal and we obviously wanted to do a deal and it follows our mantra," said GM Doug Whaley. "Draft well and keep our core players."
A former first-round pick of the Bills in 2009, Wood battled severe leg injuries in his rookie season (broken leg) and in 2011 (torn ACL). The pivot man returned in 2012 to start and appear in 14 games for the Bills.
Wood's leadership was as coveted by the Bills as his playing ability. With a rookie quarterback expected to run the offense Wood has been asked to be more of a vocal leader for that side of the ball, which has been evident in training camp and the preseason.
"We're excited about it," head coach Doug Marrone told Buffalobills.com. "Ever since I've been here we've put a lot on that position just like we do with the quarterback position. You hear the saying all the time that you want to be strong up the middle and getting Eric done and making sure that he's here is a big part of what we want now and in the future."