The Buffalo Bills held their annual Staff Volunteer Day of Service on Friday, June 10. Around 80 staff members were assigned to either MLK Park or the Resource Council of WNY to give back for the afternoon.
Part of the Bills' staff spent the day working on projects at MLK Park to help prepare for the Juneteenth Festival. Throughout the day, the staff weeded the gardens, laid down compost, planted new garden beds, shrubs and new sod.
At the Resource Council, the Bills' staff there helped package and distribute food. The Bills' Stadium Ops crew helped out by painting the bleachers and the shed. They also mowed and re-lined the football field and installed new bleachers next to the basketball courts.
For the Bills, it's not just about supporting the community but supporting the nonprofits, volunteers, and community groups that already do great work around Buffalo.
"As an organization, it's just always been a part of our culture to serve the community," Gretchen Geitter, Vice President of Community Relations said. "And our annual Staff Volunteer Day that we've been doing for as long as I can remember has a little extra special meaning this year. It's important to be here in East Buffalo, working on projects at MLK Park, and the Resource Council.
"Just the respect that we have for these nonprofits and volunteers and seeing the community come together has been wonderful. It's something that we've done and will continue to do. And it's a great day for our staff to be able to come together, work on some projects in our city and give back to a community that is always supporting the team."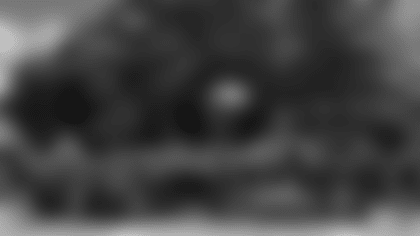 In addition to the work done at MLK Park, the team also gave the Olmsted Park Conservancy a donation of $10,000. Gina Davis, the Olmsted Park Conservancy Board Trustee Member, and the Jes Breathe Block Club Association President was at MLK Park to help out as well. She knows how much history the park has and its importance to the Buffalo Community. Davis is grateful for the Bills' staff that came down to clean up the park ahead of the highly anticipated 47th consecutive Juneteenth Festival on June 18.
"It means so much," Davis said. "It really shows that the Bills organization wasn't too busy to come down into our community. They have already shown so much support with what happened on May 14. Just for the staff to volunteer for pretty much most of the day and clean up the park. It was a lot of hard work and learning how to do some new things, it was really nice. It was really good to see and we're very thankful that they came into our community and helped our lovely MLK Park."
There is still a need for volunteers at the Resource Council of WNY, to sign up for a time slot, click here.