1 - Former NFL QB: Allen's ceiling the highest of rookie QBs
Josh Allen's seemingly limitless ceiling was something that was brought up often in the lead up to the 2018 draft.
Fans and analysts alike pointed to the prospect's size, elite athleticism, and incomparable arm strength as reasons why Allen would succeed at the professional level. Though his 56.2 percent college completion percentage gave some pause, his physical gifts, to some, were too much to pass on.
Fast forward to the end of his rookie season, and Allen is living up to his limitless potential. The Buffalo quarterback finished the 2018 campaign with a 5-6 record as a starter, throwing for 2,074 yards and picking up another 631 on the ground.
Though there are still areas of the game in which he needs to improve, Allen showed flashes of brilliance in his rookie campaign, proving that his potential truly is immeasurable. His ceiling is higher than that of any other passer selected in the first round of the 2018 draft, according to former NFL quarterback Carson Palmer. The former Pro Bowler feels as though Allen is a "physical freak" who will be an elite quarterback in just a few years time.
"I think a better way for me to answer might be, if we're to look back in six years, I think you're going to look back and say, 'Man, Sam Darnold and Josh Allen are probably the two best in the class,'" Palmer said during a recent appearance on CBS Sports' 'Boomer and Gio'. "Probably with Josh Allen, I think Josh Allen has the highest ceiling, which probably everybody thinks because of the size and the speed and the arm strength.
"I think in five or six years, you're going to look back and say, 'Man, he should've been maybe number one.' Sam's probably right where he was at number two. Baker [Mayfield]'s a little bit further down the list."
2 - Marv Levy to receive prestigious coaching award
Former Buffalo head coach Marv Levy has been awarded the American Football Coaches Association's annual Amos Alonzo Stagg Award. He will be presented with the honor during the association's convention this week.
Levy coached the Bills from 1986-1997, leading the team to four consecutive AFC Championships in the early 1990s. He was inducted into the Pro Football Hall of Fame in 2001.
Levy's professional coaching career got its start in 1953 when he joined the coaching staff at Coe College, his alma mater. His received his first NFL job in 1969, becoming the kicking teams coach for the Philadelphia Eagles.
His first head coaching gig came in the Canadian Football League, serving as the head coach of the Montreal Alouettes from 1973-1977. He won two Grey Cups throughout his time in Montreal.
After short stints with the Kansas City Chiefs and the USFL's Chicago Blitz, Levy took over in Buffalo, where he would go on to cement himself as one of the most successful coaches in the history of the NFL.
Levy is the first former Buffalo head coach to receive the Amos Alonzo Stagg Award.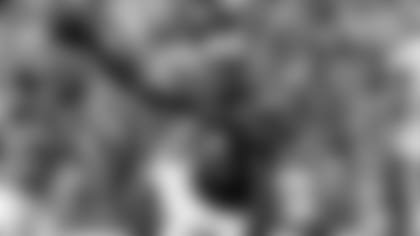 3 - Former Bills LB to be inducted into CFB HOF
After constructing a professional career in which he consistently defied expectations, London Fletcher's humble beginnings are often overlooked.
The Cleveland, OH-native did not attend a Power Five school. He did not even attend a Division I school, instead opting to enroll at John Carroll University, a Division III school located just outside of his hometown. Though he didn't catch the eyes of many scouts with his play, Fletcher was a dominant inside linebacker for the Blue Streaks, totaling 202 tackles in his senior season. He finished his college career as a two-time first-team All American.
Though he did not play at the D-I level, Fletcher's collegiate excellence is something that cannot be denied. The National Football Foundation has recognized Fletcher's dominance, as the institution will induct the 43-year-old into the College Football Hall of Fame this December.
Fletcher, who could earn consideration for the Pro Football Hall of Fame within the next couple of years, spent five years of his professional career with the Bills, totaling 725 tackles and 14.5 sacks. He finished his storied 16-year career with 2,031 combined tackles, good for second in the league all time.
An undrafted free agent turned All-Pro, Fletcher is the embodiment of hard work and dedication. He'll be the only non-Division I player inducted into the College Football Hall of Fame this year.