1- Williams, Hughes wreak havoc in Week 12 win
Buffalo fans have had the privilege of watching Kyle Williams and Jerry Hughes wreak havoc on opposing quarterbacks for the better part of the last decade.
In the Bills' Week 12 win over the Jaguars, they watched them do so yet again.
Williams and Hughes combined for nine tackles and five quarterback hits in the 24-21 victory. The two combined for a sack on Blake Bortles early in the fourth quarter, a play that forced a Jacksonville punt.
The 35-year-old Williams finished the game with the stronger stat line, totaling seven tackles and 1.5 sacks. The interior defender, however, feels as though his chemistry with his defensive line neighbor propelled him to a strong outing.
"We had known through the week that there were going to be some spacing issues, and if we can get one on ones, or two on twos in a lot of space, that's where he and I are really good," Williams said. "We were able to take advantage of it there. It's always good playing next to a guy like that."
Chemistry is something that Williams and Hughes have had the opportunity to develop over the years, as they've been teammates since Hughes arrived in the 2013 season. Playing with a player of Williams' caliber is something that Hughes takes pride in.
"We've been playing with each other for so long now, so whenever Kyle's on my side, I have a feel for him," Hughes said. "I know where he's at, I know how he gets off on the ball. So, whenever we start to do those twists, it's just fun, because it's just two guys working off each other."
2- Micah Hyde calls this young Bills CB a 'stud'
Levi Wallace wasn't exactly a household name in the lead up to the 2018 draft. The walk-on turned starter at Alabama was looked at as a jack of all trades, master of none; a reliable defender who didn't really excel at one thing in particular.
It's only fitting that Wallace's NFL opportunity came as a 'walk on,' of sorts. The cornerback signed with the Bills after going undrafted and spent the first nine weeks of the 2018 season on Buffalo's practice squad. In need of a steady player who could lineup opposite Tre'Davious White, the Bills promoted Wallace to their active roster ahead of their Week 10 contest with the Jets.
Wallace not only got the start at cornerback just days after being promoted, but he played on 100 percent of Buffalo's defensive snaps, as well, the only defender to do so.
The rookie started at cornerback for the Bills again in Week 12, totaling five tackles. After the 24-21 win over the Jags, safety Micah Hyde praised his teammate, stating that he's carried his momentum from the practice squad over into the starting lineup.
"Boy's a playmaker, man," Hyde said. "He's another stud, another young stud that we have. He's played a lot of good football in his day. People may say he's a rookie free agent coming in, but we know what type of stuff he's able to do.
"He's done it all year for us, ever since he got here. He's been making plays on scout team. We're excited for what he brings to the table."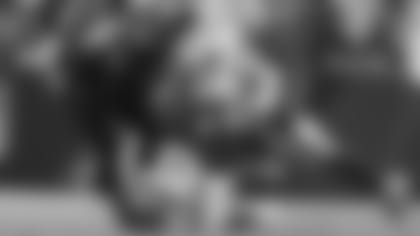 3- Allen thinks McKenzie is 'excelling' in his role
Less than 10 minutes into his second game in a Buffalo uniform, Isaiah McKenzie accomplished a lifelong goal.
He took a handoff on an end around and strolled into the end zone from six yards out, scoring the first touchdown of his professional career.
"That felt great," McKenzie said. "I've been (in the end zone) in preseason, but this is the regular season. To help this team win and get in the end zone, it felt great."
Though McKenzie's only been with the Bills for three weeks, he's already made quite an impact. He totaled 121 yards on nine touches in his debut, a 41-10 rout of the Jets. The second-year wideout carried this momentum over into Week 12, picking up 75 yards on nine total touches in Buffalo's win over the Jags.
McKenzie attributes his success to his ever-growing level of confidence in Buffalo's scheme.
"I'm very comfortable," McKenzie said. "I'm working every day. I'm learning new things, still learning the offense and things like that. Just doing my job the best way I can."
Rookie quarterback Josh Allen had the opportunity to play with McKenzie for the first time on Sunday. Allen, who found the wideout twice throughout the contest, feels as though McKenzie has already carved out a spot for himself in the Bills' lineup.
"That's what Isaiah brings to the table," Allen said. "He's extremely quick and gets zero to 100 as quick as you can.
"Being cut by the Broncos and the highs and lows he's been through, to see him fit a role and he's excelling in it so it's good to see that."
SOCIAL MEDIA POST OF THE DAY