1. Micah Hyde: The sky's the limit
The Bills have stressed continuity and building a familiarity between teammates. It's been tough on the offense with multiple players missing time due to injury but the defense has stayed injury-free throughout OTAs and minicamp.
The Bills first-team defense has stayed relatively the same as last season and the ability to come in and work with the same group has been beneficial for safety Micah Hyde.
"It's huge for communication purposes," Hyde said. "I know where Poyer is going to be at all times, I know where Tre'Davious, Tremaine, the D-line, same thing. I know what they're going to be in so once you can pinpoint where everybody's going to be and you know your job the sky's the limit."
The two closest members of the defense are arguably Hyde and Poyer, the two safeties. Hyde bets that he knows where Poyer is at all times even when they're off the field. Throughout OTAs and minicamp, Hyde and Poyer have been a bit "freelance" in their play. They can give Josh Allen multiple different looks and figure out what's going to work.
"We have a good understanding of what we are doing on the football field," Hyde said. "We're always talking and communicating and that goes for whoever is on the back end. As long as we keep communicating and keep talking we can be a great defense."
2. Matt Barkley and John Brown bond over time spent in Arizona
Matt Barkley and John Brown are back together after a year apart. Brown played with the Arizona Cardinals from 2014-17 and Barkley made stops in Arizona in 2014 and 2017. Now the two are reunited as members of the Buffalo Bills.
Brown and Barkley can be consistently working together after practice and walking off the field together. Barkley was giving extra throws to Brown, a habit they picked up while working in Arizona together.
"At first when I was a young dude, I would walk straight to the locker room," Brown said. "I'd look out onto the field and I saw Larry Fitzgerald getting catches after practice. Fitzgerald would come up to me and tell me I needed to start doing catches after practice."
Fitzgerald has been instrumental in turning Brown into the receiver he is today. Brown practices the way he plays, a trait he picked up from the future hall-of-fame wide receiver.
Barkley still relishes his time in Arizona working with Fitzgerald
"Yeah both on and off the field he's just a pros pro and treats everyone the right way and just understands the game almost better than anyone I've ever seen," Barkley said. "He's able to find the open area in both zone and man. The drills that we do with Fitz and there's things you can take from individual routes from watching one of the best ever."
For Barkley, it helps to have familiarity with a receiver when they're both new to a team. He's excited to work with Tyler Kroft again. The two spent time together in Cincinnati last season.
"Timing and chemistry is huge," Barkley said. "Right before Smoke [Brown] signed we had a bunch of guys out in Los Angeles to throw to and work on timing and routes with. So from last fall to where we are now we've come a long way."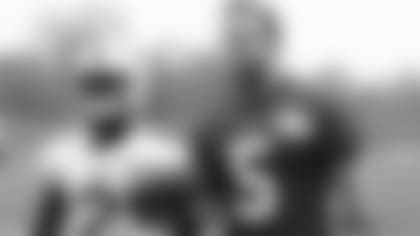 3. Who helped Dion Dawkins find his dog?
Thankfully, the Merkel family wasn't too far away according to the Buffalo News.
Dan Merkel was walking toward his minivan early Tuesday, preparing to leave for work from his Orchard Park home, when he noticed a frightened young dog trying to scramble across Milestrip Road.
Merkel decided to bring the dog into his Orchard Park home where it was dealt with by his wife Kim and 16-year-old twin daughters Reagan and Alyssa who were woken up by the dog's barking.
Dawkins said the dog is about 11 months old, named "Cami" because her fur resembles camouflage. He said the dog is so gentle and well-behaved that he had fallen into the habit of opening his front door to let her out for a few minutes, early in the morning, right after he gets up.
Dawkins was a nervous wreck and sent out the tweet in hopes of someone finding his lost dog. Dawkins did not have Cami tagged but luckily a veterinarian must have seen the tweet, according to Kim Merkel.
Cami is now back in Dawkins' possession and he will make sure the family will have four tickets to the Bills home opener in September.