1. Sports Illustrated thinks this is the Bills biggest draft need
It is finally draft week, and one of the biggest events of the NFL offseason is just a few days away. Sports Illustrated NFL writer Connor Orr put out his list of draft needs for every team in the AFC. For the Bills, he thinks that the team's biggest need is on the offensive side of the ball and he believes the Bills should add another weapon for Josh Allen and company.
Needs: Offensive weapon, defensive line, interior offensive line, corner
After the way last season ended and after hearing rumblings of the Bills' possibly being involved in the offseason trade market, I was surprised at the end result (so far). Matt Breida and Jacob Hollister are fine additions to the offense but are probably not the matchup nightmares that take Brian Daboll's already diabolical absurd scheme to the next level. Maybe Buffalo will trade for a Zach Ertz at some point, but until then, there are still plenty of ways they can immediately upgrade the roster at the No. 30 pick.
Here's an interesting tidbit: Only Mario Addison had a positive net yards over average rating against the run on its defensive front last year. It's very un-Buffalo-like to be 26th in the league in yards per attempt surrendered, and perhaps the team's quest for a Super Bowl should start there.
One random note: The Bills should absolutely trade up in this draft and nab another playmaker. I think they'll regret it if they don't. Sure, the ghost of Sammy Watkins (drafted fourth in 2014) will haunt them, but they're inching ever so closely to the moment where Josh Allen costs $40 million per season and complicates their roster-building decisions. Teams will be more amenable to moving back given the relative uncertainty of 2021 picks compared to 2022 picks in a (theoretically) pandemic-free world. The Bills' 2022 first-rounder will probably be low, anyway. Just a thought.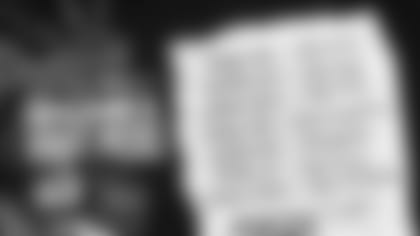 2. ESPN's Bill Barnwell proposes this potential draft day trade for the Bills
The unexpected trades in the NFL Draft are what make it such an exciting event to watch every year. ESPN staff writer Bill Barnwell released his annual mock draft that contains a trade for every team with a pick in the first round. He noted that none of his predictions have ever come true but that the logic is there for both sides. For the Bills, Barnwell has the Bills trading down five spots with the Atlanta Falcons for a 2021 second and fourth-round pick.
Atlanta Falcons get: 1-30
The Bills lost a little bit of depth this offseason, and given how well they've drafted in recent years, there are worse things for general manager Brandon Beane & Co. than adding extra picks in the first few rounds of the draft. Buffalo doesn't need any immediate starters, but it probably wants to refresh its depth on defense, which it can do in the later rounds of the draft. This could be a spot for a team to trade up for a running back -- likely Clemson's Travis Etienne or Alabama's Najee Harris -- ahead of teams such as the Bucs (No. 32) and Jets (No. 34); a rookie runner would be in position to trade carries with Mike Davis in 2021.
3. Allen and Diggs rank here in Bleacher Report's list of top five QB/WR duos
Josh Allen and Stefon Diggs set new franchise and NFL records during their first season together as teammates. Their success on the field also landed them a spot on Bleacher Report's list of top-five QB/WR duos for the 2021 season. B/R NFL writer Maurice Moton had the pair of Bills playmakers fourth on his list and a big reason for that was the improvement of the passing game from 2019 (26th) to 2020 (3rd).
#4. Josh Allen and Stefon Diggs, Buffalo Bills
Just like the Cardinals' playmakers, Bills quarterback Josh Allen and wide receiver Stefon Diggs didn't take long to put defenses on notice. Diggs recorded 100 receiving yards or a touchdown in five of his first six outings with Buffalo. More importantly, he contributed to Allen's third-year leap.
Allen went into the 2020 campaign with a 56.3 percent completion rate and fewer than 3,100 yards in each of his first two campaigns. The 24-year-old threw for 4,544 yards and 37 touchdowns with 10 interceptions last season. He did that despite having to adjust to a new lead receiver without a full offseason. Allen put the ball in the right spots, connecting with Diggs on short, intermediate and deep passes.
Allen's impressive accuracy benefitted Diggs, who led the league in catches (127) and yards (1,535). Their rapport significantly elevated the Bills aerial attack, which ranked 26th in 2019 and finished third in 2020. Despite the productivity of Kyler Murray and DeAndre Hopkins, the Cardinals still fielded a bottom-half passing attack. The impact of the Bills' quarterback-wideout duo propelled Allen and Diggs to the No. 4 slot.