1. Trent Murphy having a 'blast' in return from injury
The Buffalo Bills view Trent Murphy as a player who is integral to their immediate and future success. The Bills have confidence in the defensive end's talent and ability to get after opposing quarterbacks, which is why they gave him a three-year deal in the offseason. This, despite the fact that he missed the entire 2017 campaign with an ACL injury.
Murphy missed the majority of the Bills' offseason workouts after aggravating a groin injury early in training camp. Just days before the start of the 2018 regular season, Murphy has finally returned to full health, as he's been a full participant in this week's practices. The 27-year-old is ecstatic to finally be back on the field.
"Just running around, cleats on, helmet on, that's what I love to do," Murphy said. "[I'm] happy to be out there."
Murphy is just one of several new additions to the Bills' defensive line. In an effort to strengthen their pass rush and run defense, the Bills signed Murphy and Star Lotulelei in the offseason. They also selected Harrison Phillips in the third round of the of the 2018 NFL Draft. Murphy expressed confidence in the team's revamped front four.
"We have a great room of guys, especially on the D-line," Murphy said. "But having Kyle, Star, Jerry [Hughes], and being able to line up with those guys, and having Shaq [Lawson] in the mix and to have [Lorenzo Alexander] and and all of our guys, it's just a blast. Great group of guys, very talented, everyone's playing with energy and effort and running the ball. It's a blast."
Murphy is already preparing to go up against the Ravens' offense. He's eager to pick up where he left off in the 2016 season, a campaign in which he recorded a career-high nine sacks.
"[Joe] Flacco is one of the best quarterbacks in the business," Murphy said. "He's been doing it for a really long time, he's very comfortable doing what he does. We have to put pressure on him, otherwise he's going to be who he is."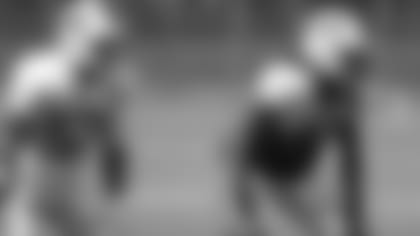 2. Tremaine Edmunds finds a role model in Lorenzo Alexander
Very few people know exactly what they want to do with their lives at 20 years of age. Bills' linebacker Tremaine Edmunds not only knows what he wants to do, he's already achieved one of his major goals: earning a starting job on an NFL team.
Edmunds shot to the top of the Bills' depth chart at middle linebacker after the team selected him with the 16th pick in the 2018 draft. Edmunds' physical gifts and character are second to none: he's 6-foot-5, he moves like a defensive back, and he's earned praise from his coaches and teammates for his maturity.
Although Edmunds has the tools necessary to develop into an elite linebacker, he's still a rookie, and like all young players in the NFL, he's going to encounter some growing pains early on.
Fortunately for Edmunds, his teammates have and will continue to be there for him as he develops. Chief among them is Bills' linebacker Lorenzo Alexander, who has become a role model to the former Virginia Tech Hokie.
"Zo's been great for me, just a mentor that I can go to, somebody that's experienced in things, somebody that's been in the NFL a long time," Edmunds said. "Anytime I have questions, I make sure I go to him, ask him, we talk about it, you know, move forth from there. He's constantly reminding me that things will happen. I'm hard on myself, man, I like to try to make every play out there and when I mess up or something, you know, I'm just kind of hard on myself. But that's just me. I think, in a way, that's what makes me go even more. But yeah, he just reminds me, we get it talked about, get it situated, and move on."
Bills' general manager Brandon Beane recently talked about the relationship between Edmunds and Alexander.
"Really like what [Edmund's] brought and the maturity you see from even a young guy who's 20 years old. Lorenzo Alexander is a vet back there he's kind of really been his wing man, so to speak, helping him with all of the things that go on."
Entering his 14th NFL season, Alexander has a wealth of knowledge that he can share with Edmunds. While Alexander has served as the rookie's "wing man," Edmunds feels as though he can count on all of his teammates to be there when he needs them most.
"He and everyone else around me have my back," Edmunds said. "They understand. They've been through some things. Of course, I'm not going to want to make a mistake out there. Nobody wants to make a mistake, but if it happens, I know that they have my back and we can move forward from it."
3. LeSean McCoy is one of Maurice Jones-Drew's top RBs for Week 1
Bills' running back LeSean McCoy is coming off yet another memorable season in what is shaping out to be a Hall of Fame-worthy career.
In 2017, McCoy rushed for 1,138 yards and six touchdowns on 287 attempts. McCoy surpassed the 10,000-career rushing yard plateau in 2017, becoming just the 30th player in league history to hit the milestone. Remember the number 30.
In the 2018 offseason, McCoy turned 30-years old, an age when many pundits believe that running backs are in decline. Former Jacksonville Jaguars running back Maurice Jones-Drew does not fall into this category, however. In his recent Week 1 RB Index, the NFL.com analyst ranked McCoy as the eighth best running back in the league entering the 2018 regular season.
There are so many question marks surrounding the Bills' offense, but running back is not one of them. Shady can score from anywhere on the field, and he'll have to be special if the Bills want to compete.
McCoy is one of just a handful of remaining offensive starters from the Bills' 2017 depth chart. Buffalo will take to the field on Sunday with a new starting quarterback, a revamped offensive line and a tweaked receiving corps. The Bills' will likely look to McCoy to serve as a leader on offense, and the newly elected team captain is up for the challenge.
"Every coach is different; this is actually the first time a coach has really had 'stamped' captains, so I look forward to having a 'C' on my chest Sunday," McCoy said. "I owe it to my teammates. I was who they voted for, they voted for me, so it's my duty to go out there every week and every day, on the field [and] off the field, going about things the right way to the best of my ability for my teammates."
SOCIAL MEDIA POST OF THE DAY