Being named the starting quarterback for the Bills this week as we begin the 2018 season was a goal I set for myself this offseason.. I'm thankful and excited.
I visualized being the starter every day I stepped on the field, whether it was an OTA practice, training camp or the preseason. I think it's important with goals to visualize what you're working towards and try to make it come true. I visualized being ready and stepping on the field in Baltimore in week one and trying to get a win.
On Sunday, I will have support in the stands. My wife will be there and we'll have some close family friends as well. But for me, it's about an audience of one.
Every time I take the field, I view it as using my gifts to worship and glorify God. My audience is ultimately my heavenly father and that's really the only one I focus on come game day.
There are a lot of similarities between this starting opportunity with the Bills and landing the starting job at Pitt. Every opportunity is a new one but having to overcome some adversity seems like a recurring theme in my life. Having the chance to do that again with the Bills and to show my faith and trust in God ultimately is a good opportunity for me.
I feel in a lot of ways that I'm a better quarterback because I've had to earn things the hard way. I am a big believer that every experience happens for a reason. There's a lot of pressure on the quarterback position and there can be a lot of ups and downs, but all those trials have toughened me up and thickened my skin for whatever comes my way.
I don't pay much attention to TV or social media, especially when it comes to what people are saying about me. After my first career start in Los Angeles, I can imagine the narrative that existed about me as a player. The main thing for me is not worrying about outside opinion. I keep a narrow vision and focus on what I can control every day on the field and inside the facility.
Going from my rookie year to my second year, there were some things I wanted to work on to improve my game. Most of them were rooted in the fundamentals - stepping up in the pocket, having good ball security in the pocket, my movement in the pocket and making good decisions with the ball. All those things stem from your footwork and foot placement, and you carry that into what you work on every day in practice.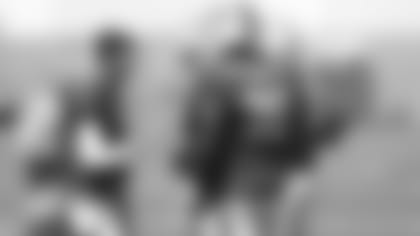 On this team we have receivers who recognize that our connection, quarterback to receiver, is really benefiting both of us. We can't have one without the other. Having good receivers and good quarterback play go hand in hand together. The bond both groups built during training camp while staying on campus at St. John Fisher 24 hours a day reminded me of college and we can use that experience on the field now.
From my rookie year to this year, I've grown more comfortable with my teammates. Part of it is because when you come into the NFL, it's a dream come true. When you've been looking at it from the outside in for so long and then see some of your idols that you're playing against now it's very humbling. 
The most important part of having this job now is to keep proving myself to my teammates every day. It's the greatest team game there is, so to keep proving to them that I belong in this role is important to me. It's just about working every day and showing them that I'll give whatever it takes to win – in the meeting room, on the practice field and on gameday.
While I believe I was able to push my personal game forward in the preseason, I don't know if there's any one thing that I changed all that much. I've worked on things to get better, but it's also about believing in myself and having confidence and continuing to work on the things that I can control. 
To go through everything I went through last year and recognize that I can play in this league is important for me. I knew all I had to do was keep working at it and the opportunity would come soon enough.
Going forward the focus for me is proving myself and these coaches right every day and just being ready to go out there and win.