For the kids at John R. Oishei Children's Hospital, Christmas came early this year.
On Friday afternoon, the Buffalo Bills teamed up with New Era to make a very special delivery to patients and their families – a custom edition New Era knit.
The one-of-a-kind knit was designed by Bills Head Coach Sean McDermott and three children from the hospital over the summer. Putting their heads together, the group carefully selected each intricate detail that would appear on the knit. From the Bills-themed camouflage print to the glow in the dark slogan on the back, and the fun red pom on the top, McDermott and his talented team of helpers enjoyed putting their creativity to the test. The experience, while undoubtedly memorable, was just the beginning of the remarkable event that would take place nearly five months later.
The story continued on Dec. 7, when the Bills and New Era paid a visit to the hospital for a surprise unveiling of the knit. As young boys and girls, including two of the children from the collaboration session, gathered together in the facility's family lounge, they received an unexpected video message from McDermott, who was thrilled to see the vision for the knit come to life.
"I just want to say thanks for the opportunity to design the knit… [I] encourage everyone to stay positive, stay warm…," said McDermott.
Following the touching video, the youngsters and their family members each received a knit of their own. To top off an already unforgettable experience, the kids also got a chance to spend time with the team mascot, Billy Buffalo. In all, 1,000 knits were donated and distributed to patients and their families at John R. Oishei Children's Hospital.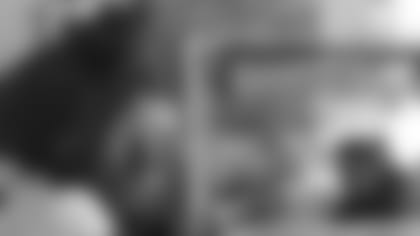 Fans can write the next chapter of the heartwarming tale by purchasing one of the unique knits. Available now at The Bills Store online and at the retail location at New Era Field, the knits cost $25 and for each one sold, $5 will benefit the John R. Oishei Children's Hospital.
Limited quantities are available. Get yours today!