1. LeSean McCoy delivers smiles on his day off
It was all smiles on Tuesday for the boys and girls at the John R. Oishei Children's Hospital who were greeted by a special guest. Getting into the holiday spirit, Bills veteran running back LeSean McCoy chose to spread goodwill and cheer on his day off. Spending time getting to know the children, McCoy even went room to room to deliver Bills-themed goodies.
While the moment was undoubtedly one to remember for the youngsters, the experience also made a lasting impression on McCoy.
"Today I had a chance to spend time with my extended Buffalo family at [John R.] Oishei Children's Hospital…some of the strongest, [most] fearless kids I have ever met…keep fighting keep fighting and keep faith…My God we thank you," he said in a post on his Instagram.
2. Tough guys on the field, champions in the classroom
McCoy wasn't the only Bills player this week to use his day off to give back to local youth. Bills players Reid Ferguson, Eddie Yarbrough and Dion Dawkins also made a kind gesture that went a long way. Joining over 250 elementary students for a Classroom Champions Achievement Celebration, the guys got to officially meet kids in person that they've mentored since the beginning of the season.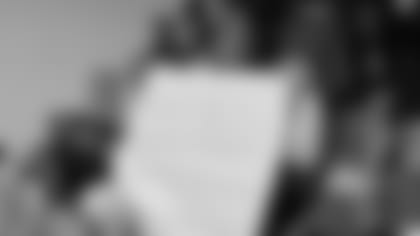 The mentorship program pairs athletes with classrooms in order to teach students important lessons such as goal setting, diversity, perseverance, teamwork and giving back to their community. Throughout the fall school semester, Dawkins, Yarbrough and Ferguson, have been communicating with the students through monthly videos and finally got a chance to talk to them in person this week.
Coming together, the guys took photos with the kids and were treated to a few presentations on what they've learned.
3. Eddie Yarbrough continues to advocate for Unified Sports
Defensive end Eddie Yarbrough has had a busy week so far. Along with visiting with the students from the Classroom Champions program, Yarbrough also made an appearance at the Hamburg Adaptive Football Clinic. The event, held in the ADPRO Sports Training Center, gave the athletes in the program – one that provides individuals with physical, mental and developmental disabilities a chance to learn more about football through clinics that teach skill development – a chance to have fun.
Yarbrough who came out to show his support and to help lead the athletes in football drills, has developed a relationship with the program during his time in Buffalo and participated in a clinic during the 2017 season. A Colorado native, Yarbrough is quite passionate about the cause and even helped start a Unified Sports program at his alma mater Grandview High School. Still involved with the program today and with Special Olympics Colorado, he'll continue to raise awareness for sports inclusion on Sunday by wearing a pair of custom cleats designed by Unified Champion School students from Grandview.
Yarbrough will also be hosting Special Olympics Colorado gold medalist Chaz Moss, a boy he developed a close relationship with by volunteering at the organization in high school, at the game this weekend in celebration of the NFL's "My Cause My Cleats" initiative.
4. Barkley and Thomas take part in ceremonial tree lighting
Bills quarterback Matt Barkley and defensive tackle Robert Thomas also kicked off the holiday season recently when they took part in the John R. Oishei Children's Hospital annual tree lighting ceremony. The one-of-a-kind event brings patients, families and caregivers together for a heartwarming evening. Standing together as a family, the group watched excitedly as the tree was lit. Billy Buffalo and a few special helpers including Santa and Mrs. Claus also got in on the fun.