It's hard to believe the 2022 NFL regular season has concluded and the playoffs are finally here.
While there's still plenty of exciting Buffalo Bills football left to be played, we're taking a look back the Bills' rollercoaster of a regular season. LB Von Miller told the team back in September that each year is like an album.
"He talked about making an album. Every week is a new, different song that we're trying to put on this album," quarterback Josh Allen said during his debut on Kyle Brandt's Basement podcast, which he appeared on every Tuesday during the regular season.
One of Miller's overarching themes he talked to the team about was "Don't Blink". Essentially, don't get rattled in the face of adversity. The Bills were no stranger to adversity and what it means to "Don't Blink" in those moments.
We charted what each week would look like if it were a song on the Buffalo Bills' Don't Blink album.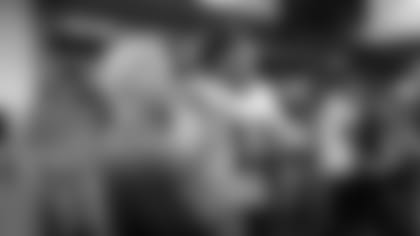 Week 1 | Bills 31, Rams 10
Track title: Stars Shine Brighter in Hollywood
What happened: In the opening game of the 2022 NFL season, Josh Allen found Gabe Davis for a 26-yard touchdown on the first drive of the game. The Rams were able to tie it up 10-10 with a 57-yard field goal as time expired in the first half. Then, the Bills points started rolling in. Buffalo scored touchdowns on three straight drives in the second half of the game to bring the score to 31-10. Allen set a single-game club record for completing 83.9% of his passes. Von Miller sacked his former team twice, and the defense forced three turnovers. The Bills became the first team in NFL history to not punt and record at least three interceptions and seven sacks in the same game.
Why it mattered: Beating the defending Super Bowl champions is one hell of a way to kick off the season. It was Buffalo's first time defeating a Super Bowl champion since 2013 when they beat the Ravens. This game mattered because right off the bat, the Bills proved they were the real deal on a national stage.
He said it: "It definitely was a great feeling. Our defense bowed up for us in that first half. We had three turnovers. To go into halftime 10 to 10, essentially 0 to 0, we were pumped because we knew we didn't play the way we were supposed to play on the offensive side of the ball. But we came out in that second half and our guys played hard. We made some plays, and it was a complete team victory."
Week 2 | Bills 41, Titans 7
Track title: Diggs Dominates in Primetime
What happened: It was the seventh straight game where the Bills scored a touchdown on the opening drive, the second-longest streak by any team in the last 40 seasons. The Titans tied it up on the next drive to bring the score to 7-7, but that would be the last time the Titans scored. The Bills defense forced three turnovers, including an interception by Matt Milano that was returned for a touchdown. Josh Allen led the way by throwing for four touchdowns and 317 yards. Stefon Diggs was in lock step with Allen and recorded three touchdown receptions and 148 receiving yards from 12 catches.
Why it mattered: The Bills started the season with a two-game win streak. It was the team's 20th consecutive win of at least 10 points, tying the NFL record set by the Chicago Bears from 1941 to 1942. Buffalo also snapped the streak of two straight losses to the Titans.
He said it: "We have so much respect for the Tennessee Titans, so much respect for Derrick Henry and Coach Vrabel, all those guys. They have a team full of tough guys and we knew that going into the game, and we just prepared that way. We knew we were going to have a fight on our hands. Nobody knew we were going to win by that much."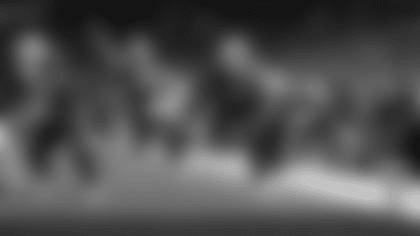 Week 3 | Bills 19, Dolphins 21
Track title: Miami's Heating Up
What happened: Missing several key players and playing in on-field temps that reached 100 degrees, the Bills were bested by the Dolphins on the road for their first loss of the season. Buffalo scored TDs on two of its first three possessions but second half miscues plagued the team. Josh Allen couldn't connect with Isaiah McKenzie on a 4th & goal play from the 2-yard line, then on the final possession, time ran out on the Bills as they tried to drive down for a potential game-winning field goal.
Why it mattered: With Micah Hyde, Jordan Poyer, Dane Jackson and more all out with injury, several role players had to step into bigger roles. However, Miami took hold of first place in the division.
He said it: "It's super encouraging, as a teammate, to see guys that are coming off the bench playing positions they've never played, giving us their best effort. Some of those guys are back here getting IVs because they busted their tail all game doing something they've never done before."
— Dawson Knox in postgame press conference
Week 4 | Bills 23, Ravens 20
Track title: The Boys From Buffalo
What happened: A sluggish start to the game for the Bills allowed the Ravens to take control early on and grab a 20-3 advantage as Lamar Jackson led scoring drives on Baltimore's first four possessions. But the Bills grabbed momentum going into halftime with a 4-yard pass from Josh Allen to Isaiah McKenzie. In the second half, the Bills tied it 20-20 in the third quarter as Allen forced his way into the end zone on an 11-yard TD run. A Jordan Poyer interception in the end zone on fourth down late in the game gave the Bills the ball back in a game-changing play. Tyler Bass' 21-yard field goal as time expired led Buffalo to victory in a wild finish.
Why it mattered: Buffalo snapped a drought of seven consecutive losses in one score games (dating back to the 2021 season) and marked the first time in franchise history that the Bills won a game they never led until the final play of regulation.
He said it: "We've been down before, and we've rallied back before. We didn't shun, we weren't shy, we weren't nervous. We went in chin up, chest out, and we went in with confidence that we were going to win the game."
— Stefon Diggs in postgame press conference
Week 5 | Bills 38, Steelers 3
What happened: On just the third play of the game, a bobbled kickoff return that put Buffalo at its own 2-yard line resulted in a 98-yard TD reception for WR Gabe Davis. This sparked an offensive burst in the first half where Allen threw for 3 more touchdowns: another to Davis, one to WR Stefon Diggs, and one to WR Khalil Shakir. With two turnovers and three total sacks, the Bills defense limited rookie QB Kenny Pickett and the Steelers offense to a lone field goal.
Why it mattered: Buffalo improved to 4-1 this season and moved into first place in the AFC East. The Bills entered the game with a rather unhealthy roster that was missing four starters, but the rookies stepped up. CB Kaiir Elam, RB James Cook and Shakir all contributed to the team's fourth win of the season with big plays.
He said it: "Two things stood out this week. Number one was your focus on this week, this past week. The focus. And the resiliency of this football team, and no one blinked. I've been in the locker room, and I see that sign by Von's locker, and no one blinked … That's big time."
— Sean McDermott in postgame Victory Speech
Week 6 | Bills 24, Chiefs 20
Track title: That's My Quarterback
What happened: The Chiefs and Bills went into halftime tied at 10, but key moments throughout the second half such as a Stefon Diggs TD and sack from LB Von Miller gave the Bills the upper hand. Down 20-17, Allen led a game-winning drive by finding TE Dawson Knox for a 14-yard TD pass with 1:09 remaining. With enough time left for the Chiefs to make a game-winning play, CB Taron picked off Mahomes in the final minute to seal the 24-20 win.
Why it mattered: This marked the first time the Bills and Chiefs met since last season's AFC Championship, but this time the Bills defeated the Chiefs at Arrowhead Stadium. With the win, the Bills entered their bye week with a 5-1 record and in first place in the AFC. Allen became the first quarterback to defeat Mahomes twice at Arrowhead Stadium.
He said it: "We still going. It was a great team win. We knew it was going to be a tough one. We knew we were going to have to go all 60 minutes, if not 70 minutes. We just kept fighting. The motto is don't blink. We didn't blink when we were down, we didn't blink when we were up. Great team win for the Bills … We definitely gonna see them again."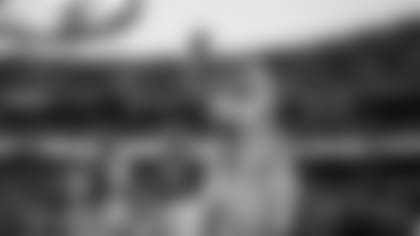 Week 7: BYE WEEK
Track title: We Get a Bye Bye Bye
Week 8 | Bills 27, Packers 17
Track title: The Spooky Bills
What happened: On the Sunday night stage, the Bills got out to a 14 to 0 lead by the start of the second quarter. They scored two more times in the second quarter to gain a 24 to 7 lead over Green Bay heading into the second half. The Packers were able to put 17 points on the board, but it wasn't enough thanks to touchdowns by Stefon Diggs, Dawson Knox and Isaiah McKenzie. It was Diggs' third straight game with 100 receiving yards.
Why it mattered: The Bills improved to 6-1 on the season, a record they last had in 1993. With the win, Sean McDermott remains undefeated as the Bills head coach after bye weeks with a 6-0 record. After the game, Allen became the leader of the NFL in total yards (2,504) and touchdowns (21).
He said it: "Me personally, I was shocked that they ran the ball so much. They have Aaron Rodgers and with previous bouts, I was just expecting him to have a little bit more control. So, I was kind of anticipating him passing the ball a little bit more, and they just kept running and running and running...But, a win is a win and I'm grateful for each and every win that we get."
— Von Miller in postgame press conference
Week 9 | Bills 17, Jets 20
Track title: I Get Knocked Down...
What happened: The Bills jumped out to a 14-3 lead at MetLife Stadium, highlighted by a Josh Allen 36-yard TD run. But the offense went stagnant in the second half and failed to score a touchdown as the Jets came back to go up 20-17. Allen's 4th down heave to Gabe Davis was incomplete and the Jets upset the Bills who were favored by double digits.
Why it mattered: The Bills' 4-game win streak was snapped and the team stayed winless in the AFC East, though it still hung on to the No. 1 overall seed in the AFC.
He said it: "It's tough to win in this league. We were playing a good team here, (and) your quarterback plays like s---. Made some bad decisions tonight, really cost our team. A lot to learn from, a lot to grow from, but that's not the standard we hold ourselves to. That's not the ball that we play."
— Josh Allen in postgame press conference
Week 10 | Vikings 33, Bills 30
What happened: At multiple moments throughout the final minutes of regulation and into overtime, it looked like the Bills were going to come away with the win. With less than a minute left in regulation, the Vikings attempted to convert on 4th and goal, but DE Shaq Lawson stopped QB Kirk Cousins at the 1-yard line. The Bills had 49 seconds to secure their 27-23 lead, but on the first play on their own 1-yard line, Allen couldn't handle the snap and the Vikings regained the lead, 30-27, when they recovered the ball in the end zone. Allen wanted to redeem himself and did so enough to set Tyler Bass up for a 29-yard field goal that tied the game at 30-30 to go OT. After a Vikings field goal, Allen's potential game-winning TD pass intended for Gabe Davis was picked off by Patrick Peterson and ended the game in Minnesota's favor.
Why it mattered: The OT loss to Minnesota sent Buffalo down to third place in the AFC East after starting out the day the No. 1 overall seed. Their third loss of the season made for a two-game losing streak for the Bills, however it was their last loss of the regular season.
He said it: "It's one of those games where your anxiety is up and then it's down and then it's up again, and it's like this emotional roller coaster. We did enough to win that game, we just didn't win it … It went back and forth, and we just ended up on the wrong side of that game. I don't think that's gonna determine the type of the season that we have, or I don't think it's going to determine where we end up."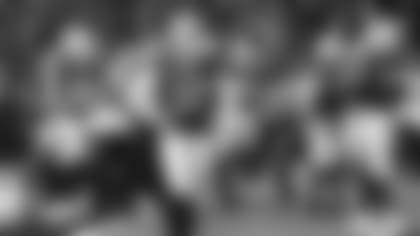 Week 11 | Bills 31, Browns 23 (played at Ford Field)
Track title: Movin' to Motor City
What happened: Cleveland got out to a 10-3 lead but the Bills were able to engineer a comeback that started with a Stefon Diggs touchdown with 14 seconds left in the first half. After halftime, Buffalo scored on every single possession except the last play of the game when Josh Allen kneeled to end it. Tyler Bass was exceptional in the game and made all six field goal attempts, including one from 56 yards out. Devin Singletary (averaged 4.8 yards per carry) and James Cook (averaged 7.8 yards per carry) each picked up 86 yards on the ground.
Why it mattered: After moving the game to Detroit from Buffalo due to snow, the win meant a lot to the entire organization who had the opposite of a "normal" football week. It also meant a lot to the community of WNY who helped players and staff dig out to get to the game in time. Due to his performance, Allen tied Cam Newton (160) for the second most touchdowns all-time in a player's first five seasons. Diggs also passed the 1,000 receiving yards marker, making it his fifth straight season with at least 1,000 receiving yards.
He said it: "I wanted to say how proud of the players I am and the staff for the work that they put in to get here, first of all, and the performance that they put forth today. The effort that they put forth it wasn't easy; we knew it wasn't gonna be easy. And then everyone back in Buffalo who helped us get here, how much we appreciate them and thankful for them. And everyone back in Buffalo who's currently digging out again, we're thinking of you guys and that was for you. So, it's great to be here, great to get the win, and certainly appreciate all the fans from Buffalo that showed up for us here, all the Bills fans and Bills Mafia."
— Sean McDermott in postgame press conference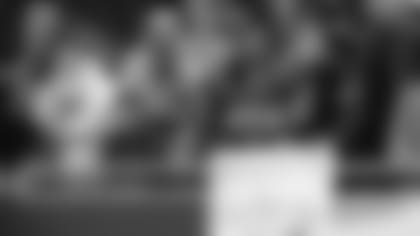 Week 12 | Bills 28, Lions 25
Track title: Turkey Legs Taste Better After A Thanksgiving Dub
What happened: Just four days after the Browns game, the Bills returned to Detroit on short rest for their Thanksgiving game against the Lions. With both teams scoring back and forth throughout, the Bills found themselves trailing 22-19 with 13:47 left in the game. Allen and the offense went on two consecutive scoring drives, the first being a 5-yard TD pass to Stefon Diggs. With the game tied 25-25 with :23 seconds left, OT appeared to be in the cards but Allen hit Diggs over the middle of the field for a gain of 36 yards. That set up the game-winning field goal by Tyler Bass from 45-yards out.
Why it mattered: The Bills gained a star player back from injury as CB Tre'Davious White returned from his ACL tear but LB Von Miller suffered a knee injury of his own and had to leave the game in the second quarter. It was announced on Dec. 7 that Miller would miss the rest of the season with an ACL tear. On a positive note, the Bills became the first NFL team to with back-to-back wins at the same stadium, that's not their home field, within a 5-day or fewer span.
He said it: "That's a heck of a job. That's two wins in five days. Snow, rain, two plane trips, man. Guys going down, guys stepping up, that's a hell of a job! And never forget the lessons you learn from this game right here, right? But this sport, never forget it, carry it with you the rest of your lives."
— Sean McDermott in postgame Victory Speech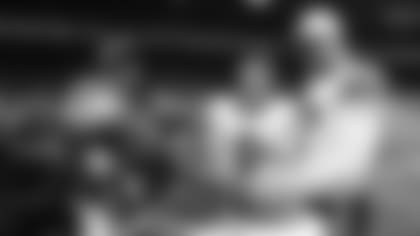 Week 13 | Bills 24, Patriots 10
Track title: Thursday Night Divisional Dubs
What happened: The Bills trailed 7-3 early in the game, but the Bills outscored the Patriots 21-3 the rest of the way. Allen threw two TDs in the second quarter, one to Stefon Diggs and one to Gabe Davis. The third quarter was all the Bills with a drive that knocked 8:55 off the clock and ended with a 1-yard TD run by RB Devin Singletary. The final Bills TD of the game put the team ahead 24-7 and from there, the Patriots only put up a FG before the clock expired.
Why it mattered: After going 0-2 in divisional matchups early in the season, the victory over New England gave the Bills their first divisional win of the season. It's Buffalo's third victory in a row this season and their third-straight over the Patriots (playoffs included). The Bills have also now won five of the last six meetings against New England and improved to 9-3 on the year.
He said it: "I think we played good situational football tonight. Leaning on our defense, only allowing 10 points that's awesome … As you progress in the season, winning is the most important thing. Doesn't how you do it, 1 point or 100 points. It all counts the same."
Week 14 | Bills 20, Jets 12
Track Title: ... But I Get Up Again
What happened: It took until there were just 26 seconds left on the clock in the second quarter to see the first score of the game thanks to a 24-yard touchdown pass from Josh Allen to Dawson Knox. The Jets tied it up during their first drive of the second half but after that, the Bills kept the lead the rest of the way. The Bills defense held the Jets to just 76 rushing yards and picked up four sacks. Allen's one rushing touchdown made it his sixth of the season, so the QB became the first quarterback in NFL history with at least six rushing touchdowns in five straight seasons.
Why it mattered: This was Buffalo's second of three straight games against AFC East opponents and their second straight win against the AFC East. The Bills suffered a loss to the Jets in their first meeting of the season, so this victory was important in regard to winning the AFC East. The Bills improved to 10-3 on the season for the second time in three seasons.
He said it: "Our defense, they kicked some tail. They were playing lights out. Guys stepped up. Shaq Lawson, that's one of his former teams so he had a chip on his shoulder. Getting Greg Rousseau out there, getting him going. I think he had two sacks, a strip sack, some tackles for loss, he balled out. They're playing really well right now."
Week 15 | Bills 32, Dolphins 29
Track Title: It Might Be Chilly
What happened: Snow held off for the first three quarters, but in the pivotal fourth quarter of the division showdown, Highmark Stadium turned into a winter wonderland. Buffalo led 21-13 at halftime after three Josh Allen TD passes, though Miami scored 16 unanswered points to take a 29-21 lead with 11:56 remaining in the game. The Bills offense engineered another comeback as Allen hit TE Dawson Knox for a TD with nine minutes remaining and got the two-point conversion to tie the game. After a defensive stop, Allen drove the Bills 86 yards in the final 5:56 to set up a game-winning field goal in the snow from Tyler Bass as time expired.
Why it mattered: Bass secured his third game-winning FG of the season and helped the Bills clinch a playoff spot for the fourth-straight year. It marks just the third time in franchise history the Bills have reached the playoffs in four consecutive seasons and the team's third-straight season with 11 or more wins.
He said it: "It's either a really good play or a really stupid play. I'm just thankful he (Cook) came back to the ball and made a play on it. I threw it and in my head, I'm like I know I wasted too much time. I know zero seconds on the clock and I just kind of slid on the ground and I just laid there and waited for cheers. Thank God cheers came because you've got to have points before the half."
— Josh Allen on his TD pass to RB James Cook before halftime during postgame press conference.
He said it: "It's been a journey. It's still ongoing too, but like I said before, the support and the treatment that I've been getting for the last year has been next to none, and without the support and the training staff and the strength conditioning staff, I wouldn't be where I am now."
— Tre'Davious White, who played 100% of the snaps in his 2022 home debut during postgame press conference.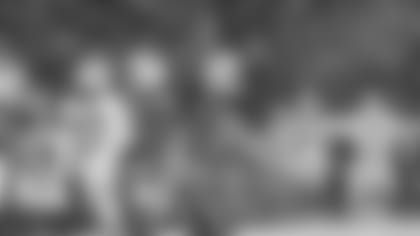 Week 16 | Bills 35, Bears 13
Track Title: Hats N' T-Shirts For Christmas
What happened: In the coldest regular season game on the road in team history, the Bills run game led the team to victory, primarily in the second half. The Bills trailed 10-6 at halftime but outscored the Bears 29-3 in the second half with their dominant running attack and strong defense. Allen added two passing touchdowns to the scoresheet with one to Dawson Knox and one to Gabe Davis. As for the defense, they held a forceful QB Justin Fields to a season-low 11 rushing yards on 7 attempts.
Why it mattered: The Bills clinched the AFC East title with their victory in Chicago. It's Buffalo's third consecutive division title and the team boasted a 14-3 record against AFC East opponents during the three-year run. Buffalo ran for a season-high 254 yards and three different players (Singletary, Cook, and Allen) had rushing touchdowns.
He said it: "When we got out there on the field, because it was going to be so windy, we knew we were going to run it a little more and because it was going to be so cold. But the ground kind of changed things because the grass was concrete … It really felt like you were playing on concrete out there, so I think it was tough for the defenders to change direction. Our backs did an unbelievable jobs of keeping their shoulders under their toes, not getting over extended, and they did a great job cutting and finding those holes."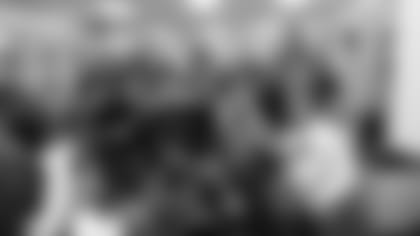 Week 17 | Game cancelled
Track Title: Pray For Damar
What happened: On Monday Night Football, the Bengals scored on the first drive of the game and the Bills answered with a field goal. Play quickly stopped when safety Damar Hamlin fell to the ground after getting up after making a tackle. Hamlin received CPR and was resuscitated on the field. After Hamlin left in an ambulance, both teams went to their locker rooms and determined the game should not resume. The team later found out that Hamlin experienced a cardiac arrest episode and was in critical condition. Hamlin has thankfully made an immense amount of progress within days of collapsing. The first thing the safety said when he woke up was, "Did we win?" His doctors responded with, "Yes, Damar. You won. You've won the game of life."
Why it mattered: The huge stakes and playoff implications of this game didn't matter to anyone after Hamlin went down and had to be taken to the hospital. It showed the importance of remembering human beings play football, and it's okay to forget about the sport when a teammate and loved one suffers a life-threatening injury. This experience bonded an already tight team like never before. We will remember the Bills medical staff and University of Cincinnati Health physicians who worked quickly to save Damar's life. Head coach Sean McDermott, general manager Brandon Beane and several players showed tremendous amounts of leadership with how they lead their team through an unforgettable night and week.
He said it: "The scene just replays over and over in your head. It's hard to answer that question and actually describe how I felt, how my teammates felt in that moment. It's something we'll never forget, but to know that Damar is doing okay. And I know there's still a lot of things and stuff that he has to process and continue to go through to get back to himself. We heard that news this morning and there's nothing that could have been told to us to bring our day down. We're extremely happy for him and his family. We just want to love up on him. The next chance we get, I don't know when it's going to be, hopefully if we get to see him anytime soon, it's going to be awesome."
— Josh Allen to media after learning of Damar Hamlin's improved progress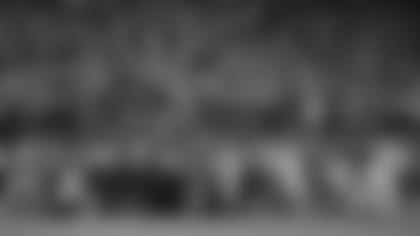 Week 18 | Bills 35, Patriots 23
Track title: Love for Damar
What happened: In an emotional pregame setting, the Bills celebrated the team's training staff that helped save Damar Hamlin's life on the field in Cincinnati and held a moment of celebration for Hamlin who progressed remarkably to be able to breathe on his own in the hospital and Facetime his teammates. The storybook game only got better as Nyheim Hines returned the opening kickoff 96-yards for a TD. Josh Allen threw 3 TDs on the day and Hines' returned another kickoff for a score (101 yards) as the Bills got a big victory over their AFC East rival. 
Why it mattered: The Bills' spirits were lifted late in the week when the team found out Hamlin progressed to be able to breathe on his own and his neurological function was intact. During a team meeting, they were able to briefly Facetime him and here him say "Love you, boys". Those words of inspiration carried the Bills through a spiritual and surreal win and they clinched the No. 2 seed in the AFC. 
He said it: "For us, putting that 3 up for Damar, you can feel it and we can feel it and we're just saluting our brother. It just came to a moment in the game where we said, 'We did this.' Then we gave him a salute. That's what that 3 was – a salute to our brother that we knew was watching every play of this game. Just bringing that connection through his TV screen to this stadium."
— Dion Dawkins in postgame press conference