For Bills fans, and Greece, New York residents, Heather and Tony Paulino, Aug. 6 will always hold a special place in their hearts. One year ago, today, their baby boy Vincenzo "Vinny" was born three months premature due to complications from Heather's pregnancy. To celebrate Vinny's birthday, the Paulino family, including their daughter, Gabby, and Tony's mother, Kathy, came to Bills Training Camp, presented by Connors and Ferris, and left with more than they could've ever imagined.
Although he weighed just two pounds when he was born, and quickly dropped to one pound a day later, Vinny is quite lucky and has made tremendous progress, explained the Paulinos.
"I had preeclampsia and mine came on very, very early at 25 weeks…He [Vinny] stopped growing around 26-27 weeks and then around 29 weeks…I had an emergency C-section August 6 of last year, 2017…," said Heather.
"It was tough but we're really lucky…He's come a long way and hasn't had too many complications," she explained. "When he came home he had to have a feeding tube, [as] he just came off oxygen. So, for the first three months he wasn't able to breathe on his own… But once he came home, about a week later…he never needed it again."
Vinny, who is now required to wear his Bills-themed cranial band for 23 hours each day, was quite popular among the players at camp. From Bills rookies to veterans alike, the guys were happy to stop by to say hello, hear more about Vinny's incredible story and sign autographs. The moment was surreal for the whole family, but especially Heather Paulino, who recently shared Vinny's story on social media.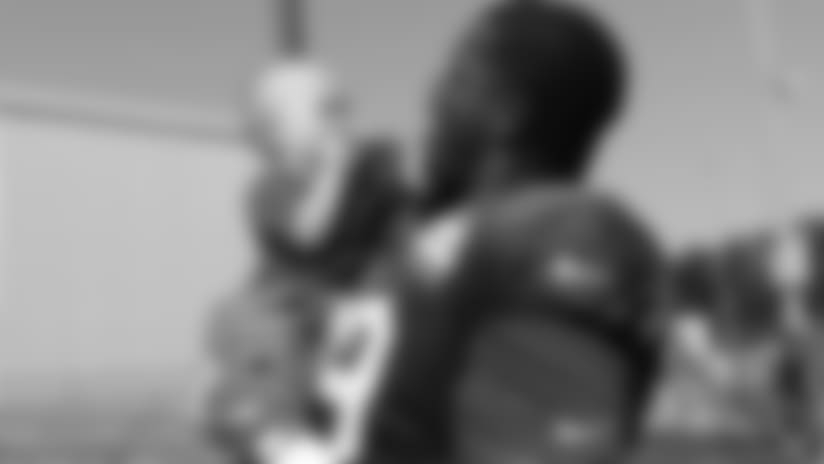 "Originally, he [Tony] posted it and I shared it…and after that it blew up," she explained. "We've gotten over 1,000 shares. It's crazy. I didn't think that so many people would stop and sign his helmet. As soon as we get done with here, we're going over to my brother-in-law's [house], he's going to clear coat it for us because Vinny still needs to wear it for a few more months. Then it will be a keepsake for him to have forever."
While Vinny continues his journey to recovery, his family's bond with the happy-go-lucky youngster will continue to grow stronger.