John 'Smoke' Brown didn't think twice.
In the middle of a pandemic with rookie minicamps, OTA practices and a June minicamp wiped from the offseason schedule, the veteran receiver called one of the newest players in the Bills receivers room.
Brown knew that fourth-round wide receiver Gabriel Davis lived just a four-hour drive away in Sanford from his home in south Florida. So he invited the rookie wideout to stay with him for a week to master the playbook and work on route concepts.
Davis jumped at the chance.
Never asked to be a leader before he came to Buffalo in 2019, Brown quickly adjusted and eventually embraced the responsibility as a veteran in the receivers room.
"That's something I had to accept," Brown told Buffalobills.com. "I couldn't put myself first. The plays were going to come but helping others would help the team even more. It was a lot, but I got there."
The reason why Brown recognized the importance is because he was on the receiving end of the same kind of wisdom when he was a rookie in Arizona.
"I was able to help out because I know a lot from being around Larry Fitzgerald," Brown said. "I'm real thankful for Larry because I'm able to help these guys and I see them taking it in."
Brown took things a step further with Davis, as their close proximity allowed them to spend some time together in an offseason where no NFL rookie was getting much time on the field.
"When I got drafted 'Smoke' took me in," said Davis. "I was asked to stay at his crib for a few days to get with him on some football things. Work out with him, learn the playbook because that's what Larry did for him."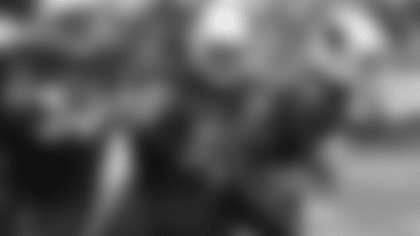 Larry Fitzgerald has played pro football for only one team in his 17-year career. To say he has been a model professional for the Arizona Cardinals would be an understatement. Aside from his record-setting career numbers, Fitzgerald's dedication to his craft is why his number of accrued NFL seasons (17) more than doubles his number of missed games (8).
His accomplishments off the field are just was widely recognized. Numerous community awards, the most significant of which was being named a co-recipient of the Walter Payton Man of the Year award with Eli Manning in 2016. 
Fitzgerald has spent an inordinate amount of those 17 seasons pouring his knowledge into younger teammates with the Cardinals.
Two of those players he mentored are now veteran receivers in Buffalo in Brown and Andre Roberts. Two players who still revere Fitzgerald.
Brown and Roberts each spent four seasons with Fitz in Arizona. Roberts from 2010-2013 and Brown from 2014-2017. From training camps to offseason workouts, the two were always eager to lend an ear when Fitzgerald had suggestions or answered questions. His willingness to help went above and beyond.
It left an indelible mark on Brown in particular.
"That's one thing about Larry. He's not a selfish person. He wants to win," said Brown. "So if you help the person next to you and make their job easier you'll win more games. And then everybody is more comfortable playing. So I appreciate Larry for that because now I'm here helping these guys."
"Smoke is one of those guys who understands a player like Gabe Davis can help our team win," said Roberts. "When you're a veteran like 'Smoke' it's not too hard. You understand your position and value on the team. So I'm sure when Gabe got drafted he called him and texted him, took him under his wing to try to help him as soon as possible."
For Fitzgerald it's humbling to know his reach goes beyond just his current and former teammates.
"It does resonate with me because I was in his position when I was a ball boy for the Minnesota Vikings and watched Randy Moss, Cris Carter, Jake Reed, Chris Walsh and Matthew Hatchett and all the players I idolized and looked up to," said Fitzgerald. "I had a unique experience to be able to watch those guys up close and personal and be able to learn from them. To get a chance to be able to tell those guys that and watch them up close, it gave me motivation."
Even though Roberts became Fitzgerald's teammate in the league, he too was an admirer of the receiver when Fitzgerald was an All-American college player at Pitt.
"I remember when I was in school and Larry was on the cover of the NCAA football game," said Roberts. "I'm like, 'Man this dude is up for the Heisman? Who wouldn't want to be that guy?' I understand it completely how he's touched so many people on and off the field.
"Gabe told me about how he felt about Larry when he was coming up and how he looked up to him. I'm sure he's going to want to get his jersey signed after the game. He's touched a lot of people."
Davis has often been described as someone who doesn't play or carry himself like a rookie. Brown even said Davis knows the playbook better than most. Evidence comes in the way the offensive staff requires the young receiver to know all of the receiver positions in the scheme as he serves as a backup to the top three on the depth chart.
"Getting that time with 'Smoke' and learning and knowing Larry is just a competitor every single day, I just try to come out to practice and compete to the best of my ability," Davis said. "Just trying to take everything I can to learn from the guys that came in front of me."
Proof positive that Fitzgerald's legacy as a mentor will carry on long after his playing career is over.
"It makes me feel good that I could do something like that," Fitzgerald said of his impact on Davis. "I look forward to meeting him and shaking his hand and congratulating him on his success."
For Fitzgerald, the exchange of that postgame meeting is much more likely to be the reverse.
--Darren Urban contributed to this story.