Black History Month is celebrated in February nationwide but just because the month is over doesn't mean that the work stops there.
Buffalo Bandits forward Dhane Smith wanted to do something to keep the conversation going and that blossomed into a collaboration with Eat Off Art.
"Honestly I've always wanted to do something for the month of February and be more involved," Smith said. "Luckily enough Kelsey [Sweet] came to me and asked if I'd be interested in collaborating with Eat Off Art. I felt like the slogan hit home with me."
Eat Off Art is a family-run business co-founded by Alexa and Edreys Wajed. They specialize in creative design and branding, showcasing original artwork, jewelry design, culinary arts and transformative arts engagement. The work they do is driven by their motto, 'transforming the starving artists to thriving artists by inspiring, sharing and demonstrating the value and importance of art.'
Their More Than Just February collection was exactly the message that Smith was looking for. The collection will be available on the Shop One Buffalo store through March 18. A portion of the proceeds of every sale will benefit the G.I.R.L.S. Sports Foundation, Inc. right here in Western New York.
This collaboration is important to the Eat Off Art co-founders to ensure that the conversations last past the second month of the year.
"What is most important to us is for people to recognize that Black History is more than just the month of February," Alexa and Edreys said via email. "It's problematic that Black history has unfortunately been separated and categorized outside of American History, which it is very much a part of.
"It is of great importance for us to urge consumers and industries to normalize recognizing and valuing the contributions and accomplishments of Black professionals, Black Businesses and Black Stories without restriction. We are more than just February."
The G.I.R.L.S. Sports Foundation, Inc. was founded by Cecelie Owens and her sister after they realized that there weren't enough sports activities for girls. In 2007, they hosted a basketball clinic where 90 girls showed up and from that point, the two sisters knew it was crucial to keep it going.
"It's important to me to get girls involved in sports because as a young girl I played sports and to go from living in the projects, to being a principal, sports was the vehicle that helped me get to where I am," Owens said. "Because of what you are taught or what you experienced through sports. And those relationships you build, it's important.
"… Once you are an athlete, you're always one. So, whatever you learn and was instilled in you when you're little. Doesn't matter how old you are, I still have those same values and carry them with me every day and night. Then as a principal, I get to use the same characteristics, traits, values and ideas at a school with 800 kids through sports."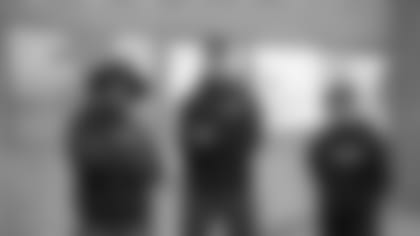 The relationship between the Wajeds and Owens started back in 2000 when Owens became a mentor for Edreys during his substitute teacher training. Owens guided him and offered him real-life hands-on experience and got him involved in the sports and academic summer programs. 
"As a thank you for her mentorship and long dedication to uplifting and supporting children in the community, as well as programming focusing on girls and young ladies, G.I.R.L.S. Sports Foundation was certainly the most fitting for this initiative," Alexa and Edreys said via email.
To check out the More Than Just February collection and support Eat Off Art and the G.I.R.L.S. Sports Foundation Inc., click here.