Growing up in Livingston County, Lori Moose's love for the Bills was indoctrinated in her from a young age.
When asked why she became a fan, her answer was simple.
"I was like an hour maybe from the stadium," she explained. "It was the home team. It's Bills country! That's really the answer to that. I grew up there and that's just the way it was when you were born."
Like many Bills faithful, Moose can still remember the first time she stepped foot onto New Era Field. An experience that she fondly recalls, her inaugural Bills game is what solidified her love for the Bills and what led her to purchase season tickets.
"I've had some really, really good times there," she said. "The first time I went to a game [was 2013], because I lived away from this area for 20 years [and] I didn't come back until I was basically grown up with kids. I would watch the games on TV, but my brother in 2013 decided that he would get me tickets to a game. That was my first game and I took my son. He was about 12 at the time. They got us tickets in the family section…and that was it. It was like I was home. [It was as if] this is where I should've been every single Sunday, [or] every day of my life. That's what prompted me to get the season tickets was that one game that I went to."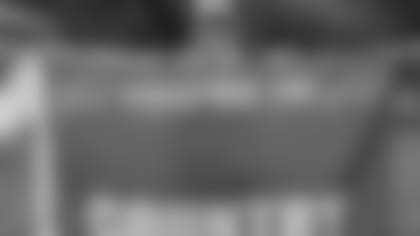 During her tenure as a Bills fan, Moose has enjoyed watching many Bills players take the field sporting the red, white and blue Bills uniforms. Her favorite all-time players are Jim Kelly, Fred Jackson, Kyle Williams and Aaron Williams.
In an act of fate, Moose was able to meet Kelly and share an experience with him that she will never forget. In 2015, Moose was selected to help Lead the Charge alongside the Bills Hall of Famer. To this day, this memory is one of her most cherished.
Nowadays, when Moose attends Bills games with either her son, husband or friends, she finds excitement in watching second-year quarterback Josh Allen, safety Micah Hyde and kicker Stephen Hauschka.
As a Season Ticket Member, she has also come to enjoy the perks associated with her membership. Her favorites include the Bills Bucks Card and the 25% discount that she receives at The Bills Store. Most of all though, Moose just loves the atmosphere and fun that she has in Bills country.
 "It's fun. I'm having a really good time. I mean, that's one of my favorite things to do, is go to a game."
Next on her list?  Travel to another NFL city and support the Bills on the road.  
The Buffalo Bills would like to thank Lori for her years of being a loyal Bills Season Ticket Member and our Season Ticket Member of the Month. In addition to Lori being selected as a Season Ticket Member of the Month, she will receive a club seat upgrade an autographed item and select Bills merchandise.
If you would like to submit a nomination for a Bills Season Ticket Member of the Month, please fill out the form located here.