When 13-year-old Julian Sikorski had the opportunity to address the Buffalo Bills prior to their intrasquad scrimmage last Thursday, he offered an optimistic outlook for the year ahead and let coach Sean McDermott know he had assembled a talented team. 
And, of course, Sikorski made sure to shout out his favorite player. 
"Dion Dawkins, you are such a good guy! Like, it's insane," Sikorski said during the minute-and-a-half video that was played for Bills players during a team meeting that morning.
The moment was not lost on the Bills left tackle. 
"It was definitely cool," Dawkins said. "I'm going to be honest, I was actually very excited that he was actually a fan of mine and wasn't a fan of Josh Allen or Tre'Davious White, because usually when people come in it's just like 'Josh Allen, Josh Allen' or 'Tre White, Tre White.' 
"It was just honestly good to see that he was showing love to a big player – it could be a defensive lineman or an offensive lineman. It just shows how big of a family Buffalo is and our Mafia loves each and every one of us equally."
The pre-scrimmage speech was part of Sikorski's duties as the Bills' honorary captain, an annual tradition in which the team welcomes a guest to sign a one-day contract and attend practice. Sikorski, who has lived with epilepsy since he was six years old, was selected through his participation with Stone's Buddies, a program that supports families coping with chronic illnesses at Oishei Children's Hospital. 
Though the COVID-19 pandemic prevented this year's honorary captain from attending the scrimmage at Bills Stadium, Sikorski received welcome videos from Dawkins and general manager Brandon Beane, addressed the team via video, and had his one-day contract delivered to his house along with a custom jersey and a helmet signed by Dawkins.
"He was really intense," Julian's mother, Colette, said. "He read it. He was like, 'Should I sign here?' I think he was overwhelmed by it all. He got the jersey with his name on it and his favorite number. It was overwhelming. He kept the jersey on all day."
Dawkins first met Julian during his rookie year at an event organized by former Bills center Eric Wood, who took children from Stone's Buddies for a shopping spree at Walmart. Dawkins, looking to follow in the veteran's footsteps, volunteered to help. He was paired with Julian and his mom. 
"When I first met him, I asked him if he talked to his mother every week and he said he did," Colette recalled of their experience meeting Dawkins. "I love the connection that he has with his mom, so that was something as a boy mom I loved to hear. 
"… But the way he's embraced Buffalo, and 'you already shnow,' his tagline, it's just heartwarming to know he loves Buffalo as much as people who have been born and raised in Buffalo. With the signing of his new contract, we know he's going to be here longer. We just love it."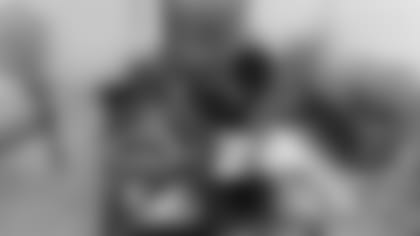 The experience stuck with Julian, who was thrilled to learn that Dawkins signed a four-year extension with the Bills on Aug. 13. He was sure to show his appreciation when his time came to address the team.
"It just shows how the world honestly could be if people just cared and people just gave their organic self and handled everything with respect and love," Dawkins said.
"It's honestly an honor to have a kid like Julian even look up to me as he does. I'm just blessed to be in a position where kids can actually learn and see somebody who is organic and showing true, authentic love."