Bills defensive lineman Prince Emili was in first grade the first time he stepped onto a football field. When his parents, Florence and Gregory Emili, showed up at the first practice, they were confused by the hitting and tackling because they thought their son had signed up for soccer.
As two academic-focused parents, they made Prince quit right away and he didn't return to the field until his sophomore year of high school because they were scared playing football would affect his grades.
"My sister (Uche) actually convinced them to let me play on her drive down to Loyola," Emili said. "I wasn't there, but it was six hours of slowly eroding it. By the time she got there, I got the green light to start playing my sophomore year, so I picked it up kind of quick and then went to school for it."
Emili was a natural and playing in college became a realistic possibility.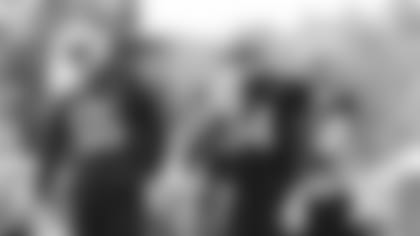 When it was time for college recruitment, it came down to the Ivy Leagues for the defensive lineman; Emili eventually landed on the University of Pennsylvania. During the six years he spent at Penn, the lineman had to balance a heavy workload in the classroom and time dedicated to football. The dedication to both aspects paid off.
Emili's work ethic stood out to the Bills. Following the 2022 NFL Draft, the team signed Emili as an undrafted free agent. Being from New York, he grew up a Bills fan so joining the organization was a dream come true.
"When I found out I was coming to the Bills, just the reaction from my family and my community was kind of ridiculous," Emili said. "I got lots of people that went to school in Buffalo, so it's really deep and kind of feels surreal still."
After coming to Buffalo for OTAs earlier this summer, Emili shared that he likes the culture throughout the team and coaching staff. Whether it's ping pong in the locker room or a veteran player explaining a specific play to him, Emili is soaking everything in.
"I couldn't really ask to be part of a better organization for my career," he said. "I've heard a lot, but the culture here is just different. Everyone's down to come to work every single day, give 100%, and are down to give me tips and help me learn. I just feel like this is a great place for me to get better every single day."
Emili's college study habits are being put to use as well. Emili shared that the times he used to set aside for studying for exams are now being but toward studying the Bills' defensive playbook. So far, the coaching staff has been impressed with how quickly the team's rookie D-lineman is picking things up.
"Well, first of all, he has a skill set," senior defensive assistant/defensive line coach, Eric Washington said. "He's got the right combination of power, speed, quickness, and athleticism. Those are the types of things that make our system group grow."
After watching Emili during OTAs and now at training camp, Washington has seen growth in his on-field performance. Day after day, he's continuing to pick up on the Bills' defense and becoming more familiar with the repetitions, both of which are allowing him to feel more comfortable and faster on his feet.
"I'm just trying to get better every single day and the results will shake themselves out," Emili said. "I watch the film from the day before and just give myself a couple of things I need to work on day by day, and I'm just trying to build the foundation every single day."
While Emili's athleticism jumped off the film for Washington, his determination and strong background stood out to the coaching staff, too.
"He has an incredible story of perseverance and taking advantage of the opportunities that he's been given and presented to himself," Washington said. "He's a very determined person, very competitive, and he is an outstanding developmental prospect for us."
Following in his parents' footsteps, Emili plans to one day pursue the medical path outside of football. His dad is a doctor who owns his practice and specializes in pain management, while his mom is a nurse, so he was around healthcare a lot growing up. Between the influence of his parents and his experience as an athlete, there no question he was going to chase after his dream of becoming a doctor.
"After becoming a football player and really being an athlete, I spent a lot of time in a training room," Emili said. "I really think it's a beautiful process, seeing someone come from injured and slowly working back up to full health and doing what they love again. So, I really fell in love with that process and that's something I definitely want to pursue."