The Buffalo Bills are proud to announce that Del Reid, co-founder of Bills Mafia and founder of 26 Shirts, has been selected as the Bills nominee for 2023 NFL Fan of the Year award.
A slogan that started accidentally and has now become a worldwide phenomenon thanks to Reid and two of his friends (Breyon Harris and Leslie Wille) that shared the same passion for bringing together Bills fans. 'Bills Mafia' isn't just some phrase thrown around without meaning. Bills Mafia is Family.
"Bills fans are Bills Mafia," Reid said. "Bills fans are an electric group."
"To everyone in Bills Mafia who voted for me, thank you. It means the world. We're family and I appreciate you."
The origin of Bills Mafia dates back to the 2010 season when Bills wide receiver Stevie Johnson dropped a potential overtime game-winning touchdown pass against the Pittsburgh Steelers in Week 12. Johnson took to Twitter (now X) after the game, posting about his frustration.
The week prior, Johnson had earned the love from Bills fans after scoring three touchdowns against the Bengals and revealing a white undershirt with the words "Why so serious?" written on it after one of his TDs.
"This guy was legit," Reid said of Johnson. "Bills fans fell in love with him immediately."
Reid and many other Bills fans replied to Johnson's now-infamous tweet after the Steelers loss, telling him to keep his head up and that they still supported him. End of story, or so they thought.
Johnson's tweet went viral that night and into the next day. When ESPN's Adam Schefter retweeted it nearly 24 hours later, it continued to stoke the flames of the story.When Reid and other Bills fans saw it, they replied to Schefter's retweet and were eventually blocked by Schefter.
"It seemed like a gross overreaction," Reid said. "We weren't being nasty."
Fast-forward to a Friday during the offseason and tweeted out some of the accounts that were blocked by Schefter, encouraging Bills fans to follow them and used the hashtag #BillsMafia. In the summer of 2011, the use of 'Bills Mafia' spread like wildfire.
"Training camp rolled around that year, players started using it. Stevie started using it, Nick Barnett was using it, Fred Jackson was using it," Reid said. "It just blew up from there."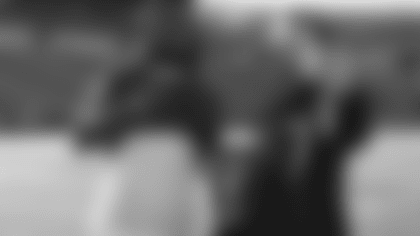 Reid, who has since become a fan-favorite on social media with over 80,000 followers, says he loves interacting with Bills fans online and in person. His presence on social media has taught him that Bills fans love getting to know each other and that's part of what makes Bills Mafia so special.
"Just to lift up our fanbase and our team," Reid shared. "Let the world know that we're here and we matter."
After Bills Mafia became a sensation, Reid felt a calling to use that platform to help the Buffalo community. He founded 26 Shirts, a t-shirt company with Buffalo-themed designs. For every shirt sold, a donation is made to a specified family in need or charitable organization in Buffalo.
Over $1.8 million has been donated since the company was launched.
"I've always tried to turn it back into 'How can you help your fellow fan?'," he shared. "I'm super thankful to every fan that has embraced the idea."
Earlier this season, the Bills invited both Reid and Johnson to One Bills Drive.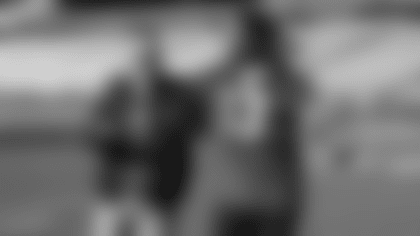 Reid was told he was doing an interview on the history of Bills Mafia. But what he didn't know was that Johnson would be there to surprise him and tell him he was the Bills' Fan of the Year. With the two standing near on the field at Highmark Stadium, Johnson lifted up his jersey, revealing a white undershirt with the words 'Fan of the Year' written on them.
"For Stevie to be the one to do it, for Stevie to lift up his jersey and have it say 'Fan of the Year' right there on his undershirt. It was perfect," Reid said.
Reid was overcome with emotion, hugging Johnson and then calling his wife Chrissy to share the news. Reid explained that Chrissy played a huge role in getting Bills fans to vote for him as Fan of the Year.
"That was all her," Reid said.
Del and Chrissy are both life-long Bills fans, as are their two children.
"We're a full Bills family," he said.
Johnson was ecstatic to deliver the news on the field to Reid as the two have become friends since the inception of Bills Mafia.
"He definitely earned that, he deserved it," Johnson said. "It's a testament to the entire city, not just Del. And he'll be the first to tell you that.
As Reid got to put on his Bills Fan of the Year jersey and accept his invitation to this year's Super Bowl, he reflected on the impact Bills Mafia has had on Bills fans everywhere.
"It's known for giving, it's known for love," Reid said. "Being Fan of the Year is awesome, but to have played a small part in the fact that 70,000 fellow fans (at Highmark Stadium) plus everybody outside, that they're taking their fandom and turning it into good work in the community, that's the most important thing."