Here are some of the more noteworthy items from the first session.
Quarterbacks make some plays
As the quarterback competition continues, the three signal callers in the mix each had a handful of quality plays in practice.
Matt Cassel put great touch on a pass deep down the left sideline to Marquise Goodwin for a 40-yard scoring play as Goodwin got behind the corner for a touchdown. He also found Marqueis Gray down the right sideline for another scoring play on a mismatch with a linebacker. Cassel's third touchdown pass came in red zone work on a throw to Fred Jackson.
The veteran QB feels things are beginning to fit together.
"(Tuesday) was nice because it was actually our third go around after this entire offseason of introducing and all that stuff," he said. "I think we had a better grasp of what we had in the past, and it was good, hopefully we can build on that."
EJ Manuel also demonstrated some good progress Tuesday. Working with the second and third team, Manuel hit Caleb Holley in stride on a crossing pattern for a 15-yard pickup. He showed good timing on a red zone strike to Karlos Williams in the middle of the end zone for a touchdown.
His best play however, came on a check at the line of scrimmage when he saw a blitz coming and got the ball out to Marcus Easley, who beat single coverage down the left sideline for a score.
"That was just a check, changing protection and then just gave different routes outside and saw there weren't any safeties in the middle. That's one thing I'm proud of. I think my rookie year I may not have been confident enough to do it. I may have seen it, but not been confident enough to do it," said Manuel.
"Now I'm just feeling relaxed more and seeing what the defense is giving us and making the check and throwing the ball downfield. Easley did a great job getting off the line. It's still practice, but it is progress."
Tyrod Taylor also delivered some good throws. His throwing motion looks very effortless as he can just flick the ball 40 yards downfield or from the far side hash to the sideline without much of a wind-up. His best work came during red zone work when he threw a pair of touchdowns on two consecutive snaps.
The first went to Tobais Palmer, who he found in the middle of the end zone. He also hit LeSean McCoy in the end zone after he came out of the backfield.
"I felt good out there. I think I handled the offense well as a unit," said Taylor. "I think there are some things that I can do better and we can do better as a team, but it's the first day of minicamp. I thought we did a good job. I had some touchdowns in the 7-on-7 and in team we moved the ball up and down the field pretty well."
Watkins does a bit more
It was only one team rep, but it was the first that Sammy Watkins has seen coming off a hip procedure in the offseason. Late in 11-on-11 Watkins lined up and was targeted by Tyrod Taylor and got some yardage after the catch.
He's been doing all the individual position drills through the course of the spring practices, but Watkins has been held out of the team work in all the OTA practices. Receivers coach Sanjay Lal isn't the least bit worried about Watkins' progress in Buffalo's new offense because in the meeting rooms the receiver has been on the ball with everything.
His quarterbacks however, were encouraged to see Watkins begin to work his way back into team drills.
"It's exciting to have Sammy come back out here and be able to run through drills - it's great for us, it's great for him," said Matt Cassel. "I'm sure he's excited to be back and get caught up on just the terminology, route running, and everything else."
Getting clearance to get even the smallest amount of work in 11-on-11 is a good sign in advance of training camp when Watkins is expected to be full go.
Reed's internship begins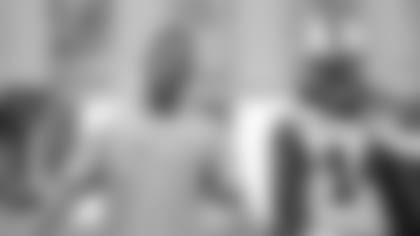 Bills Hall of Fame receiver Andre Reed began his coaching internship with the team he played with for 15 seasons Tuesday. Reed said he received a warm welcome from Rex Ryan and his staff and was encouraged to interject wherever he felt it necessary. Ryan clearly likes having Reed's base of knowledge available to his young receiving corps.
"I'm just now new to having Andre being around. I just saw him after practice working with somebody, and the young man comes up and says, that's what I'm here for—to help," said Ryan. "That's the beauty of it. When I just saw that little thing in there with Andre that was it. He gets it. This is a Hall of Fame wide receiver. Can we mold Sammy Watkins into the next Andre Reed? Maybe not. But Sammy's pretty darn special anyway. I think any time you can bring a guy like that in, not just for Sammy's sake, but all of them, and on top of that you've got Sanjay Lal as a tremendous receivers coach, it can only help."
Reed appeared comfortable interacting with the receivers when they were away from the action.
"I told these guys that they're going to do what they do on the field, but the small little things really put you over the top," said Reed. "When you do the extra work and all that kind of stuff it makes a difference in how you practice and how you go out and play games."
Reed's internship with the Bills will run through training camp.
Defensive penetration
Buffalo's defense has high expectations for 2015, so it wasn't surprising to see their defensive front getting good penetration up field against the offense's run plays. Early in practice they were effective in not only plugging up holes, but getting into the offensive backfield.
Alex Carrington got things started with a 'would be' tackle for loss early in 11-on-11. There were also a couple of tap out sacks. Jerry Hughes drew an obvious holding call on an inside counter move. Nickell Robey even had a tackle for loss from his nickel spot wrapping up the ball carrier behind the line of scrimmage.
"I think we'll be able to have a good mix where we say here are our talented guys and put them out there and let them know what to do and say, 'You've got to block our talented guys,'" said Kyle Williams. "We're also going to have defenses and looks where we're going to disguise and confuse. It's a good combination with the players we have."
Buffalo's second defensive line, which is pretty talented in its own right, saw a change to the lineup Tuesday. Bryan Johnson stepped in at defensive end for veteran Jarius Wynn, who didn't do any team work. Johnson offers speed off the edge and shows potential.
Tight ends making plays
If there is one position group that has seen its collective time on the field increase dramatically from last season it's the tight ends. With the wide array of personnel groupings, the entire tight end contingent has been rolled through with the first and second units seeing a healthy amount of snaps.
Charles Clay, Chris Gragg, Marqueis Gray and rookies Nick O'Leary and Clay Burton have all been busy.
Gray had a productive day pulling in a few passes including a touchdown grab in the front right corner of the end zone during red zone team work.
Gay provides punting competition
When the Bills waived undrafted rookie P Spencer Roth to make room on the roster for LB Michael Buchanan earlier this month it was thought that the punting job would be Colton Schmidt's by default. As it turns out kickoff specialist Jordan Gay appears to be serving as competition for Schmidt.
He began punting over the last half of the OTA practice sessions rotating in with Schmidt during punt team drills. That continued on the first day of minicamp and Gay demonstrated quality hang time and distance on a couple of his attempts.
His best effort came on a high hanger from his own side of midfield. The hang time on the kick was so lengthy that Marcus Easley already had his heels on the goal line waiting for the ball to come down. The ball took a fortunate bounce on its belly (fat part) and caromed straight up in the air at the four-yard line allowing Easley to snare it and down it at the two.
Special teams coordinator Danny Crossman shouted approval.
"That's pretty good right there! That's a 98-yard field for that offense," Crossman bellowed.
Schmidt has been pretty consistent through the spring, but if Gay can match his consistency he certainly has the leg to compete in training camp. Knowing he's also the team's kickoff specialist, Gay could improve his job security with a strong showing on punts in preseason games.
Schedule
Day two of mandatory minicamp is Wednesday morning at 10:30 a.m.