There are football fans and then there are Bills fans.
While one can spot similarities between the two groups, there are striking differences that make Bills fans stand out among their counterparts.
A rare breed of individuals, Bills aficionados have a global reputation for being the best in the NFL. Their unwavering passion for all things Buffalo, makes them – like longtime supporter Doesik Kim – anything but ordinary.
On the surface, Kim is easily identifiable as a member of the faithful. Often decked out in '90s Bills attire, sporting vintage crewneck sweatshirts and nostalgic caps, there's no confusion on who he's rooting for on Sundays. However, Kim's story of fandom runs far deeper, spanning two continents and over 6,500 miles.
The Genesis
Born in Seoul, South Korea, Kim – an eager graduate student – ventured abroad to the United States to pursue higher education in the late 1980s. Taking up residence in nearby Rochester, New York, he began studying at the University of Rochester. Over thirty years later, it's precisely this time frame that Kim pinpoints as the moment he became a Bills fan.
"I went over to Rochester, New York, in 1988 as a graduate student at The U of R," he said. "When I was in Korea, I was able to watch football, so I knew the rules, but I didn't know the Buffalo Bills well at the time. At the time, the only people I remembered was Tom Landry and DeMarcus Allen.
"So, old people," he said with a chuckle.
"Then, I went over to the states and that's exactly when the Buffalo Bills were very good…What could I do? I had to indulge myself into the Buffalo Bills at the time. During the semester, I always watched the Buffalo Bills on TV and I became more and more familiar with those people…like Jim Kelly, Thurman Thomas, Andre Reed, James Lofton, Steve Tasker. Those are the offense and special teams and the defense was Bruce Smith and…Darryl Talley, Jeff Wright and Nate Odomes, Mark Kelso – those people."
Completely enamored by his newfound love for the Bills, Kim did what all fans aspire to do – purchase a season ticket. A proud Season Ticket Member during the 1993 and 1994 seasons, he witnessed many iconic moments unfold in Orchard Park, including "The Comeback Game. "
"'The Comeback Game,' yes! Against the Oilers. Yeah, I was there," he explained. "I was not able to see the end of the game. That was the story."
It was Jan. 3, 1993, and Kim headed down the I-90 with his wife and daughter to watch his beloved Bills take on the Oilers in a 1992 AFC Wild Card game. As the matchup quickly swung in Houston's favor, Kim, who was concerned that the weather was becoming unsuitable for his one-year-old, had a decision to make.
"The first half, we were down 28-3," Kim recalled. "So, I told my wife 'Okay (and we were supposed to receive the ball [to start the second half]) if we score, we'll stay. And if we don't score, we'll leave.' Then, on the first drive, Bubba McDowell intercepted [the ball for a] touchdown. It became 35-3. I thought it was the end of the game. So, we were driving down to Rochester and when we were almost back home, they were tied and then they went to overtime and Steve Christie kicked a field goal to win the game. So, I was there. I have the ticket. I have the newspaper – The Democrat and Chronicle – and I got an autograph from both Terry and Kim when they visited Korea this time."

It's a Small World After All
After spending over eight years in the U.S., Kim made his way back home to Seoul in 1994 to start his career as a philosophy professor. Despite the distance and great time difference, Kim has not missed a beat when it comes to supporting his team in the 25 years since he left the area. He does admit, however, that it is hard for him to find others who share his passion.
"No, not in Korea. Not in Seoul," he said when asked about fans living there. "There might be some, but, as you know, Buffalo is not a big city like Dallas, Boston and New York. There are some fans such as the New York Giants, Dallas Cowboys – those teams. But Buffalo was in a small market and only those diehard fans are the Bills Mafia. It's very difficult for me to find those people in Seoul."
Recently, when an extraordinary opportunity to connect with Bills owners Terry and Kim Pegula, as well as other fans, arose, he took it and ran – literally.
"It was great. I mean, if I was in the states, it would be very difficult for me to have such an opportunity," he said. "They [Terry and Kim] came to Korea and they tweeted out the kind of gathering. Actually, at the time, that was a Thursday and I had an important meeting, but I cancelled it and I ran to the gathering place at Itaewon in Seoul, Korea. It was awesome. Then, you know, the background of Kim, I mean who was born in Korea and had to go to the states, [resonates with me].
As he stood in his home country, talking to the Pegulas, things came full circle for Kim. Bringing with him precious tokens of his fandom, like his newspaper clip from "The Comeback Game," he was proud to show them off.
"…It was a great chance and it was my honor to see them in person because if I were in Rochester, I wouldn't have such a chance…That's one of the reasons I'm so glad that Mr. and Mrs. Pegula came to Korea and then they kind of summoned up those Bills Mafia. I couldn't imagine how many people were there and I guessed, 'Okay, there might be some Bills fans.' I mean, those Americans who happen to come to Korea and they are Bills fans. I thought they would come, but I'm not sure how many Koreans as a Bills fan came to that place. There are some. Not many, but still that was a kind of unique experience for me."
Same Team, New Routine
Although working at Konkuk University keeps Kim on a busy schedule, he always makes time to watch the Bills play – even if that means he must sacrifice a few 'Z's.'
"When I was in Rochester, I was ready for watching TV around 11 o'clock a.m. if I didn't have to go to the stadium…So, I would clean myself and then, you know, was waiting for the game. So, [I'd watch the] pregame show, then [the] first game. Normally, I used to drink a beer – about one can per quarter. After the game, I used to drink about four cans. But now, because of the time difference, it's 3 o'clock a.m. – 1 p.m. there is 3 a.m. So, I try to go to bed around 8 o'clock or 9 o'clock p.m. on Sunday, so that I can wake up around 2 or 3 a.m. I set the alarm and then get up and watch the game and then sleep a little bit more after the game and then go to work."
While a lesser fan may find it extreme for Kim to go to such lengths to keep up with the squad, he thinks it's worth every second. Enthralled by what head coach Sean McDermott's team has managed this year, Kim enjoys watching the players on Buffalo's roster continue to develop.
"Well, I think the most famous guy is now Josh Allen [and] nationwide is Frank Gore. I like the kind of guys like Tremaine Edmunds. He's young and he's the kind of leader of the defense."
In true Bills fan fashion, Kim even keeps up with what his favorite former Bills are up to nowadays.
"Back then in the 1990s, my favorite player was Steve Tasker because he was always ready for the game and then, you know, [was] a lowkey player. I love Jim Kelly, Thurman Thomas, Andre Reed – all of those guys. But still, Steve is my most favorite player and person-wise as well as player-wise. I'm now enjoying his [work on] One Bills Live."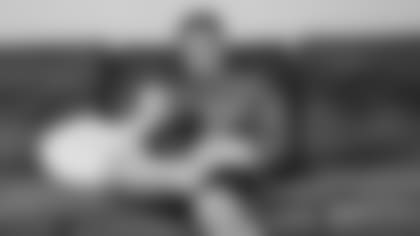 Family Man
Not only is Kim an avid Bills supporter, he's a devote family man. A loving husband, Kim has two daughters and a grandson and is hopeful that one day he'll be able to pass on his Bills football tradition.
"Well, actually, they are not very familiar with American football," he said of his kin. "When I was in New Era Field in 2014 by myself…I didn't have a chance to bring my family members to the stadium. The next time we have the chance, I'll plan to do it. But…the weather in Upstate New York is not kind to those novices…," he joked.
Although he's only been able to get back to one game since leaving the states, Kim remains as committed as ever to the team and makes a point to keep informed on NFL happenings.
"Not stats but standings and who is strong and who is weak, [is what I focus on]," he said. "I always look up the photos, which I have taken when I was in Rochester, and there was a picture of the game against the New England Patriots. At the time, it was a piece of cake to win against the Patriots and now they're so strong during the Brady-Belichick era. So, that shows the differences in the 1990s and 2010s.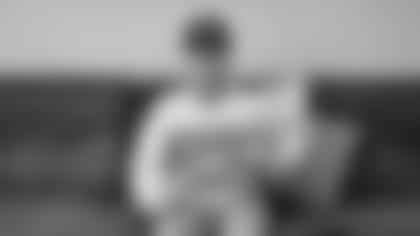 Once a Bills Fan, Always a Bills Fan
While there are so many factors that make Kim's journey as a fan extraordinary, what he holds closest to his heart are the fond memories he's collected over the years.
"Memories. Yeah, memories and the weather in Seoul is a little bit different than that in Buffalo," he said. "I think that Buffalo is colder than here now because now our temperatures are mid-60s for the highest temperatures and the lowest temperatures are around 50s, low 50s. So, it's kind of not bad compared to Buffalo. And still, when I feel the first blow of the wind in autumn, the thing that comes to my mind is football weather. This is football weather. Whenever I feel this kind of wind, it's time for football."
Kim, who is quite possibly the team's No. 1 enthusiast in South Korea, reiterated what Bills followers everywhere know and agree on – once you're on "team Bills" there's no trading rosters.
"…The players of the Buffalo Bills might not recognize that the Buffalo Bills Mafia is worldwide," he said. "So even if I am not in the vicinity, still I'm rooting for the Bills. The funny thing is, I stayed in the states for eight and a half years – so six years in Rochester, one year at Ohio in the small town of Bowling Green and then one and a half years at Berkeley. I mean, Ohio and Berkeley I went there as a visiting scholar and even though I stayed there for a long time, the Buffalo Bills are the only team I root for.
"Other than that, even though I stayed in the Bay Area – well San Francisco – I love to be there at Levi Stadium but that's not my team. Even the San Francisco Giants went to the World Series, but, still, I don't think that is my team…Even if I am here in Seoul, the Buffalo Bills are my team. I wouldn't be able to change it until I die. So, that's my attitude toward the Buffalo Bills."