It was a normal work day for the players and staff at One Bills Drive as the team powered through another week of the offseason conditioning program. But their mood turned somber late Tuesday morning when news came down about Bills super fan Pancho Billa's passing at just 39-years old.
Ezra Castro, the Bills fan who was thrust into the spotlight at the 2018 draft when given the opportunity to announce Buffalo's third-round pick Harrison Phillips, as he battled stage four cancer in his spine, liver and lungs, galvanized a fan community and a team.
Under the care of Hospice the last several weeks, Castro's passing reached a point where it was inevitable, but it did not make the news any easier to take in Orchard Park.
"It's tough. It's the finality of it," said GM Brandon Beane. "Our whole building, our organization and the Bills nation you hear this news, it's tough. There aren't a lot of words. You pray for his family, Veronica and his kids."
"You know what he's been dealing with for several weeks now," said Bills owner Kim Pegula. "Still when you hear the news it's hard to believe that it actually happened. I was obviously very saddened. He was such a big part of our Bills community. I can't recall anyone who was not a player that had such a big impact on our fan base."
Pancho Billa personified the unyielding loyalty of the Bills fan base. His dedication to his team despite his serious health issues, and a family to support, quickly won the hearts of his fellow fans. It also paved the way for him to get to know the members of the Bills front office on a personal level.
That only made the day's news of his passing all the more painful.
"It certainly makes it difficult," said head coach Sean McDermott. "That said, I wouldn't have had it any other way. Honestly, to have a chance to get to know Ezra and his family a little bit, and to see his level of passion and commitment for this football team, I wouldn't have had it another other way in my short time as the head coach here."
"This past year he really was a part of our organization," said Pegula. "He wasn't just a recognizable face in the stands. He was at training camp. We had sat down and talked with him. He was part of our draft process. He really was more than just a fan. He was part of our organization. Right then and there, that just elevates the loss for us even more."
Castro's passion for the team despite his health problems resonated with coach McDermott so much that he had Pancho Billa address his team the night before they played the Jets in Week 11 last season.
Castro came in his full dress, mask, sombrero and all. But he addressed the team in a way that helped them understand the belief he and his fellow fans have in the players.
"The passion that he lived his life with I want our team to play that way every game, whether we're in the Super Bowl or we're playing a preseason game," McDermott said. "That's the way we should play every week and every time we get the opportunity to wear the Bills colors. That's the way I saw him live his life and was fortunate enough to do so. It seemed up until the very last days and moments, that's what he embraced.
"My vision of him will always be wearing the mask, even though he decided to take it off in front of the team. I just think it really personifies the depth of our connection with our fan base."
Beane had wanted to get Pancho to Nashville for the 2019 NFL draft to announce their first-round pick, but his poor health would not allow for travel. So he and his staff brainstormed before coming up with the idea to call him by phone and have him announce the pick to the Bills table in Nashville so they could send the card up with Ed Oliver's name on it.
"I called Pancho a couple of days ahead and called him to make sure he was feeling up to it," Beane said. "His enthusiasm talking to him Thursday… I talked to him that afternoon. I said, 'Listen, we could trade up. We could trade back. Be ready.' He said, 'I'm going to be watching. I'm ready. I'm going to be Facetiming with Harrison Phillips and we're watching the whole draft.'
"He wasn't focused on what he was dealing with, but rather being Pancho Billa and being part of our team and our organization. That's my favorite part about draft weekend."
Knowing that Castro drew strength from his favorite team during his cancer fight was empowering for those in the Bills organization. It was gratifying to know in some small way they could help him in his courageous battle.
"Perseverance," said Pegula when asked what Castro taught her. "I would see him at training camp and he'd tell me, 'My doctor doesn't know I'm here. I had chemo two days ago.' I would get concerned and say, 'Oh my gosh, are you not supposed to be here?' The fact that nothing really kept him away. If he could possibly be there physically he would be there.
"To be able to go through the treatments that he had to go through, you would never know it. He was always happy to be there and smiling, just so happy to be a part of the Bills family. You would never know what pain or suffering he was feeling inside. I think he really taught me how to persevere in bad times and how to take something good out of something bad."
"That really personifies what this team is all about," said McDermott of the strength Castro drew from the Bills. "The Buffalo Bills, our fan base, really when you talk about a team, we're one team with one goal. We've lost one of our own. That's hard, but I know that Buffalo toughness in the proper amount of time will come through. We all pray and think of and send our wishes and support to his family. But I know we'll make it through this. That's what Buffalonians do and that toughness will bring us through these tough days."
As funeral arrangements are being formulated, some Bills players have already expressed their desire to pay their respects. Most notably, Harrison Phillips, who had a built-in connection with Pancho the second he announced his name as a third-round pick in 2018. They maintained that close connection with phone calls and meet ups when Castro was in town or at the road game venues.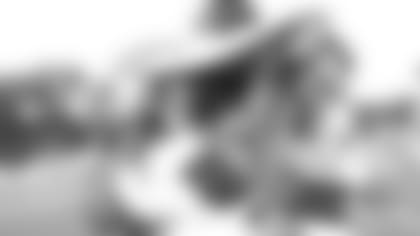 The Pegulas and their teams try to connect with all their fans on some level, but Castro became a direct conduit to the rest of the Bills Mafia. There are plenty of fans every bit as dedicated as Pancho Billa, but seeing how his cancer battle never changed the passion he had for his team made him special.
"As a fan he really connected, and then he was an extension of us to the fans. We felt that from our end," said Beane. "He was sincere. He never asked for any favors. That's just who he was as we got to know him through his battle. He was genuine. He's an inspiration to a lot of us, not only professionally here in football, but personally and how you deal with adversity.
"We do want to reach our entire fan base, but this is a unique one. He's special in a lot of ways and we're going to miss him."