Ruben Brown is coming back to a place where he played his best football. 
The former nine-time Pro Bowl offensive lineman will be the Bills Legend of the Game this week and will pump up the Highmark Stadium crowd prior to kickoff on Sunday. 
Brown was selected by the Bills in the first round of the 1995 NFL Draft. He played in Buffalo from 1995 until 2003 and started in 136 games for the Bills. He was named to eight straight Pro Bowls ('96-'03) and was a second-team All-Pro in 1998-2000, 2002. 
Brown hasn't been back to Buffalo in about four years. He can't wait for this Sunday's game and to be embraced by the fans once again. 
"Buffalo is where I started," Brown said. "Buffalo is the team that inspired me to play my best football. I have so many fond memories as I started my pro career there."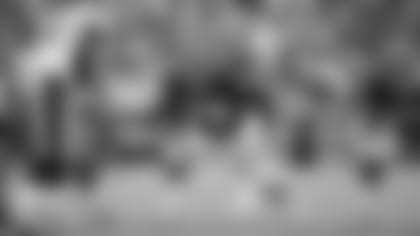 The former lineman is excited to see the newest installment of the Bills-Dolphins rivalry. Brown played in the days of Bryan Cox and remembers that the fans hated him. His most memorable game against the Dolphins was during his rookie year in the 1995 AFC Wild Card Game. The Bills won 37-22 and that's when the team rushed for a playoff record 341 yards. 
Whether it's the regular season or the playoffs, the atmosphere of a Bills home game is outmatched because of the passion Bills Mafia has. Brown believes seeing the fans so riled up for their team makes the game even more special. 
"That community really comes out and supports the team and gives a lot of energy because they look forward and live for these Buffalo Bills experiences," Brown stated. "That just makes it special because you can see the local fan base bring so much energy to the games."
On Sunday, before the game, Brown will be signing autographs on the Billevard at the Seneca Sound Stage from 10:30-11:30 AM.
Other Bills Legends set to attend Sunday's game include:
Thurman Thomas
Will Wolford
Booker Edgerson
Ed Rutkowski
Keith Ellison
Carl Byrum