Toward the end of the first week of training camp safety Micah Hyde stepped out of practice with a supremely stiff neck. Into the lineup came his backup, who with nine years in the league and three years of experience in the defensive system kept Buffalo's secondary humming right along in 11-on-11 drills.
As solid as Buffalo's bounty of additions were through the spring in free agency, their best fit might be the safety they signed the day before training camp opened.
"Kurt Coleman is a veteran guy," said Tre'Davious White. "A guy who has been in this system before. He pretty much knows everything about this system. It didn't take him long to come in and show us the type of player he is. He came in with a lot of confidence. You can tell he knows football."
Coleman is a player that both general manager Brandon Beane and head coach Sean McDermott know extremely well. McDermott worked with him during Coleman's rookie season in Philadelphia, and then again in Carolina for two more seasons.
His playmaking ability combined with his intimate knowledge of the defense made him a natural add, one that Beane had on his radar earlier this offseason due to S Rafael Bush's possible retirement.
"Rafael let us know in the middle of the summer that he was considering it, so Sean and I had several conversations with him through the process," said Beane. "At that time we were also talking to Kurt about if this happened, we would make that move.
"He is a true pro. This guy is a leader. He's a wealth of knowledge. He's an older vet, but he can still play. He started 80 something games so he'll bring a lot of veteran savvy. He's a hard nose player but he's very smart. He's a great guy off the field, but when he steps between the lines he's mean. He plays with an intensity that I think guys have noticed in the week plus he's been here. He's a great fit for our team and for this defense."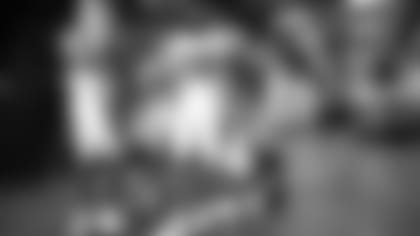 Of Coleman's nine seasons in the NFL, the two most productive of his career came in McDermott's defense in Carolina. Over the 2015 and 2016 seasons, Coleman posted 11 interceptions, 16 pass breakups and the only two touchdown returns of his career.
Coleman admits he's still has some nuances of Buffalo's defensive scheme to nail down and he wants to get a better feel of playing off some of his new teammates. But coming in the door the safety had a comfort level most late offseason additions do not possess.
"I'll say this, the familiarity has paid off," said Coleman. "Coming in on training camp day I was almost able to pick up where I left off two years ago leaving Carolina. Plus I get to work with some great guys, it makes the work environment so much easier."
"He probably knew about 90 percent of this defense when he walked in," said Beane. "In the week he was here he picked up the other 10 percent."
"For the most part I've got it down," said Coleman of the scheme. "The calls are the calls. The calls haven't changed, it's just how certain things are played and at certain depths. Maybe certain expectations on a play, but as far as the general scheme it's very similar."
"He's a guy that in a lot of ways makes people better around him. I think that's what leaders do." Head coach Sean McDermott
Coleman's playmaking ability has already been on display at training camp. Whether it's anticipation from his experience in the league or the athleticism to make an acrobatic pass breakup, Coleman might be Buffalo's best insurance plan in the event of injury to Hyde or Jordan Poyer.
"We are seeing exactly what we thought we'd get," said McDermott. "Just the leadership that he brings, the experience of having been there and done it in this system. And really having played in big games in this system in particular. He was instrumental in our Super Bowl run in Carolina a few years ago. He's stepped in during Micah's absence and done some good things."
White introduced himself to Coleman the first day he arrived at St. John Fisher and it led to a 45-minute conversation.
"He told me he's been on both ends of it," White said. "He's been to the Pro Bowl and he's been cut. He just told me I have all the tools and he's going to push me every day. I love that. I need that. I'm already my own worst critic anyway, so to have someone to push me over the top that'll just make me so much better. It'll have me so mentally tough because I will have faced adversity already."
"He's a guy that in a lot of ways makes people better around him," said McDermott. "I think that's what leaders do."