Robert Mathis believes there are two types of veterans in the NFL.
Some veterans are insecure about their place on the team, intimidated by the threat of younger players. Mathis calls these vets "the chumps." A chump will withhold information in the name of self-interest.
Mathis, the retired All-Pro defensive end who played 12 seasons with the Indianapolis Colts, believes he and former teammate Dwight Freeney fell under the other category as vets. They were mentors.
"We were the guys that didn't have a problem helping, teaching," Mathis said. "If he's better than me, he's going to have to show me. If he shows me, it's his."
Such was their mindset when Indianapolis used its first-round pick to select defensive end Jerry Hughes in 2010. The affects of their tutelage can be felt 11 years later at One Bills Drive, where Hughes and former Colts teammate Mario Addison are veterans on a revamped defensive line.
Hughes and Addison exchanged texts during this year's draft, which saw the Bills double up on defensive ends by selecting Gregory Rousseau during the first round and Boogie Basham in the second. Later, on a Zoom meeting with the defensive line, the two veterans noted how they had grown into the roles once occupied by Freeney and Mathis.
"It's just funny how this business comes full circle," Hughes said.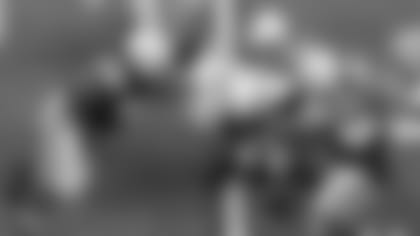 Ready to Learn
In a way, the mentorship lineage on the Buffalo defensive line can be traced back to another Bills legend. Freeney, already well into his career, was talking shop with Bruce Smith at a golf tournament when the all-time sacks leader dropped a line that stuck with him for years afterward.
"Bruce Smith told me at one point, all that knowledge that he has in his brain isn't for him to hold onto," Freeney said. "It's for him to pass onto other generations and younger players. I think I have always taken that philosophy to heart and done the same with younger guys that came after me."
Freeney found a willing student in Hughes, who had studied the Colts' duo of defensive ends long before he ever wore a horseshoe on his helmet. Freeney and Mathis were defensive anchors for the Peyton Manning-led Colts, a perennial contender during the first decade of the 2000s. Hughes had been watching them terrorize quarterbacks since he was in middle school.
"He just came in a very humble guy," Mathis said. "You could tell he had something to him. He just came in wanting to learn and wanting to prove himself. Everything that Dwight and I said, he hung onto every word. We were eager to teach, he was eager to learn, so it was great."
Hughes studied the routine that eventually allowed Freeney to play 16 NFL seasons as well as the techniques that helped him amass 125 sacks. Freeney might execute a spin move in practice, for example, and see Hughes attempt the same move on the next rep.
"And then I'll take him to the side and say, 'Hey, do it like this if you're gonna do it,'" Freeney said. "And he'd go out there and execute. If you see Jerry play, he's a guy who is very versatile with his tools in his toolbelt. Every guy has certain moves. Some guys have one move, some guys have two moves. Jerry's a guy who has multiple moves, and I think that's also a reason why he's played as long as he has."
Mathis taught Hughes the ins and outs of pro life and the minutia of the position, forwarding a message from former Colts defensive line coach John Teerlinck: "Plan your work, work your plan."
"Before your head hits the dirt, you better know what you're going to do," Mathis said. "Also looking at the little things, because those little things become big throughout the course of the game whether it's looking at body language of the offensive line, trying to get a key on a snap count. The offense, the longer they stay in the huddle, the more likelihood it'll be a pass. Little things like that."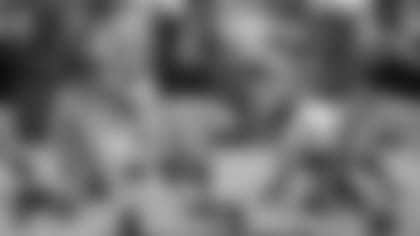 Competitive DNA
Visitors to the Hughes household these days are met with a parting challenge. JR Hughes, 5, and Hayden Hughes, 3, line up once a car pulls out of the driveway and race it to the stop sign at the end of the street.
Hughes sees a distinct part of himself in his two oldest children. They race each other up and down the driveway. They race each other brushing their teeth.
"It's all about who comes in first," Hughes said. "My wife and I don't really push them into that competitive direction, they just naturally take it. So, watching them grow and develop ... I kind of see, I think some of that competitiveness is in my DNA."
While Hughes was an avid learner around the veterans during his tenure in Indianapolis, he was still very much the fiery, passionate competitor who fans and teammates have come to know during his eight seasons in Buffalo.
Mathis remembers one practice in 2012 when Hughes and Addison began to argue who was the faster player. The debate became heated and carried on through the full session, until the two finally settled it with a race afterward – in full equipment. (Mathis recalls Hughes winning, but Hughes concedes that Addison won a rematch.)
Freeney recalls instances when Hughes, who saw limited playing time during his three seasons in Indianapolis, was tasked with playing scout team in practice. Hughes admits he was frustrated in those days, unaccustomed to being kept off the field. He channeled that anger in practice.
"I just remember Jerry, in practice, giving these offensive tackles absolute hell on their reps," Freeney said. "I would sit back on the sidelines like man, Jerry's giving him the business."
Freeney and Mathis both saw the passion as a positive, evidence of a player unwilling to settle for anything less than success. Plus, Freeney said, it comes with the territory.
"You got to have a little something wrong with you – just a little bit – just to play defensive line at a high level," Freeney said. "You've just got to have something just a little bit off. It's kind of like that with all of us, and Jerry included. We'll be super calm, collected. It's almost hard to envision what kind of beast will come out on the other end."
Paying it forward
Hughes was perhaps the lowest-profile member of the "Cold Front" defensive line that helped the Bills lead the NFL in sacks from 2013 to 2014, a quartet that featured an All-Pro free agent acquisition in Mario Williams, a longtime leader in Kyle Williams, and a blue-chip prospect in Marcell Dareus.
Today, Hughes is the longest-tenured Bills player. He has passed each of his former "Cold Front" linemates on the franchise's all-time sack list, where he ranks fifth. He has been with the franchise through every step of its turnaround, from its drought-busting playoff berth in 2017 to last year's trip to the AFC Championship.
Still, Hughes gives little thought to his legacy in the place he affectionately calls "The Football Mecca."
"I really try to play one season at a time," Hughes said. "I go in each year focusing on that season, how we can win the most games that we can, ultimately get to the Super Bowl. That's really what I focus on is trying to collect hardware."
Doing so will require reinforcements. The Bills pressured Patrick Mahomes three times in their AFC Championship loss to the Kansas City Chiefs. Two weeks later, Mahomes was pressured 21 times in a blowout Super Bowl loss to the Tampa Bay Buccaneers.
Hughes sent messages to Rousseau and Basham after the draft, welcoming them to the team and letting them know to be ready to compete for a Super Bowl.
"To be a Super Bowl contender, you've got to have bullets," Hughes said. "Greg, Carlos, A.J. [Epenesa], Harrison [Phillips], Ed [Oliver], those are the kind of bullets you need. No matter who comes off the field, you stack, you reload. You got young energy flying off the edge, coming around the corner, being disruptive up the middle."
Rousseau watches Hughes's routine the way Hughes once watched Freeney. He asks about techniques. The two talk about Mario Williams and how Rousseau possesses similar physical traits. Hughes tries to be an open book with his rookies, not a chump.
"Jerry Hughes is exactly who I expected Jerry Hughes to be," Mathis said.