The 11th annual NFL Honors will air live tonight at 9:00 pm ET on ABC, NFL Network and ESPN+.
This primetime awards special recognizes the NFL's best players, performances and plays from the 2021 season.
Some Bills' players and coaches have been nominated for some awards, with the winners being announced tonight.
Defensive Tackle Harrison Phillips is the Bills' nominee for the Walter Payton Man of the Year Award – one of the league's most prestigious honors. This is the second consecutive year that Phillips has been the team's nominee. The award recognizes NFL players who have exhibited excellence on the field, and whose passion to impact lives extends beyond the game.
For more information on everything that Phillips does in the community, click here.
Quarterback Josh Allen is one of the eight finalists for the Art Rooney Sportsmanship Award. The award is presented every year to an NFL player who best demonstrates the qualities of on-field sportsmanship, including fair play, respect for the game and opponents, and integrity in competition.
There are four finalists selected from each conference. The other seven finalists are Brandin Cooks (Texans), Jason McCourty (Dolphins), Matthew Slater (Patriots), Lavonte David (Buccaneers), Cameron Jordan (Saints), Kyle Juszczyk (49ers), and Adam Thielen (Vikings).
Head coach Sean McDermott is the team's nominee for the Salute to Service Award. The award acknowledges the exceptional efforts by members of the NFL community to honor and support U.S. service members, veterans and their families.
Often Coach McDermott can be found sporting a Bills camouflage hat to show appreciation for the military, especially the many friends and family who have served, including a close friend from college, Colonel Tim Brady of the United States Marine Corps. For years, Coach McDermott has been an avid supporter of the Buffalo Bills Salute to Service outreach by bolstering all team events created to honor active servicemembers, military families, and veterans.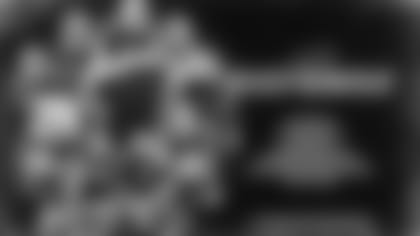 Defensive coordinator Leslie Frazier led the Bills unit to a number one ranking in seven statistical categories. The unit was the number one scoring defense for the first time in franchise history and the number one total defense for this first time since 1999. Frazier should be in consideration for the Assistant Coach of the year award.
Both Harrison Philips and Josh Allen will be in attendance at YouTube Theater in Hollywood Park for the awards ceremony.
Former Bill and Hall of Fame defensive end Bruce Smith will also be there and will present one of the awards.