This week the Buffalo Bills coaches and players are hard at work preparing for the team's first home playoff game since 1996. The Bills will matchup against the Colts at Bills Stadium on Saturday, Jan. 9 but before the game begins here's a list of activities Bills fans can participate in to get into the playoff spirit with the help of our partners.
Send a Postcard to the team with the help of M&T Bank
The team wants to hear from you!
Fans can send their well-wishes directly to the team on physical or digital postcards. The physical postcards are now available at Buffalo and Rochester area M&T Bank Branches. Simply pick up your postcard, write your message, and drop it in the mail.
Postcards will be on display at the team facility for players to see!
Bills Playoff Mask from the BFLO Store
The first 1,000 Bills fans who make a $17.00 purchase at any of the BFLO Store locations will receive a Bills Mafia Playoff mask. Just stop by any of the BFLO Store locations listed below to pick yours up! 
Blue for the Bills presented by Labatt Blue
To celebrate the Bills in the playoffs, the Buffalo community can "Go Blue" presented by Labatt Blue. Wear your blue gear on Friday, Jan. 8 and Saturday, Jan. 9. Landmarks around Buffalo including Buffalo City Hall, The Electric Tower, The Curtiss, M&T Bank, Buffalo Place and the Theatre District. The Bills Stadium will go blue as well. Fans can also gear up for the Buffalo Bills Playoff run with Labatt Blue and Labatt Blue Light. Buy select Labatt products at participating retailers and receive Bills gear!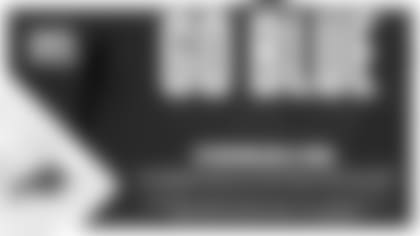 Enter to win the Ultimate Playoff Game Day from Labatt
Bills fans can show how they #GearUp for playoff football on social media.
One lucky winner will receive the ultimate playoff game day party! This event will consist of an exclusive Zoom tailgate with Bills legends, Labatt gear, food and party supplies in the comfort of their own home.  
Pick up Playoff Flags at Rachel's Mediterranean Restaurants
Fans can pick up their limited-edition playoff flag at Buffalo-area Rachel's Mediterranean restaurants while supplies last. Purchase a $25 gift card to receive your flag. 
For a list of Rachel's locations, click here.
Buffalo Bills Playoff Fan Box presented by Pepsi
As a special treat for the playoffs, the Bills have released an instant classic Bills Fan Box. It includes a special edition T-shirt with a vintage '90s design, a pair of AFC East Championship koozies and a playoffs car flag.
A part of the proceeds will go to benefit the Buffalo Bills Foundation. To purchase and get more information about this limited Playoff Bills Fan Box, click here.
Oxford Pennant - Let's Go Buffalo!
Oxford Pennant has displayed the world's largest Buffalo banners on Buffalo's largest building! On each side of Seneca tower, you will now see a "Let's Go Buffalo" 40-foot banner to cheer the team on during the playoffs. You can purchase your own "Let's Go Buffalo" pennant and $10 from each pennant sold throughout the rest of the 2020-21 NFL season will be donated to the John R. Oishei Children's hospital.
Tim Hortons – Playoff donut
Pick up the Bills Playoff donut at participating Buffalo and Rochester Tim Hortons locations now until January 19!
ConnectLife – Blood Drive