The Bills personnel department under general manager Brandon Beane always has a firm grasp on what a prospective free agent can bring to the club. Scouting John Brown for almost two years, the report was beyond thorough on the free agent wide receiver. A deep threat who can stretch the field, but also offers ability at all levels of the passing game. Brown was also a worker who fit the kind of operation that head coach Sean McDermott runs at One Bills Drive.
What was unanticipated was the way that John Brown would step forward in the receivers room as a leader despite being one of the newest faces on the roster.
"He's been very helpful in that room," said offensive coordinator Brian Daboll. "He'll add his two cents when we're reviewing one-on-ones. He understands the game particularly at that position and the details involved. Crisp route runner, leverage, angles, coming out of breaks, tracking balls. A very instinctive player."
"He's quiet, but if something needs to be said he will say it," said Beane. "He understands the offense."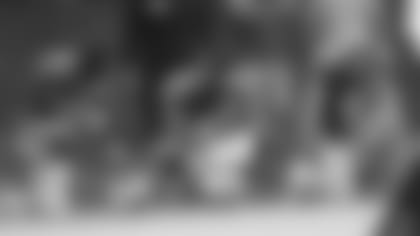 Brown didn't walk in the door expecting to lead. Though he had five years in the league under his belt, he wasn't sure who would be on the roster come the end of free agency. Having never been in a leadership position before, and being new to the team, Brown was uncertain about how challenging it would be to assume such a role.
"I didn't know that I would have a leadership role when I signed," Brown told Buffalobills.com. "Honestly, I didn't know who was here exactly, but they were expecting me to be a leader. That's something I had to accept. I couldn't put myself first. The plays were going to come but helping others would help the team even more. It was a lot, but I got there."
Brown gives credit to fellow vets Cole Beasley and Andre Roberts for helping him transition into a leadership position. All three came together in the spring and agreed to collectively shepherd the receiver group.
Despite his inexperience in being a leader, Brown learned at the elbow of perhaps one of the best mentors the league has ever seen in Arizona WR Larry Fitzgerald, a player from whom Brown learned a ton in his first four NFL seasons.
"I'm able to help out because I know a lot from being around Larry Fitzgerald," said Brown. "I'm real thankful for Larry because I'm able to help these guys and I see them taking it in."
Brown considers himself a leader by example, but Bills receivers coach Chad Hall is encouraging Brown to be more vocal in sharing what he knows about the game.
"I'm a guy who just works," he said. "I don't say much, but this is the most I've ever talked in my career. I do both, but I try to show them how it's done on the field. When I see something in the film room, I'll talk or the guys will ask me a question and I'm able to help out."
With a bevy of young receivers on the roster, the veteran wideout has been more than willing to offer tips on the finer points of route running. The subtle ways in which to sell a defender on a fake or how to avoid taking false steps to make one's routes as efficient as possible.
"One thing that stuck out to me was working with Zay, running the curl route," said Brown. "He would run it a certain way and he couldn't get out of his break quick. One thing I learned is to turn my feet on a 45-degree angle to be able to come back to the ball or the quarterback. Once I told him that he continued to work and you see a difference and he told me he appreciated me for that. There's some stuff you can help with even though we're two different type of receivers."
"People think you're in the league you've got everything figured out," said Jones. "At receiver it's still a process. Smoke is a guy that's just helping me step by step as far as fine tuning techniques. How to get in and out of cuts faster. What to expect. What to look for. He's definitely a guy I'm listening to."
Jones and the other younger receivers aren't just listening, they're watching too.
"I'm more excited to watch 'Smoke' than anything else at practice," said Robert Foster. "I think that's going to help me and all of us, just watching him and learning how he gets separation and putting everything together.
"I'm learning about body lean, hand-eye coordination, tracking the ball. I'm a lot taller than 'Smoke' so I try to base it all on how he runs his routes. He's quick and fast, so I'm going to be studying 'Smoke' all season."
"I'm a guy who just works. I don't say much, but this is the most I've ever talked in my career. I do both, but I try to show them how it's done on the field." John Brown
Brown quickly established himself as a player who should be observed in the practice setting. He was known as a field stretching deep threat, but when the receiver quickly showed the kind of damage he could do in the red zone during team segments in training camp, teammates were quickly posing questions.
"He's just putting it on tape every day and he's probably one of the most consistent guys in camp," said Jones. "Just naturally you start gravitating to him because you notice there's something different to him. You want to ask him questions. How is he winning so much? How is he getting open? What is he thinking? How does he process things? You can see it's a mature and veteran approach."
'Smoke' as his teammates call him, points to the mentor he had as a young player, as the chief reason he has knowledge to pay forward to the young wideouts on Buffalo's roster.
"That's one thing about Larry. He's not a selfish person. He wants to win," said Brown. "So if you help the person next to you and make their job easier you'll win more games. And then everybody is more comfortable playing. So I appreciate Larry for that because now I'm here helping these guys."
And what would Fitzgerald think of Brown as a leader?
"He'd say he knew I could do it," said Brown. "He'd be really proud of me. I'm just thankful to be able to play with him, one of the best of all time. I learned so much from him that I'm able to help these guys. And when these guys become veterans they can take on that role also."