There are few things in life that are more important than family.
When push comes to shove, it's this core group of people that you can count on to be by your side – through thick and thin, to celebrate life's highs and to provide comfort during the lows. For Bills original Season Ticket Member John Nussbaumer, it's this notion of family and tradition that he values above all else. However, like many Bills fans, Nussbaumer's definition of family is not reserved solely for his relatives, but also the friends he's made on Sundays at New Era Field.
Wearing his Bills fandom like a badge of honor, Nussbaumer explained that Bills football has been a Sunday staple in his household since 1960 and a way to collect countless memories with his loved ones. A devoted husband, father of three, grandfather of six and friend to many, Nussbaumer's love for the Bills has evolved into a tradition – one that's transcended time and that's been passed on from generation to generation. 
 "I've been doing this since 1960," Nussbaumer said proudly to buffalobills.com while setting up his one-of-a-kind tailgate at the Bills-Bears game earlier this season. "I bought the tickets originally myself…My parents came out back in 1960 over at War Memorial Stadium. We'd go to the football game and at night there would be a stock car race going around the same stadium. So, it's something that we've always done. 
"We've always had a tailgate party – it's just something that we look forward to every single Bills game and we wouldn't miss it. We still sit in the section where we know a lot of the people who have taken over those season tickets from other people in the family. We know them all and it makes for a nice family get together because they bring their kids out too. They've been from the very beginning. It's been a great thing."
What started as a bonding experience between Nussbaumer and his parents, quickly turned into something for him to enjoy with his own kids and now grandkids. 
 "My son, Josh, has been going to the games since he was probably four or five years old and he's been here ever since," said Nussbaumer. "He's a total Bills fan. Nobody's ever been a bigger fan than Josh… We come out here rain, shine, cold – I don't care what it is because we love the Bills. We don't care what's going on. We just love sitting in the stadium and having a wonderful time with my family."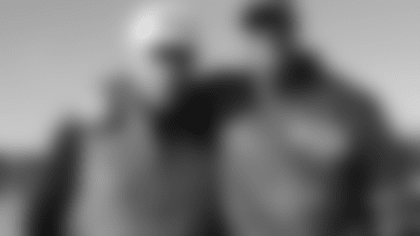 As Josh helped his father prepare their tailgate, he couldn't help but reminisce on all the good times they've had together. 
 "Even when I moved out of town for a few years, it was always the Sundays that I missed with my father growing up," he said. "So, when I moved back about 12 years ago, things picked up right where they left off. We always used to be over at Pole 1 and we'd have about 20 people meet there every Sunday and it's still going to this day and he's pretty much been the ring leader of it all. Even when a bunch of his friends moved up to the club seats, and he asked me if we wanted to move up there on an upgrade, I said we can never leave our old school section. It's all about tradition, it always has been."
Now with a son of his own, Josh has followed in his father's footsteps, teaching his son the value of family and of course, the Bills. 
"Now I bring my son [who is 11 years old] to most of the games…It's all about the love of the family. He is [already a huge Bills fan], he had no choice from day one. Some of the family came from the Bears side of things and he pretty much knew through the good and the bad that there was never changing loyalties so he's with it with the Bills, the Sabres, the whole Buffalo scene."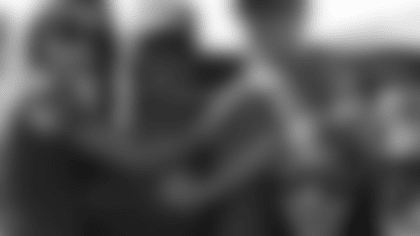 While change is inevitable, for John, Josh and the entire Nussbaumer clan, one thing will remain the same. Sundays will always be reserved for family and the Bills, and they wouldn't have it any other way.
The Bills will celebrate families when they host their second annual Family Day game on Sunday, Nov. 25. Presented by Independent Health, Family Day will allow fans to take advantage of discounted ticket prices. Additionally, families can stop by the Billevard and Fan Zone for pregame activities fit for everyone to enjoy. For more information on Family Day, please visit here.