Today, M&T Bank and the Buffalo Bills honored 2019 M&T Bank Touchdown for Teachers grand prize winner Crystal McQueen of the PS 97 Harvey Austin School with a classroom visit by Bills safety Micah Hyde and a $5,000 grant payable to her school or district.
McQueen, a sixth-grade social studies and ELA teacher, was selected from a record-setting 780 nominations for the annual M&T Bank Touchdown for Teachers program, which recognizes Western New York teachers for their outstanding service to their schools and communities. Honorees are chosen based on their amount of involvement in the school or community, degree of positive impact on the school or community and their demonstrated commitment to education.
McQueen was nominated by her district supervisor for her commitment to helping students inside and outside the classroom. In addition to being a social studies and ELA teacher, she provides home instruction to students who are not able to attend school and hosts a monthly service project for students. Recent projects include raising funds to donate items to the Buffalo City Mission, growing plants and flowers to support the beautification of the local community and volunteering with Journey's End Refugee Services.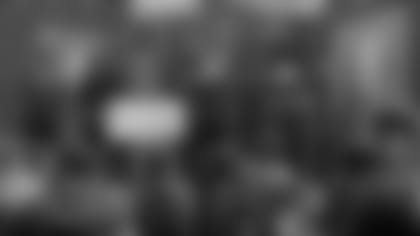 "It's always rewarding to recognize teachers like Crystal McQueen who have spent many years in the classroom and out in the community as passionate educators," said Jim Jarosz, M&T Bank group vice president for retail banking in Western New York. "Western New York truly has so many outstanding teachers – as evidenced by the record setting number of nominations – and we can't thank these deserving educators enough for all that they do."
As the grand prize winner, McQueen received $5,000 in grant funds payable to her school or district to further her impact and Hyde's in-class visit. M&T Bank and the Bills also awarded special education teacher Kathy Lee from Mary Cariola Children's Center in Rochester, N.Y. as the runner up with a $1,000 grant payable to her school or district.
During the visit, Hyde had something special up his sleeve. Unbeknownst to McQueen and all those in attendance, Hyde was excited to announce that he would match the $5,000 grant with a donation of his own! The thoughtful and selfless gesture made by the Bills veteran is just one of several ways he has made a lasting impact on Western New York during his tenure with Buffalo.
"Mrs. McQueen's commitment to serving the community and promoting the character traits of Harvey Austin School are in line with the values of Pegula Sports & Entertainment," said PSE Vice President of Sales Dan Misko. "The Buffalo Bills organization is proud to join our partners at M&T Bank in recognizing an educator who consistently goes above and beyond to make a positive impact on the community in many ways."
Since the program began, the M&T Bank Touchdown for Teachers program has recognized 43 outstanding educators with unique game-day and Bills experiences, and awarded a total of $27,400 to local school districts on behalf of the honored teachers.
M&T Bank is the Official Bank of the Buffalo Bills and the exclusive provider of Bills checks and check cards. Further information about different fan contests and promotions through M&T Bank is available at www.facebook.com/mybillscard.