It may have seemed like an ordinary day at One Bills Drive on Tuesday, but the Bills were in for a treat of the musical variety.
Joining the team's OTA practice was Buffalo's very own viral sensation – "The Singing Cops." A dynamic duo, Michael Norwood and Moe Badger received national recognition for their talent in April when they were featured on "The Ellen Show" and the CBS Evening News. The outpouring of support continued when the Bills, their hometown team, welcomed them for an exclusive visit.
As they stood on the sidelines fully dressed in their uniforms, playfully bantering back and forth like brothers, Norwood and Badger couldn't help but smile. A work partnership that began two and a half years ago has grown into so much more than that. Inseparable, these two are a package deal.
In fact, it was Badger who gave Norwood the extra push that he needed to start singing publicly.
"He's been singing all his life," said Norwood of Badger. "He's been a big gospel singer. Me, I was a legendary shower singer…I've always been a big music head and what not, but I was always shy to sing around people. And then when we became partners, he heard me sing one day and he's been encouraging me ever since…now he can't stop me [from] singing. I'm always singing now."
"Being around music so much, [I realized that] some people don't know their own natural talent and when I heard him [I said], 'Dude you've got a better natural voice than me! Your natural voice is really amazing," elaborated Badger. "He can do a lot of octaves – just stuff that normal people really can't do that he didn't really notice…It was cool and then after that, like he said, I can't stop him from singing now."
To Norwood and Badger's delight, the requests for them to show off their skills keep rolling in.
Given the opportunity to perform for the Bills at the end of the OTA session, the guys did what they do best – wow their audience. Clearly excited by their presence, the Bills players couldn't help but join in as Norwood and Badger sang a few verses from the iconic tune by The Temptations, "My Girl."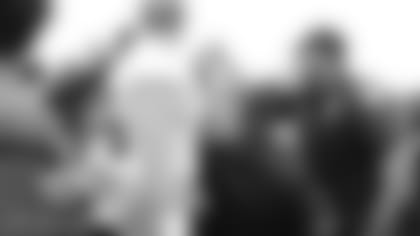 Following the performance, The Singing Cops were called upon to break down the huddle and got a chance to meet head coach Sean McDermott, quarterback Josh Allen and several players.
"[I'm] lost for words," said Norwood. "To go from [being a] shower singer to this, is incredibly insane…We feel honored to be here, seriously. It's like we always say, 'There's nothing like Buffalo love' and it really means a lot…"
"It was cool and we actually got to end out [the day] with the '1-2-3- BILLS,'" said Badger. "How many times does somebody get to say that they led the chant at the end of a practice for their favorite team? This is [a] straight scratch off the bucket list. I'm really lost for words, honestly. I love the Buffalo Bills. I've loved this team for 40 years. So, for me to be able to be out here with my team is awesome."