Not only did the Bills come away with a big win at home against the Jaguars Week 12, they also paid tribute to one of the area's most impactful non-profit organizations. Through the One Buffalo Organization of the Game program, Bills players, including team captain Patrick DiMarco, honored Special Olympics New York for the organization's commitment to bettering the community by providing individuals with intellectual disabilities continuing opportunities to develop physical fitness and courage, and to experience joy through year-round sports training and athletics.
"Special Olympics provides sport for those with an intellectual disability, so seeing the Bills partner with Special Olympics…is just huge for our organization," said Erica Raepple, Director of Development at Special Olympics New York. "We're really proud and honored to be a part of this event and to be recognized as the One Buffalo [Organization of the Game] award recipients. It gives our athletes, it gives more people with intellectual disabilities an opportunity to play sports and that's what Special Olympics is all about – it's about playing sports, athletes with athletes and it's amazing."
In celebration of Special Olympics New York, DiMarco presented representatives from the group with a ceremonial game ball and spent quality time getting to know some of the athletes who the organization serves. The athletes were in for a big surprise when DiMarco was joined by several teammates such as rookies Josh Allen and Robert Foster in the ADPRO Sports Training Center. Together, they played catch, shared laughs and made memories they'll never forget.
"My athletes are going to remember this for the rest of their lives and it's so awesome, because again, it's Special Olympics [and] we're a sports organization," said Raepple. "It's athletes with athletes… you're out on the field, whether you're throwing a ball with Patrick [DiMarco] or you're out competing, our athletes are there and they're in the spotlight, which is where they should be."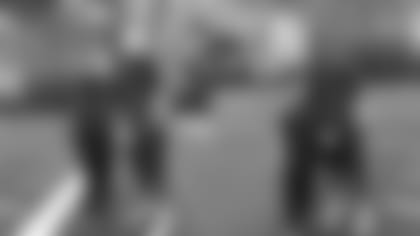 With input from the players, the Bills will continue to recognize a different local organization at each of the remaining home games this season.