1. Edmunds brothers highlighted by NFL Films
The story of Bills linebacker Tremaine Edmunds and his brothers Trey and Terrell, who both play for the Steelers, is one that has fascinated fans. It's not often that you find three brothers in the league and before Buffalo's Week 15 game against Pittsburgh, the last time siblings took the field together in the NFL was 1927.
Featured in "NFL Films Presents: Edmunds Family," which was shared on Twitter yesterday, the trio talk about growing up together in Danville, Virginia, and pushing each one another to be the best they could be. Also documented in the piece, is where Tremaine, Trey and Terrell get their athletic genes from – their parents. Their father Ferrell Edmunds was a Pro Bowl tight end for the Dolphins and their mother Felicia Edmunds was a track star.
However, as evidenced in the video, athleticism isn't all the Edmunds family is known for. Their talents on the field are complemented by their genuine personalities and strong character.
2. Spotted: Popular comedian wearing Bills gear
Will the real Bills fans please stand up?
While it's no secret that Bills fans can be found worldwide, it's always exciting to discover new celebrities that support Buffalo. Recently, Jim Gaffigan showcased his allegiance to the Bills when he was spotted wearing a Bills T-shirt. The popular stand-up comedian posted a video to his Twitter and Instagram accounts of him interacting with Marvel's "Doctor Doom" while at Universal Studios theme park in Florida, and in it the Bills standing buffalo is clear as day.
A funny video, it's the red mark that's raising eyebrows and curiosity for members of the faithful. Gaffigan will be visiting the (716) in just a few short weeks as part of his current tour. I'd expect him to get a few inquiries about the attire and his NFL fandom while on stage.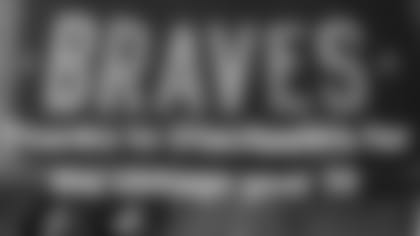 3. To: Corey B. From: L.A. Clippers
Christmas may be over, but that doesn't mean gift giving is. Yesterday, Friday, Dec. 27, Bills punter Corey Bojorquez shared a present he received on his Instagram story and it's worth a mention. The special teamer was sent throwback Buffalo Braves gear by the Los Angeles Clippers. Once the area's professional basketball team, the Braves were moved to San Diego in 1978. Just a few years later in 1984, the Braves moved north to Los Angeles where they would remain.
In November, the NBA team – now known as the "Clippers" – gave homage to their Western New York roots when they wore Braves jerseys during a Thursday night matchup with the Portland Trail Blazers. They went on to win the contest 107-101.
Don't be surprised if you see Bojorquez reppin' the vintage Braves in the future.